Farm+House Louisville explains itself.
Welcome to Farm+House Louisville! We have curated a virtual hub of local Kentucky artisans, small producers and farmers markets favorites for you to safely shop from your phone with the WhatsGood app.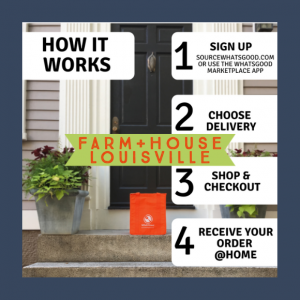 Farm+House, an "online, virtual farmers market where people can place orders for fresh and local food and products via an app for pickup or contactless delivery to their home," is the brainchild of Blair Leano-Helvey, owner of Idlewild Butterfly Farm. We turn to Louisville Business First for the vitals.
Prior to founding Idlewide in 2015, Leano-Helvey started and ran the Douglass Loop Farmers Market for several years. When Covid-19 hit in March, she told me she had several vendors — especially farmers — reach out to her, worried about how they would get their products to consumers.
Now the superstructure is in place.
Each Sunday, customers can place orders on the WhatsGood app to be fulfilled. Farm+House Louisville will then aggregate orders (much like Instacart) from multiple vendors. Leano-Helvey has taken advantage of a 1,300-square-foot space within Idlewide at 1100 Logan St. in Louisville's Shelby Park neighborhood to put together the orders.
Farm+House's current vendors include:
Hazelfield Farm, On Tapp Dairy, Skinner Farm, The Herb Shack, Kentucky Greens Co., Idlewild Butterfly Farm, True North Catering, Baked, Eiderdown, La Moreña Panaderia y Tortilleria, Wells Made Co., Toom Sauce, Simply Mediterranean, 78 Coffee Co., Harvey's Cheese and Froggy's Popcorn … and Rudy Green's Doggy Cuisine, Cleavs Family Market, Farm to Fork Catering, Lotsa Pasta and The Breeze Wine Bar & Spirits are coming soon to the platform.