Every now and then something noteworthy jumps out from Facebook during an otherwise aimless scroll, as when Mike Wajda (VYE-da) revealed his new gig. Most recently Wajda, who Louisville diners will recall from his 2015-2019 tenure at Proof on Main at 21C Hotel, was executive chef at Everyday Kitchen in NuLu.
I had the opportunity to join some amazing talent recently with Weyland Ventures and every day since they have surpassed the previous day's work with innovation, collaboration and humility. The fast paced growth on the horizon is overwhelmingly exciting and I can't wait to share more projects with you all. First up will be our farm to table motor inn with a contemporary approach to the historical roots.
We are forming Common Bond Hotels Collection as a legacy project for the group. Stay tuned for more historical high energy projects to come from this amazing team. Toogie's Table is coming soon!
Toogie's Table is to be part of a Common Bond Hotels Collection project in Bardstown, a link to which ironically landed in the F&D inbox at about the same time as Wajda's Fb post appeared.
Shuttered Historic Kentucky Bourbon Trail Roadside Motel & Restaurant to be Reborn with Complete Renovation (Distillery Trail, which receives the cover photo credit today)
There will soon be a new place to stay, play and dine along the Kentucky Bourbon Trail. In December 2021 a long-time Bardstown staple, Kurtz Restaurant and Bardstown Parkview Motel closed its doors for the last time. The restaurant and motel have been owned and operated by the Kurtz family since its founding 1937 but that changed as 2021 came to a close and the family sold the business to Weyland Ventures…
Bardstown Motor Lodge is set to open its doors for hotel guests in the Fall of 2022, with Toogie's Table opening in late August, just ahead of the annual Kentucky Bourbon Festival. This property is the first of a series of boutique hotels in development by Weyland Ventures under its newly launched Common Bond Hotels Collection banner.
In 2021 we profiled Everyday Kitchen. Here's an excerpt focusing on Wajda, who explained to me how his career arc prior to arriving in Louisville was instrumental in shaping his farm-to-table culinary outlook.
—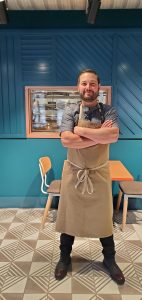 "I grew up in Northeast Ohio near Youngstown," Wajda recounts, "then went to culinary school in Pittsburgh at Le Cordon Bleu, left there and did my externship with Gordon Ramsay in New York City at the London Hotel. I stayed with Gordon for roughly four years and kind of worked every aspect of that kitchen."
After a stint at Blue Hill Stone Barns in Tarrytown, New York, and a period owning his own cafe in Upper Saddle River, New Jersey, Wajda met Michael Mina, the Egyptian-born chef, restaurateur and author responsible for founding numerous award-winning eateries.
"It started in (Four Seasons) Baltimore as a butcher, and I really dove into whole animal butchery and breaking down whole meats and whole fish, and understanding the values of Four Seasons, how they train their employees and the overall culture."
Wajda's next stop was in Cambridge, Massachusetts at Craigie on Main with the locavore, nose-to-tail specialist Tony Maws, then Mina called with an opportunity in Hong Kong.
Alas, Asia fell through, but Wajda emerged as part of Mina's handpicked corporate team. The pace was frenetic – opening seven restaurants in one year "shaved a few years off my life," the chef chuckles – and it brought Wajda to California, where he experienced a career epiphany.
"I was at a farmers market on the pier in San Francisco," Wajda remembers, "talking to farmers, asking 'Hey, what's in season? What can I get out of the ground right now?' And they're saying, 'anything you want – it's California, and we'll give you whatever you need.' It didn't feel real to me."
"I'm a Midwest guy, and I needed to get back there, put my hands on the ground again and get in touch with the seasons for the style I want to cook. That's how I landed in Kentucky."
Beginning with his time at Proof, Wajda has spent six years in Louisville actively cultivating area farmers, and at Everyday Kitchen they're an integral part of the kitchen plan as well as the dining room's décor, with posters from a local food series created by the artist Brad Vetter prominently displayed.
"The sign on the door says modern comfort food," explains Wajda. "We want to highlight the ingredients without over manipulating them for the guests, so the farmer is truly shining, and also creating a sense of discovery for diners."
"I generally cook very ingredient driven, and there are certain farmers who only do very specific things. It's seasonal, like with Daniel Hottinger from Hottinger Farms, all he does are tomatoes, but it's the best tomato you've ever had."
—
For the whole story, visit issuu:
advertising content
advertising content