Fork & Barrel is hosting a Sazerac Holiday Cocktail Dinner at 6:30 p.m. on Wednesday, December 8.
The dinner will be held at Morning Fork, the restaurant's sister location (1722 Frankfort Avenue).
Sazarac probably needs no introduction, but just in case:
Over 450 of the world's most extraordinary brands are part of the Sazerac family. We're proud to create spirits, cocktails, and experiences for every taste and occasion for people all across the globe. Our spirits are created at some of the world's best distilleries and they're waiting for you.
The five-course dinner includes cocktail pairings for each course:
Miso soup + White Christmas featuring Corazon tequila, lime juice, Cointreau, coconut milk and simple
Tuna au Poivre + Very Merry Ornamentini made with Weatley vodka, Cointreau, Luxardo cherry, cranberry and orange juice
Roasted quail + Thyme for Christmas with Buffalo Trace bourbon, chai demerara syrup, lime juice and fresh thyme
Pork butt + Naughty But Nice featuring Sazerac Rye, orange juice, ginger-sage simple syrup and pomegranate juice
S'more brownie + Kentucky Russian made with Buffalo Trace Bourbon Cream, Buffalo Trace Bourbon and Kahlua
Also offering optional samples of E.H. Taylor Small Batch & Weller Special Reserve
The Sazerac Holiday Cocktail Dinner and tasting at Morning Fork is $129 per person, and you can call 502-830-9500 to make reservations.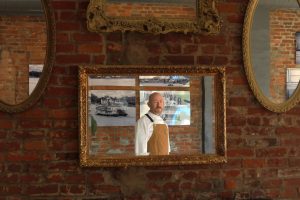 As an addendum, executive chef/proprietor Geoffrey Heyde has a new seasonal menu at Fork & Barrel (2244 Frankfort Avenue). An information release offered these highlights:
Langostino lobster fritters with lemon garlic aioli, herb oil and shaved radish
Southern Charcuterie Board with house-made sharp cheddar pimento cheese, Exum's smoked country ham, pâté, assorted pickled vegetables, accompaniments and grilled baguette
Fried Brussels Sprouts Salad with mustard-sherry-bacon vinaigrette, dried cranberries, Capriole Farms goat cheese and a fried egg
Red Wine Braised Beef Short Rib with cauliflower risotto, carrots and crispy potato strings
Stroganoff with beef tenderloin tips, veal demi-glace, mushrooms, crème fraiche and pappardelle pasta
Vegetarian ravioli stuffed with caramelized leeks and ricotta with sweet potato puree, brown butter, toasted walnuts and golden raisins
Fork & Barrel is open for dinner Tuesday through Saturday from 4:00 p.m. to 9:00 p.m.