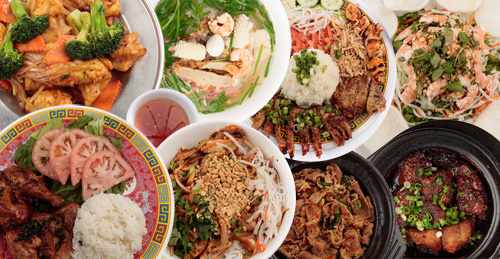 One of Louisville's highest-rated restaurants is up for sale, but first, because absolutely no one asked for it, here is my list of Top Five Favorite Menu Items from Louisville metropolitan area eateries, as imprecisely measured by orders I've placed again and again, over and over, for an extended period of time.
Your own results will vary, of course.
5. Roundhouse Herbivore pizza (all vegetable) at the New Albanian Brewing Company Public House & Pizzeria, née Sportstime Pizza, my former business interest.
4. Muffaletta sandwich, as built by Lotsa Pasta.
3. Garlic bagel with lox, capers and cream cheese, from Nancy's Bagel Grounds/Payne Street Bakehouse.
2. Schnitzel à la Holstein, at Gasthaus, served with lovely sauerkraut.
And the winner is:
1. Vietnam Kitchen's K8, or Hủ tiếu Saté (Sate noodle soup): "Rice noodle with lemon grass, bean sprout, and broccoli in saté broth." Any protein will do, although my wife gets VK8 with tofu, and I love it, too.
Yes, it's true: Vietnam Kitchen (5339 Mitscher Ave. in Iroquois Manor) is for sale. Imperturbable owner Alex Lam has listed his 28-year-old establishment, including an offer to train the next chef. In revealing the news, the Courier-Journal's Dana McMahan did a great job cracking Vietnam Kitchen's code.
When you are in that mode of wanting your VM5 or VK8, maybe your F4 or L6, nothing else will do. (Those who are devout Vietnam Kitchen lovers know that you use the menu codes, not the names of the dishes, like stir-fried mock duck and green beans or Yellow Chicken Curry, to express your true foodie love.)
Relax; remember to keep breathing, and follow the links to learn more about this story. We're all old enough to know that transitions are difficult for any business, but even more so among independent family-owned operations. Speaking for myself, I'm thankful for all the immigrants to Louisville who've brought a taste of their global kitchens and cultures with them. We're immeasurably richer for it.
Vietnam Kitchen hasn't ever been cutting edge or avant garde. For the past 28 years, it's just been utterly reliable and great at what it does. Comfort food; comfort restaurant. An institution.
Let's hope Mr. Lam finds a buyer, and can enjoy a well-earned retirement.
(Vietnam Kitchen is on vacation from 27 June  through 25 July, and will reopen on 26 July. Cover photo credit: Go To Louisville)