The past week was eventful for diners and drinkers in New Albany, with an opening, two closings, and a much anticipated "coming soon."
It might be added that in the last six months, the scale of investment and optimism being expressed by the food and dining community in your correspondent's Southern Indiana hometown has dramatically belied the prevailing pandemic malaise. It is anyone's guess what happens next, but the renewal proceeds apace.
In addition, there are fresh stirrings at 321 Pearl Street, where the long dormant River City Winery has a new owner and seems set to re-emerge as Baer's Winery at some point in the future. I'll have more on this as their plans progress.
Naturally, there have been casualties; such is the inevitable churn. First, current and prospective openings.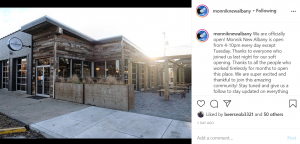 Open now: Monnik Beer Co. New Albany (415 Bank Street)
It's the fruition of a log-gestating story we broke in January 2020, with Germantown's five-tear-old Monnik Beer Co. completely overhauling the former NABC Bank Street Brewhouse, installing a comfortable patio, and now open and offering full-service food, cocktails and Monnik's locally renowned beers.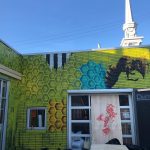 Coming in early February: Agave & Rye (324 E. Main Street)
Taking over the dramatically refashioned onetime tire store space formerly occupied by Hull & High Water, and redoing it all over again, Indiana's first Agave & Rye outlet is aiming for a soft opening the first week of February. The regional chain promises epic tacos and epic drinks in an epic location, and the rooftop patio with a view of downtown Louisville will be a downtown essential come warmer weather.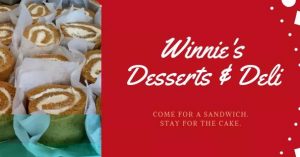 Closed: Winnie's Decadent Desserts and Bakery (242 Vincennes Street)
Actually this notification came during the first week of the year. Located in the Uptown neighborhood a few blocks from New Albany High School to the north and Mansion Row to the south, Winnie's had developed a solid following, but the owner was forced to close for personal reasons.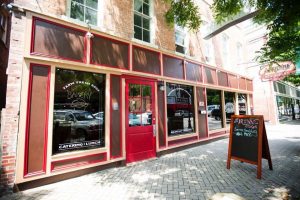 Closing January 31: Adrienne & Co. (133 E. Market Street)
After five years in business, the NA location of Adrienne & Co. announced that January 31 would be its final day. Other locations remain open. Here's the text from the Facebook announcement.
To all of our wonderful customers,
It is with great sadness and a heavy heart that we are announcing the closing of our New Albany Adrienne and Co Bakery as of January 31st. Unfortunately and beyond our control the Pandemic has made sustaining this location impossible. We have felt the loss with our fellow small businesses that have endured thier own heartbreaking decision and now we experience this with our own New Albany location. We appreciate the many memories this location has given us, from furry friend visits, family traditions and friendly new faces, this location holds a very dear place in our hearts. Please come out these last couple of weeks and celebrate with us one last time. Thank you for five wonderful years, and we do want to invite you to come visit our Jeffersonville location where you can enjoy the same tasty food and treats. ALL OTHER LOCATIONS WILL REMAIN OPEN!!!!
With all our love!!