In a personal Facebook post this morning, owner and chef Eric Morris announced that Hull & High Water in New Albany will be closing "soon."
Reached by text shortly after, Morris said "We've got another week or two at best depending on product, etc., pending no further surprises." Later at Hull & High Water's page at Facebook page there was an update: closed Monday and Tuesday this week, but reopening Wednesday (October 23).
The restaurant, which specialized in fresh seafood, opened in late 2017.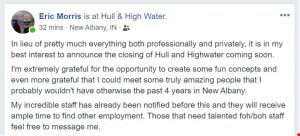 "In lieu of pretty much everything both professionally and privately, it is in my best interest to announce the closing of Hull and Highwater coming soon," wrote Morris.
"I'm extremely grateful for the opportunity to create some fun concepts and even more grateful that I could meet some truly amazing people that I probably wouldn't have otherwise the past 4 years in New Albany. My incredible staff has already been notified before this and they will receive ample time to find other employment. Those that need talented foh/boh staff feel free to message me."
Morris's first eatery in New Albany, the Southern-infused Gospel Bird, closed in 2018 after a three-year run. At this time it is not know if there'll be another tenant in the Hull & High Water building at 324 E. Main Street.
This story is breaking, and if there's anything to add we'll be back to update it.