The Fall 2020 issue of Food & Dining Magazine hits the street in a few weeks.
For my Hip Hops print column in the new issue, I chatted with three Louisville brewery owners about their survival techniques during COVID-19, among them Scott Shreffler of the four-year-old Mile Wide Beer Co. (636 Barret Avenue). The others were Leah Dienes (Apocalypse Brew Works) and Sam Cruz (Against the Grain).
Writing about Mile Wide in 2020 reminded me that the brewery was featured in a previous print column from 2018. It surveyed the explosion of New England-style India Pale Ales and explored Mile Wide's embrace of them. This earlier column hadn't been reprinted at the F&D web site, so what better time than now?
As preface, kindly take note of one important update: Mac's at Mile Wide debuted inside the brewery premises in July 2019 as the second location of Mac's Dough House in Jeffersontown, with the brewery outlet still open as the original shop is reformatted. It's a Neapolitan-style pizza kitchen that enables beer lovers to pair Margherita with McPoyle.
—
Louisville's Mile Wide Beer Company was the first Kentucky brewery to embrace NE IPA, and now offers four annual interpretations of the popular style.
(Originally published in the Summer 2018 issue of Food & Dining)
The doors at Mile Wide Beer Company opened at 4:00 p.m. on a Thursday in early April to a waiting crowd of two dozen craft beer fans, who filed inside and queued in orderly fashion by the bar for the long-awaited NOMAH! release day.

In turn, they paid for one or more 4- packs of 16-ounce cans, and most bought a glass of NOMAH! to drink — sometimes two of them.

Two of Mile Wide's owners, Scott Shreffler and Matt Landon, stood taking carry-out sales tickets, bagging purchases, and answering questions from behind a folding table by a pallet stacked neatly with flats of tall boy cans.
Watching the festivities, I couldn't help thinking about our last trip to New England. My wife's niece lives in western Massachusetts. She and her husband enjoy craft beer, but they're not snobs. As working parents of a rambunctious young daughter, there isn't time for internet ratings and guided tastings — just spare moments for refreshment and relaxation whenever the opportunity arises.

Ben keeps his garage fridge packed with regional beer — most of it in cans. Last year during our stay, his larder included lots of hitherto unfamiliar brands of India Pale Ale with mysterious names like Trillium Congress Street, Lord Hobo Boom Sauce and Tree House Julius.
We'd pluck a couple of tall boys, pop their tabs and drink straight from the cans. These ales were an intriguing jumble of sensations — medium-bodied and complex, flavorful and hoppy, yet curiously thirst-quenching and weirdly lacking bitterness.

On the third or fourth time around, curiosity got the best of me and I decided to pour my selection into a tumbler from the kitchen cabinet. The beer was turbid, billowy and opaque; not so long ago, such a milky appearance would have signified either a Bavarian-style unfiltered wheat ale or a catastrophic brewhouse mistake.

Suddenly, it all came back to me; the viral Instagram-ability, the hoarding, the
trading and swapping – the sheer hysteria. In fact, I was sampling rare sought after examples of New England IPA, a style now officially recognized by the
Brewers Association as "Juicy or Hazy" by definition, not happenstance or marketing phraseology.

As for Ben, he just smiled and shrugged. It's his favorite style, and when he and his friends go to stand in line at a local taproom for their allocation, they tease the hipsters and black marketers who are there only to snatch sought-after commodities.

"Aren't you supposed to drink the beer, dude?"

New England IPAs are red hot, and they've turned the traditional notion of India Pale Ale on its head, giving it a vigorous and perhaps overdue shaking.

IPA was born in the United Kingdom, where it was a tipple with a colorful back story about cleverly concocted barrels of strong, bitter ale being shipped all the way to India.

Indeed, in olden times — prior to pasteurization and refrigeration — alcoholic
heft and heavy hopping acted as preservatives, but by World War II, IPA had become
an afterthought in the British Isles, only to reemerge with a vengeance in another former
colonial realm, the United States of America.

By the early 2000s, American craft brewers were specializing in several distinct and excessively hoppy sub-genres of IPA, including West Coast IPA, Black IPA, and maybe even Midwestern IPA.They shared the common trait of possessing a distinctive underlying bitterness, which results from early hop additions in the boil.

However, New England IPAs eschew massive doses of bittering hops, opting instead for new-age, fruit-forward (and expensive) hops like Citra, Mosaic, Galaxy, Azacca and El Dorado. They're added at the end of the boil and in the fermenter ("dry-hopping").

The grist typically includes wheat, oats and higher-protein barley malts, while preferred yeast strains produce noticeably fruity flavors and aromas. Combining ingredients with technique, brewers create juiciness and haziness as natural by-products of the process, without gimmicks or additives.
New England IPAs have one big caveat, because their shelf life is short. Lush, juicy, fruity and tropical flavors and aromas fade quickly, so freshness is imperative. Accordingly, many breweries purposefully limit distribution to their own taprooms – as with Mile Wide (636 Barret Avenue).

"The best and earliest versions of the style all come from the Northeast, obviously, and two of the best are from Boston with Trillium and Tree House," explained Shreffler.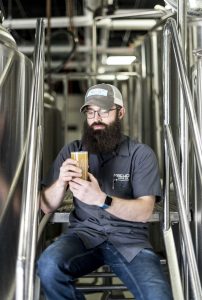 After tasting both, the Mile Wide crew opted to brew a range of IPAs instead of only one. Head brewer Kyle Tavares's emblematic New England IPA releases are NOMAH!, Tessie, Tuck Rule and Moxie; the latter is a Double NE IPA with 8% abv, while the remaining three are around 6.5%.

"We were the first brewery in the state of Kentucky to brew a (New England) IPA," said Shreffler, "and the first batch of Tessie really took off."

Did it ever. According to Landon, Mile Wide's New England IPA series currently comprises only 10% of total production (circa 1,100 barrels in 2017 and aiming for 2,400 in 2018) but accounts for a staggering 34% of sales made in-house at the taproom.
Therein lies a final lesson in craft beer's evolution. Whenever breweries are allowed to distribute from their own brick and mortar, taproom sales represent the highest possible profit margin; after all, wholesalers always take their cut.

Given that the best way to control freshness and quality in beer is to sell it at the bar or from the loading dock, any beers like these that magically fly from the walk-in cooler represent an ideal marriage of art and commerce.

Fad or trend?
Considering recent "national" releases by Sierra Nevada, New Belgium and Samuel Adams, the answer should be obvious: New England IPA is quite likely here to stay. F&D

---
Roger Baylor is an entrepreneur, educator, and innovator with more than 35 years of hands-on experience and expertise as a beer seller, restaurateur, and commentator. As the co-founder of New Albany's Sportstime Pizza/Rich O's Public House (which later became New Albanian Brewing Company) in the 1990s and early 2000s, Baylor played a seminal role in Louisville's craft beer renaissance. Currently he is the beer director at Pints&union in New Albany. Baylor's "Hip Hops" columns on beer-related subjects have been a fixture in F&D since 2005, and he was named the magazine's digital editor in 2019.