North End Cafe (1722 Frankfort Avenue) has closed its original location in Clifton for good, bringing to an end a 17-year run.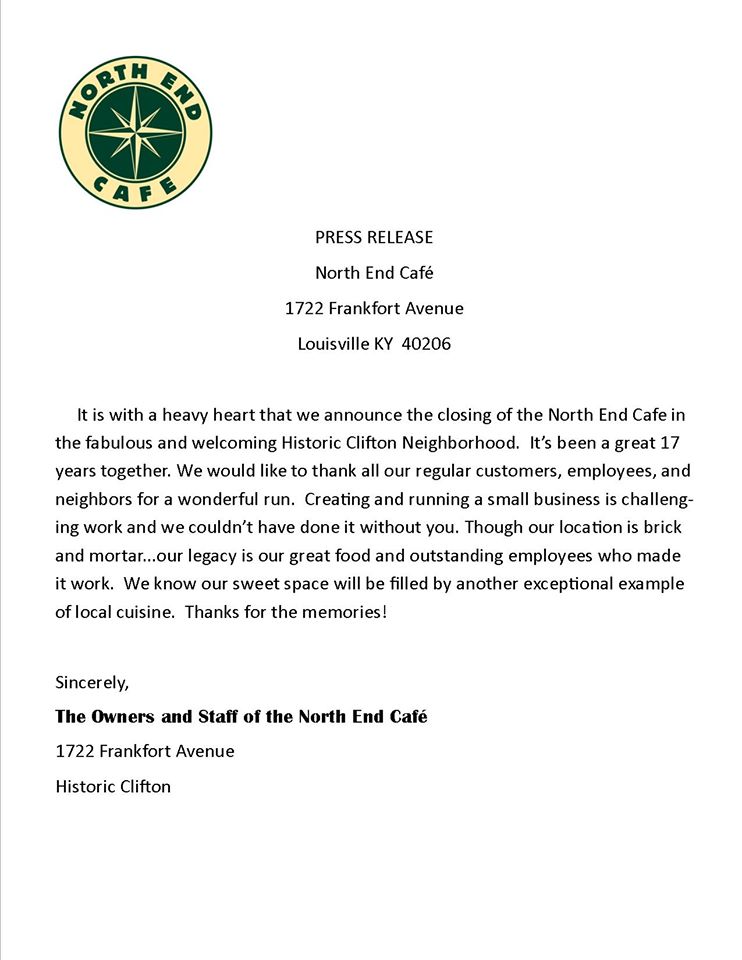 North End's end isn't quite as simple as attributing it to a loss of revenue from COVID-19. Rather, as a possible clue, one must consider contrasting points of view on social media.
Patron: "A major bummer. Thank you for many years of great memories and meals. All the best."
Food service industry worker: "Pay the people who work for you fairly, correctly. Good riddance."
For my money the best current coverage of the North End Cafe story can be found at Louisville Business First, courtesy of reporter Haley Cawthon. She has filed two stories that establish a chronology.
North End Cafe files for Chapter 7 bankruptcy protection
After filing for bankruptcy, popular Louisville restaurant closes for good
First came the lawsuit.
As Louisville Business First reported in November 2018, the U.S. Department of Labor filed a lawsuit against the two North End Cafe restaurants, alleging that the restaurant owed more than $250,000 in overtime wages plus damages to at least 18 employees. One of the restaurants — the combo North End Cafe/North End Slice on Bardstown Road — closed in late February 2019.
Next, the coronavirus. North End Cafe remained closed from March, when on-premise dining was suspended, into May. Last week the saga of disarray shifted to bankruptcy proceedings.
According to bankruptcy filing, North End Cafe has $0 in assets and nearly $230,000 in debts. NEVC (the cafe's LLC) has also filed for bankruptcy with $0 in assets and about $45,000 in debts. Attorneys representing North End Cafe in the federal lawsuit indicate that the bankruptcy filing should result in an automatic stay in the pending lawsuit.
Viewed from these contexts, the cafe's closing seems almost anti-climactic. Perhaps by the time the legalities are settled, three or four years hence, we'll have had the chance to formulate a moral to the story.