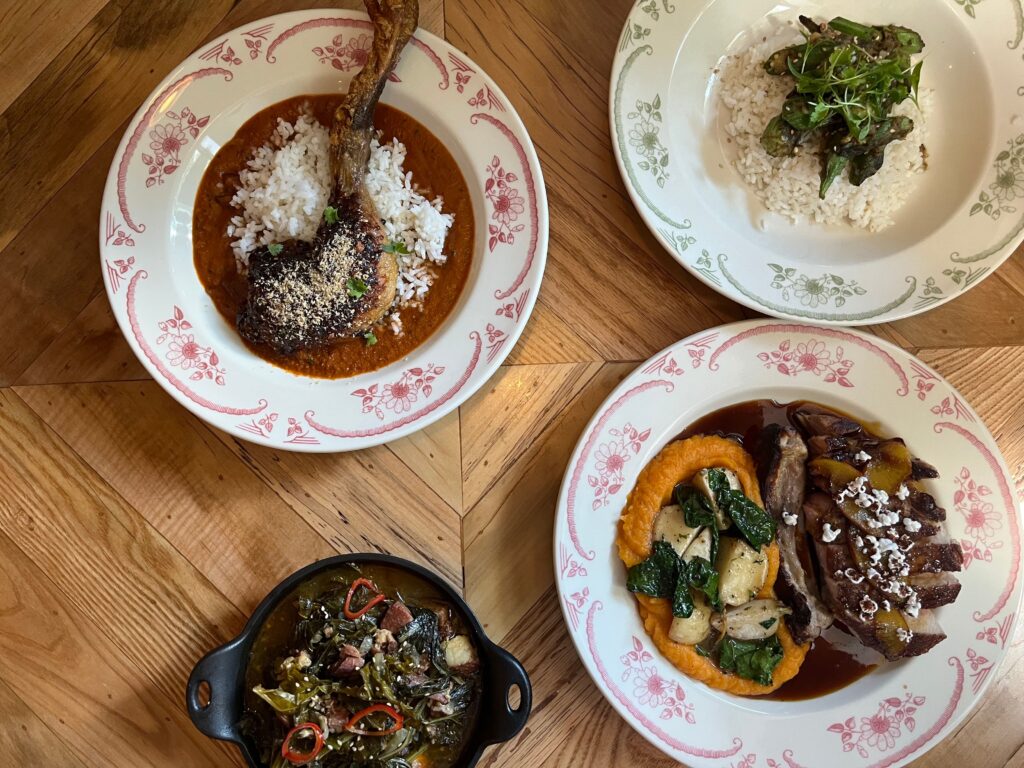 "North of Bourbon celebrates the special relationship between New Orleans and bourbon in the unique and friendly Germantown community."
North of Bourbon (935 Goss Avenue) will debut a brunch service this Sunday, July 24, from 10 a.m. to 3:00 p.m.
(The restaurant's lunch and dinner hours are Tuesday through Thursday 11:30 a.m. to 12:00 a.m., and Friday and Saturday 11:30 a.m. to 1:00 a.m.)
An information release provides brunch teasers.
You can't have a New Orleans breakfast without beignets, but be sure to try the pain perdu, breakfast casserole with local sausage and eggs and house made hot sauce, or the breakfast chops. Leaning lunch? Breakfast Fried Rice, Catfish & Grits and Buttermilk Fried Rabbit are favorites from last weekend's friends and family event.
The brunch menu will include $10 cocktails like a Pimm's Cup interpretation and Frozen Kentucky Coffee.
As it turns out, in mid-July chef Lawrence Weeks launched new lunch and dinner menus at North of Bourbon, and these developments bear a slightly belated mention.
Lunch options range from $10 to $20, with vegan and gluten free choices.
Po Boy options: shrimp, roast beef, catfish and fried oysters.
Also there's a prime rib sandwich, bourbon grilled cheese, NOB burger, gumbo and shrimp & grits.
Dinner menu selections are priced from $10 to $37, and also include vegan and gluten free options.
Starters: oysters, crawfish boudin balls and peppered catfish nuggets.
Seafood: flounder crudo, crab rice dressing and shrimp yakamein.
Southern: Limpin' Susan with roasted okra, Carolina Gold Rice and benne seed; chicken & sausage gumbo served with mustard potato salad; or a 16 oz. local pork chop served with glazed turnips, sweet potato puree, puffed sorghum and peaches.
And, for the imbibers among us, North of Bourbon's happy hour runs from 4:00 to 6:00 p.m., Monday through Friday, with $2 select (mass market) beers, $2 off draft beers, $5 off specialty Old Fashioned cocktails, half-off wine and $3 select shots.
Happy hour snacks apparently have been curated with your digital editor's preferences in mind: smoked fish dip, Foxglove cheese custard, crab andouille fritters, and oil poached white anchovy.
—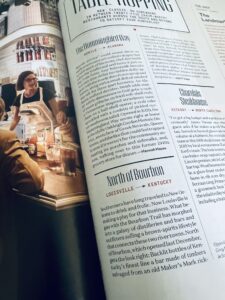 (July 25 update)
North of Bourbon is featured in the latest Garden & Gun magazine (August/September), which includes a list of the top new restaurants in the South. Thanks to Dan Dry for the photos.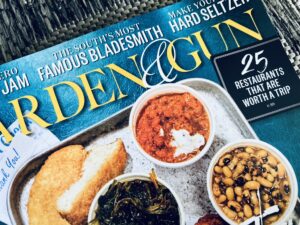 advertising content
advertising content