An establishment called Paris Banh Mi Cafe Bakery soon will open at 1237 Bardstown Road. Louisville Business First's Haley Cawthon previewed the eatery:
Paris Banh Mi Cafe Bakery will serve a variety of Bánh mì, which are baguette sandwiches served with your choice of protein, jalapeño, vegetables, pickle, cucumber, handmade butter and cilantro. The cafe's fusion-style food menu also has several types of cakes and pastries, such as fruit danishes and tiramisu.
For some readers, although by no means all, a salient point about the arrival of a new restaurant directly pertains to whether or not it is an independent business, or a franchise/chain.
My own preferences run overwhelmingly to the former; even when a franchise is "locally owned" or "family owned," it benefits from advantages inherent to the chain/franchising system, which generally are unavailable to independent startups. Simply stated, a quarter-century of indie local business ownership may have ended for me three years ago, but I remain supportive of my brethren.
However, you needn't agree with my preference.
As with the listing of ingredients on a package of cupcakes, the desired outcome isn't for me or anyone else to dictate what you eat or where you consume it, but to make as much information as possible available so that an informed choice can be made according to your own preferences — and not only the facts about an eatery's menus and offerings.
Toward this end, Paris Banh Mi Cafe Bakery's website reads, "Paris Banh Mi Coffee Bakery Louisville is a unique bakery shop in Louisville, KY 40204."
Now, I might choose to focus on the word "coffee," as appearing to be misplaced in this sentence instead of "cafe." It might be accidental, or artfully purposeful; no matter, because "unique" is the bone of contention with me, as this map illustrates.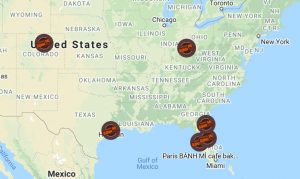 Note also this article in the Orlando Sentinel: "Judge orders Orlando bakery accused of copying the name 'Paris Banh Mi' to stop using it — for now."
Bruce Tran said the three of them briefly discussed going into businesses together and he shared the name idea with Hien Tran and Doan Nguyen. When the partnership fizzled, he said the couple gave him permission to use it. The east Orlando bakery was still under construction but (Tran) said he planned to franchise 300 locations and didn't mind that his ex-business partners were using the name.
To each their own, but to me, "unique" and "300 locations" strike me as mutually exclusive, and yet in the end, thankfully, we're all free to make our own choices. Get on out there, and make yours.