Dundee Candy Shop, 2112 Bardstown Rd.,  has been selling the good stuff in the Highlands for 72 years and is a holiday tradition for many, but owner Maria Moore has announced  that she will not be renewing their lease when it expires in April because she and her husband are retiring.   It will be business as usual until April 1 and orders can still be placed through their web site until April 2. Her web site says a buyer had not been found and she will be selling off her furniture and displays, but Moore explained to F&D that all changed yesterday when The Sweet Spot Candy Shoppe, 1583 Bardstown Rd., bought the business yesterday with the intention to keep the history alive by incorporating it into their own shop.
"I grew up as a kid going to Dundee," said David Carney, who owns Sweet Spot with his husband and partner Brian Wigginton. "Our Easter candy and stocking candy always came from Dundee.  I went in Tuesday with the intention of buying some of her decor. Then, I spoke with my husband and this all happened yesterday. It just felt right to carry on a Louisville tradition. "
When asked her favorite part of running the shop for so long, Moore said, "The customers for sure , dealing with people, waiting on people. We made a lot of good friends through the year, but we're past our mid-sixties, and it's definitely time [to retire]!"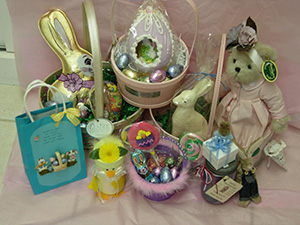 Dundee Candy Shop will still be offering chocolate bunnies, eggs, all the jelly beans, candy corn, caramel robin egg, malted milk eggs, greetings cards, stuffed animals and everything you could want for Easter.
Then, the memory will live on at the Sweet Spot. Carney said they are still discussing if Dundee will be incorporated throughout his store or have a dedicated room.
"I'm very excited," he said."I'm going to incorporate as much of Dundee throughout  our store as I can.  When you walk into our store, there will be parts you will recognize if you are a Dundee customer. "