520 S. Fourth St., Louisville, KY | 502.315.0666
On a crisp autumn Thursday at lunchtime there was plenty of foot traffic on Fourth Street in Louisville, and more than a few downtowners were slipping into Mi Casita Parrilla Mexicana for a midday bite.
Inside the eatery was warm, colorful and abuzz with activity. There were women in casual office attire, a half-dozen construction workers, a knot of men in expensive suits, and a police officer seated in the corner.
Staffers were friendly and on task, hoisting platters of tacos, burritos and salads, stacking bagged carry-out orders and refilling drinks.
Mi Casita has occupied this space for a decade, serving primarily workers at lunch, then catering more to out-of-town visitors in the evening. The Seelbach Hotel is next door, and Fourth Street Live mere steps down the street.
(Originally published in the Winter 2019 issue of Food & Dining)
Amid the bustle Miguel Hernández kept a watchful eye on the proceedings. With brother Alejandro, he owns and operates Mi Casita, which has a second location at 2060 S. Hurstbourne Pkwy. and a third coming soon to Shelbyville.
The establishment has known multiple monikers. Until a few months ago Mi Casita ("my little house") was called Mi Cocina ("my kitchen") but unexpectedly, out-of-town lawyers became involved.
"There is another restaurant in Dallas with the same name, and they sued us," explained Hernández, "but it's all okay. Now we use Mi Casita, but people don't care about the name. They tell me all the time, 'as long as you have the same food, we'll keep coming, so don't worry about the name.'"
Hernández hails from Mexico City, and he studied in Veracruz on the Gulf of Mexico. "We cooked lots of seafood on the coast," Hernández told me, adding that he has always harbored a desire to be in the kitchen, and one thing led to another.
"My passion is to cook for the people," he said with a smile, and it's a passion that led the youthful Hernández to Shelbyville, Kentucky in 1998.
"We came to Kentucky to work for the Claudia Sanders restaurant, me and my brother, and we ran the place for 11 years," recalled Hernández. "Then we decided to open a restaurant, and my brother said we're Mexicans; we'll have a Mexican restaurant. And we have all the family recipes, so this is not Tex-Mex. This is authentic Mexican. We cook only homemade, from scratch."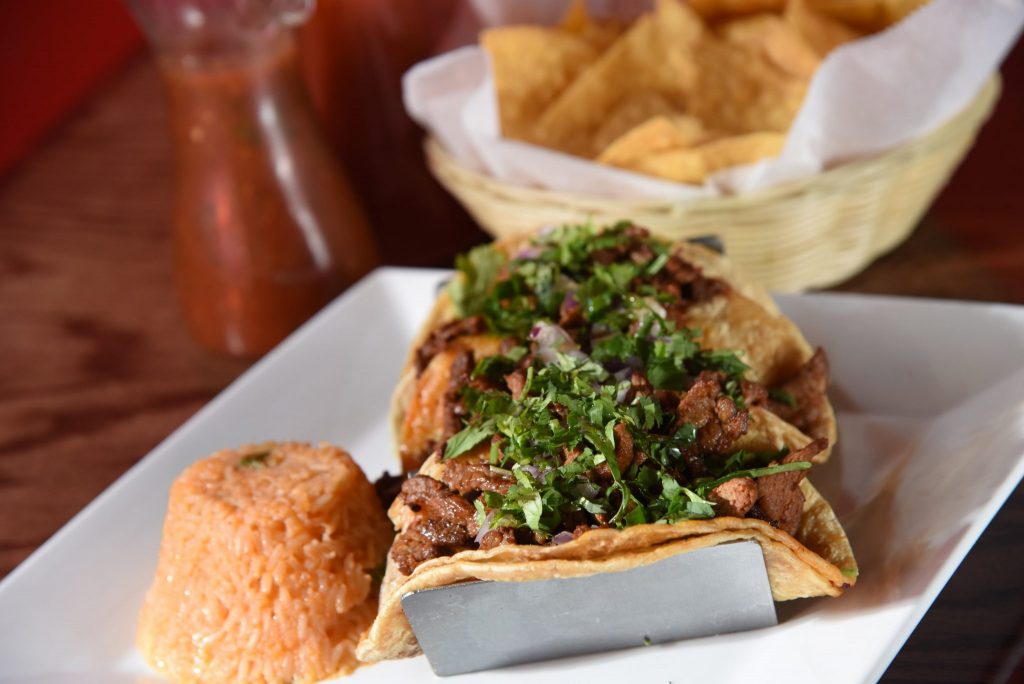 Prior to my conversation with Hernández, I'd sampled Mi Casita's fare, choosing a simple, light lunch, burrito carnitas filled with fried pork and served with rice and beans. The pork was tender, the tortilla fresh, and the humble sides — so often mere afterthoughts, left forlorn on the plate by disinterested diners — were outstanding, especially the rice, which had firm, distinct grains and subdued yet savory seasoning.
Hernández beamed when I mentioned how good the rice tasted. "We've cooked our rice like this since my grandmom's time, and my mom and sisters also. To do it right you have to use broth. We make lots of broth from scratch and use lots of broth in everything."
Hernández is proud of everything on Mi Casita's menu, and he stresses unyielding fidelity to the family recipes and a patriotic commitment to authenticity. "I try to do something from all the different parts of Mexico," he observed. "Mole Poblano is an Aztec dish, and cochinita pibil is Mayan. Pescado zarandeado is from the Pacific."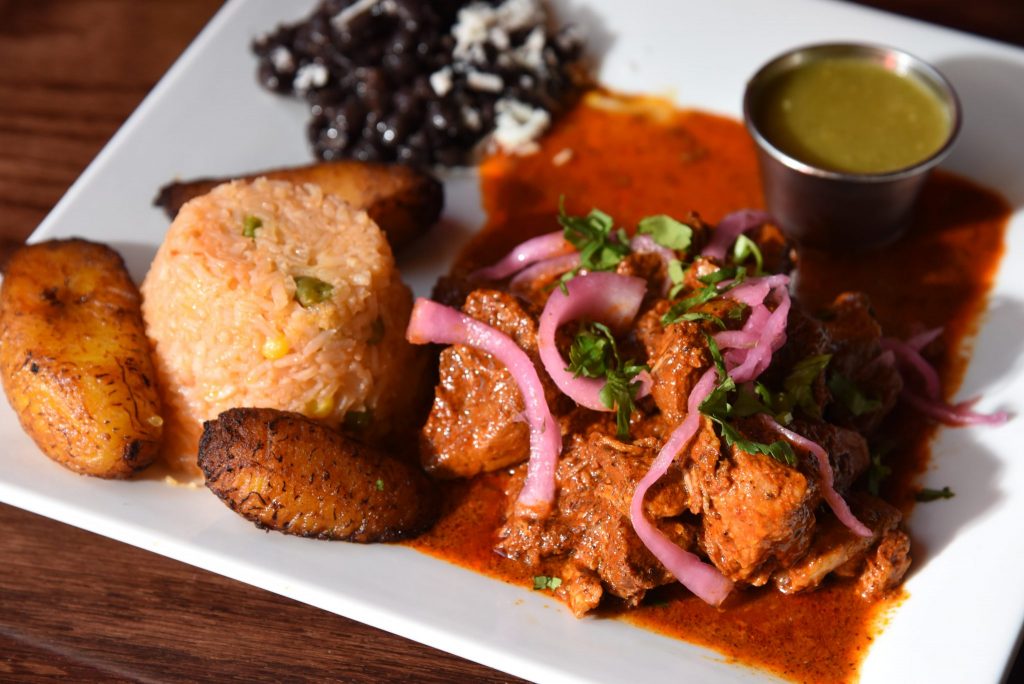 Pibil comes from the Mayan word pib, meaning "buried," referring to the method of preparing marinated meat (cochinita means "piglet") by wrapping it in banana or plantain leaves and cooking in a pit oven — not feasible in a commercial kitchen, but the principle remains the same, and the meat has a balance of sweetness and spice.
On Mexico's Pacific coast, pescado zarandeado typically is huachinango (red snapper) continuously basted with chiles and spices while being grilled over mesquite.
And what about the mole?
"Ask everybody, and this is the best mole. Seven kinds of peppers, chocolate, cinnamon, fennel, sugar … it's a lot of condiments and you have to know how to cook it."
Mi Casita's kitchen boasts a few "secret" herbs and spices, the use of which Hernández laughingly said he entrusts only to family members rather than other employees. Currently he's teaching his nephew the tricks of the culinary trade in hope the restaurant will stay in the family.
Even more importantly, Hernández is looking to hand down his own enthusiasm and passion. "You need to love what you do," he said. "You can't come in and just go to work."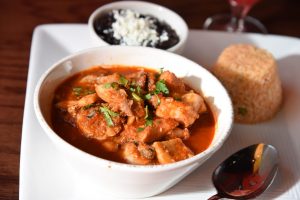 When I asked Hernández to name a few dishes he particularly loves, he began with Cazuela de Mariscos, a "pot of seafood" originating around Veracruz on the Gulf of Mexico, which he said is the choice of a group of convention customers from New York City and Seattle who return annually to Mi Casita to eat this slow-cooked stew containing a bounty of fresh seafood that includes several types of fish along with shrimp, scallops, squid, mussels and octopus.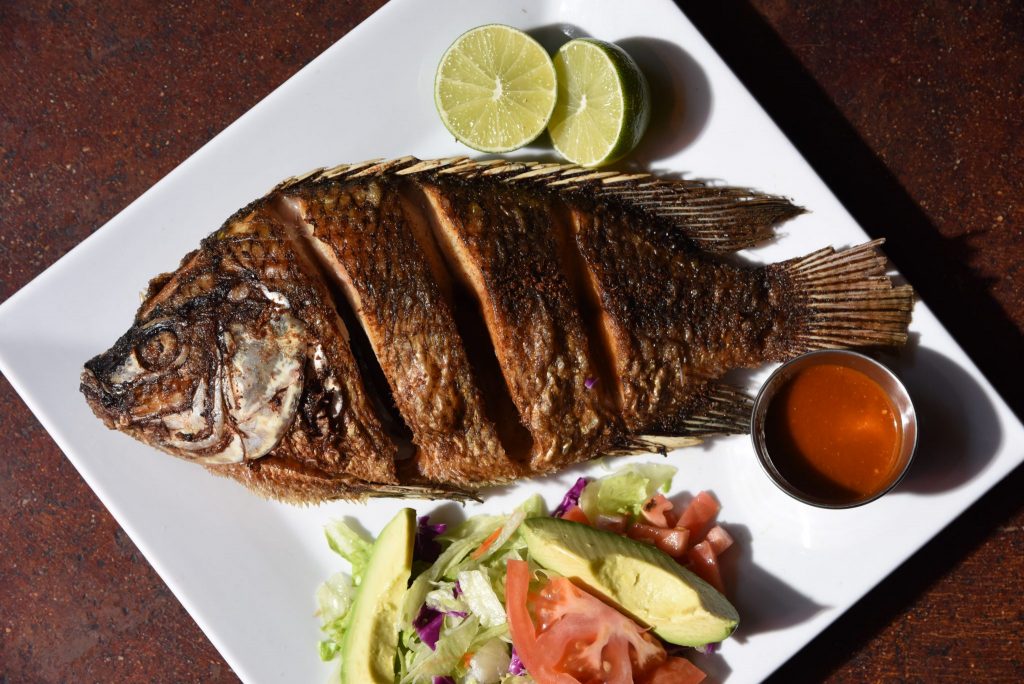 Then there's Mojarra, which strictly speaking refers to a family of saltwater fish. Freshwater tilapia look much the same, and accordingly, Mi Casita's Mojarra is a whole grilled tilapia, ideal for shifting succulent chunks of fish onto tortillas and topping them with tomato, lettuce and homemade salsa.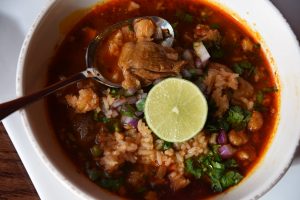 The Pozole Rojo served at Mi Casita is another stew, this one attributed to the Aztecs and made with hominy (a form of specially processed corn) and spiced with dried chiles. Pozole is a dish with an ancient, pre-Columbian heritage, but was modified after the Spanish Conquest of the Aztec Empire by the introduction of pork into South American cuisine. These days, pozole is often a fixture of holiday and weekend menus — and its chili-inflected heat is widely respected as an effective and essential hangover cure.
Having a hangover remedy on the menu seems like an important customer amenity, given the extravagant glories of another dish on Mi Casita's menu: —Charola Botanera!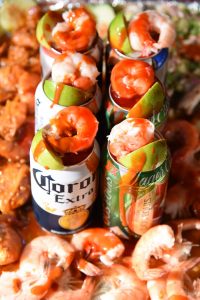 Charola means tray. Botanera is a red Mexican hot sauce.
Here, the Charola is loaded up with six cans of Tecate or Corona or the beer of your choice, each of which is first topped with a beautifully grilled shrimp and a red drizzle of Botanera that drips down the side of the can. After that, the tray is filled with thick slices of cooling cucumbers, a mess of shrimp, another drizzle of Botanera, and a sprinkle of red spices.
The only question I have about that dish is whether it's an appetizer for one, or whether sharing was required…
"The best part of the restaurant is you love whatever you do," Hernández concluded. "Most important is when the customers come and say, 'this is the best.' It's when they're really happy, with the food and the drinks. That's all we try to do here." F&D