From Pharm to Table
A couple of young pharmacists are the entrepreneurs behind LouVino.
(Originally published in the Summer 2019 issue of Food & Dining)
It's early in the evening on a weeknight, and the sleekly contemporary, wood-accented interior of LouVino, a wine bar and restaurant on Bardstown Road in the Highlands, is busy. More than half of the closely spaced tables are occupied. The room is noisy with conversation and a pumped up music system. The bartender is shaking craft cocktails and dispensing six-ounce pours of wine from a series of high tech wine cabinets.
Those gleaming metal cabinets each hold four bottles behind their glass doors and line the counter behind the bar. They are the key to LouVino being able to offer each of the 60 wines on its list by the glass. A combination of temperature control and argon gas will keep an opened bottle fresh for up to two months. Though given the turnover in glasses here, it seems unlikely any ever last that long. LED panels on the machines offer precisely measured, different-sized pours: one six-ounce glass or the three two-ounce glasses in a tasting flight.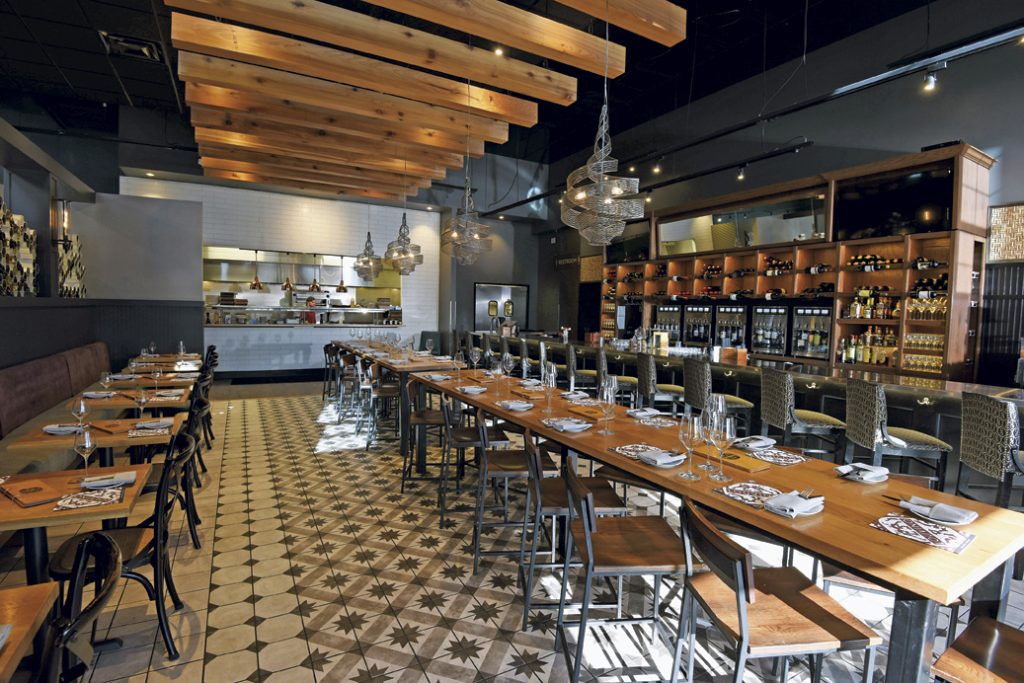 In short, the format is tailor-made to encourage wine exploration and experimentation. Given the variety of styles among the selections, seasoned wine enthusiasts are certain to find something to fit their tastes, and wine newbies can sample to learn about different varietals and discover what they like. Both can pair their selections with an array of small plates from the LouVino menu, a mix of regular and seasonally rotating dishes.
Surely this wine-centric establishment must be the brainchild of a serious oenophile. But before husband and wife co-owners Chad and Lauren Coulter started LouVino, they were pharmacists, not restaurateurs or sommeliers. They were simply looking for a business opportunity.
"I suppose I always had an entrepreneurial desire," explained Chad Coulter. He and Lauren moved to Louisville from their native Georgia 10 years ago. He had a teaching position in the pharmacy school at Sullivan University, and she went to work at Humana. At the time, his entrepreneurial ambition centered around having his own family-owned corner pharmacy, but he soon figured out that the competition from the big drugstore chains had made that dream impractical.
He was leading Sullivan students on a trip to Australia when he got a call from Lauren.
"She went to this painting and drinking place in Alabama while visiting a girl I went to pharmacy school with," Coulter recalls. He could tell she was excited as she said, "I just painted this picture in class while drinking wine and it turned out pretty well. I think we should bring this concept to Louisville!"
He spent a week researching wine and painting businesses on the Internet and discovered a franchise opportunity. That resulted in the 2012 opening of Uptown Art on Bardstown Road. Such was its success that they opened a second location in New Albany the next year. But Coulter's entrepreneurial impulse still wasn't satisfied.
"We were selling a lot of wine [at Uptown Art], and I thought there was a kind of unmet demand," says Coulter. He had noted plenty of local places with great bourbon and great beer selections. Wine by the glass? Not so much.
An Idea Becomes Reality
The couple started looking around for a location to open a wine bar, and it so happened that in 2014, Maggie and Miguel De la Torres had decided to retire and close their eponymous Spanish restaurant on Bardstown Road. The Coulters bought the building from the De la Torreses and transformed the subdued Old World interior with clothed tables and tile accents into the hip LouVino.
Coulter says, "We were very, very busy and after the first couple of years, we were still doing very well, but I thought, 'Okay, a lot of people are coming here from the East End, so let's look at a location in the East End.'"
The result: In July 2016, the second Louisville location opened in Shelbyville Road in Middletown in a building the Coulters had designed expressly for the restaurant with about triple the seating capacity of the Highlands location. With its seasonal patio it can accommodate about 200.
Coulter Was Just Getting Started.
In December of 2016, a third LouVino opened in Fishers, Indiana. The upscale suburb of Indianapolis presented a challenge Coulter hadn't encountered before.
"The new location was probably the most difficult from a staffing standpoint because it's the North Side super-affluent area of Indianapolis. Yeah. Like you just don't get a lot of [restaurant workers]. It's hard to find talent, especially with a concept like this. It's got to have the right person in the kitchen and it's not going to work if you don't have the right person behind the bar."
Coulter was conscientious about finding the right professionals to run his restaurants, including beverage manager, Michael Henry, who had been a sales representative for Vanguard Wines and was knowledgeable about an extensive portfolio. Coulter readily admits that his wine knowledge was "minimal." So Henry provided the expertise to make the carefully curated wine list possible and he is responsible for the wine lists in all locations. Bar manager Felicia Corbett (no relation to Dean Corbett.) was responsible for creating the craft cocktails and mocktails for all of the LouVino locations.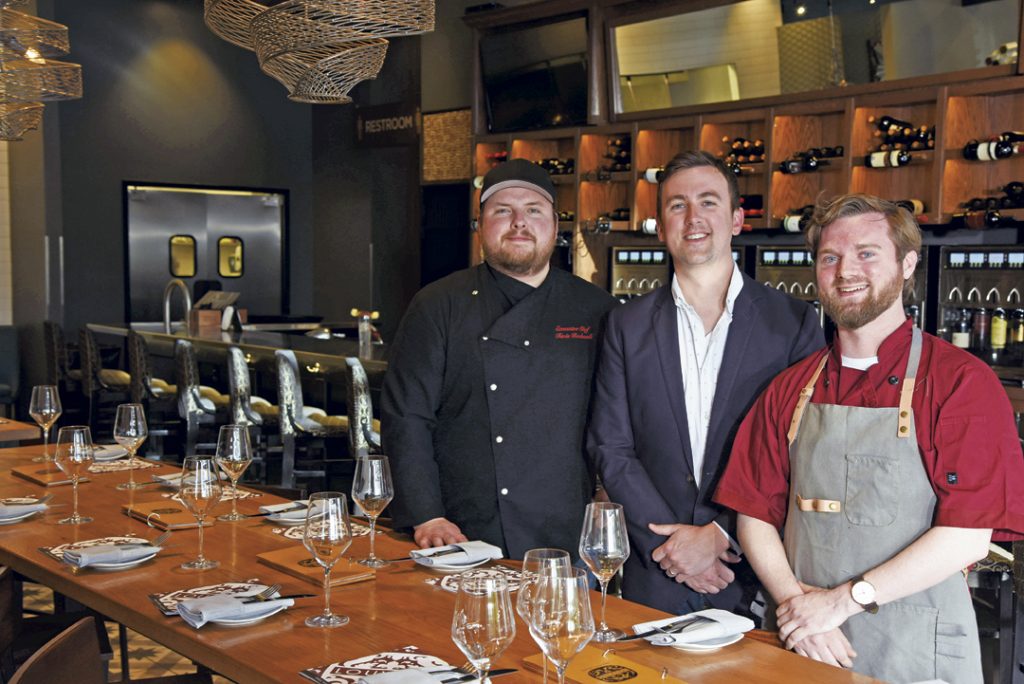 Tavis Rockwell, a veteran of Corbett's: An American Place and a protégé of the late award-winning chef, Dean Corbett, also came on board as the chef with the first LouVino. He now oversees the kitchens at all LouVino locations. And yet another trusted professional was Elliot Checinski, who came from Village Anchor and Le Moo to the original LouVino and then went to the Middletown location. Coulter sent him to oversee the kitchen at Fishers, and the location has been successful enough that a second Indianapolis location recently opened on Massachusetts Avenue in downtown Indy, a street lined with restaurants and shops with a decidedly Louisville Bardstown Road vibe.
From the beginning, Coulter looked for people who would be "open to moving around [geographically] and moving up" in his restaurants.
One would think that having restaurants in two states would be plenty to juggle. Apparently, that's not Chad Coulter's style. In 2017, before the second Indiana location opened, Cincinnati's trendy Over-the-Rhine neighborhood got a LouVino of its own.
LouVino appears to be a successful formula that translates well in multiple cities. What worked on Bardstown Road has been eminently exportable.
That formula is a mix of casual and sophisticated. There is no feeling upon entering the original LouVino that it is a place for "wine snobs" and "foodies." Large bay windows lined with banquettes allow patrons to watch the passing variety show of people on Bardstown Road sidewalks. Instead of wearing white tablecloths, tables are finished bare wood. People are engaged in conversations over wine, not conversations about wine.
Descriptive headings on the wine list itself are meant to take the mystery out of the selection and dispel any anxiety that you might have about being a dedicated oenophile worthy of occupying a chair here. These headings are especially helpful if your wine knowledge is limited and you are trying to find a sip to fit your palate.
Instead of just "red" and "white," each type is divided into categories by taste profile as well as well-known varietals such as chardonnay and cabernet. For example, sparkling wines from France, Italy, and Spain are found under the heading Touch of Tingle and are priced from $9 to $15 per glass. An international selection of white wines, Generous & Juicy Gems ($9-$12), consists of Rieslings from Austria and Germany, a Vouvray from France, and a torrontés from Argentina.
Bold, Beautiful & Broad Shouldered reds ($16-$22) are an Italian barolo, a French Châteauneuf du Pape, a Spanish rioja, and an Argentinian malbec. Find a selection of Californian and French Cabernet Sauvignon and Cabernet Franc under O Cabernet, My Captain! ($9-$29).
If your taste runs to rosé, those are The Other White Wine ($8-$12). The rather sweet fortified wines such as madeira, sherry, and port are, appropriately, listed as Dessert First ($6-$10).
The flights of three two-ounce pours are named after celebrities with Kentucky ties, both current and historic. A flight of reds is dubbed Muhammad Ali (since each is "big, strong, and packs a punch"). The Jennifer Lawrence ("Well rounded, bubbly, and beautiful") is the name of the sparkling wine flight.
Mixologist Corbett also created a list of wine cocktails, combining spirits with wine. One example is Honest Abe ($11), which uses Rittenhouse rye, merlot, smoked cherries, and black walnut bitter. She also created a trio of mocktails for the designated driver or teetotaler and in keeping with LouVino's Kentucky roots, named them after famous racehorses. The Secretariat is sparkling water infused with mint and lime. American Pharaoh blends seasonal juices and is garnished with fresh fruit. And Sea Biscuit is house-made blueberry infused lemonade.
Wine cocktails and mocktails are the same at all of the LouVino locations. But some of the flight headings and selections change to be more appropriate to their locations. For instance, the bold red selection named for Louisvillian Ali becomes The Steven Spielberg in Cincinnati, where the director was born. Those wines are described as "bold, red blockbusters." And thanks to different liquor distribution patterns in different states, the wines change a bit, too. Though Coulter emphasized they try to maintain the same variety of styles, even if the exact producers may not be the same.
Recognizing Louisville's love affairs with bourbon and beer, LouVino has a more than respectable selection of each. Across locations, the bourbon selection is pretty consistent with favorites from all of Kentucky's heritage distilleries. But, like the wine flight names, draft beer selections reflect their regions. The Kentucky restaurants offer mostly local beers from Goodwood, Apocalypse, and Gravely breweries. Local favorites TwoDeep and Bier Brewing are found in Indianapolis. Beers from Rhinegeist and MadTree are featured in Cincinnati.
Of course, the point of having a small plates menu is to be able to mix and match bites with sips. The regular dishes anchoring the food menu ($8-$14) include such savories as bacon wrapped dates, duck fat frites, confit chicken wings, and crab and lobster cakes. Similarly priced seasonal plates change every couple of months or so. Coulter says that the chef at each location determines what he or she wants to do with the rotating dishes.
The restaurant doesn't actually recommend specific food and wine pairings, though. Coulter said that, "We don't keep any stats on who orders what dish with which wine. People drink what they want and eat what they like."
It's a philosophy in keeping with the laid back atmosphere cultivated at LouVino.
The Next Idea
Asked about future plans for LouVino locations, Coulter said he was happy with the current line-up. But, that doesn't mean he's finished with new ventures.
"We're going to focus on a new thing we're doing, a concept I've wanted since we first opened LouVino."
That concept is Biscuit Belly, a biscuit sandwich place that opened for breakfast and lunch in NuLu in May. Citing the "little biscuit shacks" he and his wife grew up with in Georgia and similar ventures such as Pine State Biscuits in Portland, Oregon, he thinks the fast-casual restaurant appeals to a wider clientele than LouVino.
Those mom-and-pop Georgia biscuit spots were "very simple, just a fluffy biscuit with fillings such as some combination of sausage or bacon and maybe a fried egg and/or cheese." He noted practically every gas station had biscuit sandwich offerings and remembered one place that was "the Subway model" where customers could go down a line and choose the ingredients to go in their biscuits.
While Biscuit Belly is casual, (Coulter says, "It's more of a family place. It can also serve business people downtown for breakfast and lunch"), there are more elaborate choices. This is the result of LouVino alum Chef Nate Gibson's culinary imagination.
The flagship biscuit sandwich is The Rockwell Supreme, named for Tavis Rockwell. It is made with fried chicken, Kenny's Farmhouse cheddar cheese, bacon, and goetta sausage gravy. Mama's Boy pairs fried chicken with roasted jalapeño pimento cheese, Pop's pickles, and fried green tomatoes. The Edgy Veggie dresses fried green tomatoes, Kenny's cheddar, and an egg with frondosia mushroom gravy.
A selection of coffee and espresso drinks, as well as favorite brunch cocktails – mimosas, bloody marys, and a pecan-inflected old fashioned – will anchor the bar menu.
In case you have lost count, Biscuit Belly is now the Coulters' sixth restaurant. Coulter says that he has been able to grow their restaurant ventures and open in other cities thanks to their "extraordinary team." And he does admit to feeling that he'd like to relax for a bit. Nonetheless, he says with his self-admitted entrepreneurial streak still going strong, "I can see expanding Biscuit Belly in other cities, but certainly more locations in Louisville." F&D
[ngg src="galleries" ids="14″ exclusions="367,368,369,371″ sortorder="366,370,365,358,361,363,362,357,364,367,368,369,371,360,372,359″ display="basic_thumbnail" order_by="sortorder"]