From Bartender to Restaurateur
Entrepreneur Jared Matthews has become St. Matthews' most prominent restaurant owner.
(Originally published in the Summer 2019 issue of Food & Dining)
Everywhere he's worked, Jared Matthews has risen into management by caring about the work he does and people he's served. Now he's showing that same care as St. Matthews' rising star restaurateur.
Chances are you met him slinging drinks or you've asked him to book your band. Perhaps you met him at Southeast Christian Church or in his most recent role: owner of multiple restaurants. Maybe you haven't met him at all, but it sure seems like most people, especially in St. Matthews, have. Jared Fox Matthews, father, restaurateur, and friend, seems to be an unstoppable force in the Louisville restaurant scene who is now a partner/owner in the two locations of Diamond Pub & Billiards plus their new Diamond Street Grub & Hops opening this month, Lou Lou Food + Drink, and the legendary Equus & Jack's Lounge founded by the late Dean Corbett.
Just over ten years ago, he was single and became a managing partner at Diamond Pub. Now, he balances his time between these four restaurants under his care and his wife Rebecca and their four children: Ian (14), Tristan (12), Lexy (3), and Jared Fox Matthews, Jr. (nine months).
While the last decade has certainly been good to him, it is a life-long culmination.
His love for food began further south in his hometown, Marksville, Louisiana. That's where his food-loving East Coast parents were transferred.
"My dad fell in love with Cajun cooking and became responsible for crawdad boils for the neighborhood when we moved to Alabama and then Kentucky," he said. "Our Christmas tradition includes boils, gumbo and etouffée on Christmas Eve."
Although his dad instilled a childhood love for food, Matthews started his career working at Dairy Queen before he ended up running a pizza place named Figaro's in high school. "The owner didn't really do much with it, so we just kind of ran it ourselves," Matthews explained.
When he went off to the University of Kentucky in Lexington, he got his first job in the bar industry as a barback and then bartender at Two Keys Tavern. Then he worked as a manager at Columbia Steakhouse, where he helped the restaurant open a new location. Everywhere he worked, he seemed to rise into management. "There are many times I would just want to bartend," he said. "But if you care, the owners see it, and you end up running things eventually."
It is through this type of observation that Matthews ended up as a partner in Diamond Pub & Billiards on Frankfort Ave. He was working behind the bar at a place called Harper's on Hurstbourne Lane when one of their regulars, who had just bought Diamond's, noticed his hustle and offered him a job. The pool hall ended up changing hands a few times, but Jared stayed on, managing the bar for each of the owners.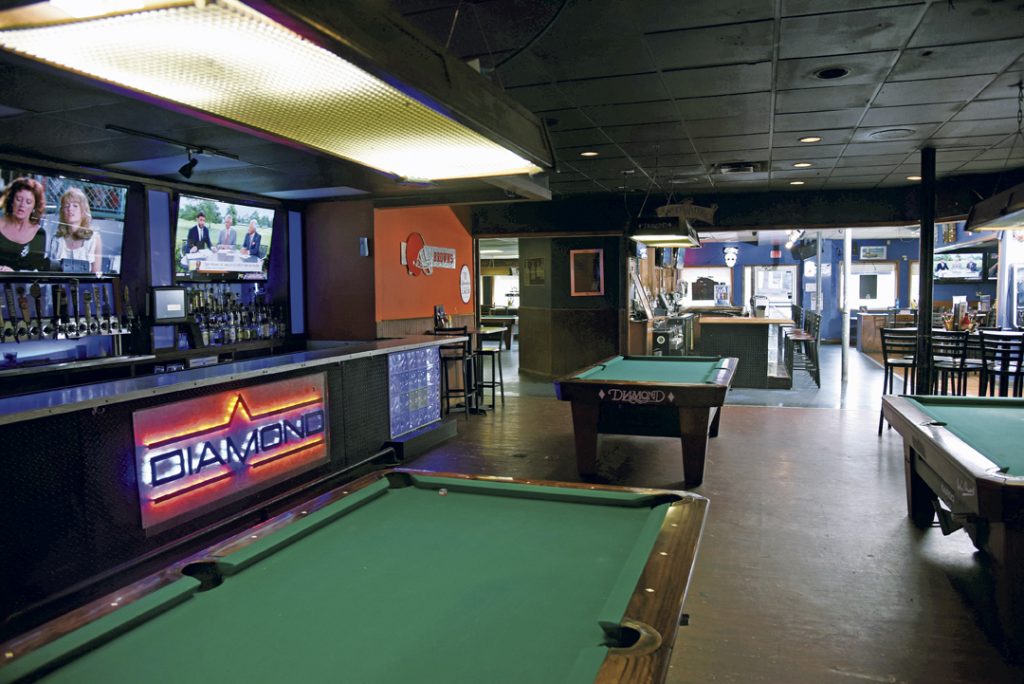 "It was kind of originally an 'old man' pool hall," Matthews explained. "But when I first came to see it, it was really nice inside. I wanted to bring a younger vibe and make it a more 'happening' place. I worked to get regular live music there throughout the week and on the weekends inside and out on the patio."
Then Diamond's regular Jeff Griffith bought the bar, but he didn't know anything about running it. He offered Matthews partnership if he stayed to run the business.
The first thing to go? Two tube TVs behind the bar. The day Griffith bought the business is the same day they went right out to buy a new 42-inch flat screen and proudly hang it center bar.
"We thought, 'This television is going to change this bar,'" Matthews remembered, laughing.
Mission accomplished. The failing pool hall was transformed into a thriving sports and music hall with a special concert room that held about 60 people. When they expanded to their massive second location on Barret Avenue, their capacity to host concerts changed dramatically, boasting room for 800 people.
Their menu has been elevated from the wings and few fried foods once served. Both locations offer American bar grub and appetizers you might expect like pizzas, burgers, wings, nachos, and quesadillas but with less common flavor mixes and profiles, as evidenced in their large variety of burger options, such as the interesting Pizza Burger (topped with marinara, onions, pepperoni, sausage, mushrooms and provolone cheese before being wrapped in a flour tortilla and baked) or their most popular dish: the Breakfast Burger (topped with an over easy egg, bacon, American cheese and a touch of Cayenne).
A Cajun Family Tradition
Matthews had created quite a life at Diamond's, but it was those early Louisiana roots that led him to being a regular at Cafe Lou Lou (now Lou Lou Food + Drink), which was launched by Chef Clay Wallace.
"I was ready to get into the restaurant business, and he was ready to get out," he said. "I always knew I wanted to own a restaurant."
He didn't know it would be food he had such a connection to. He approached childhood friend Thomas Barnes about investing and picked up a silent partner for the brightly colored 90-seat restaurant that features a "Cajun soul with a Greek and Mediterranean influence" according to Executive Chef Johnathan Pauly.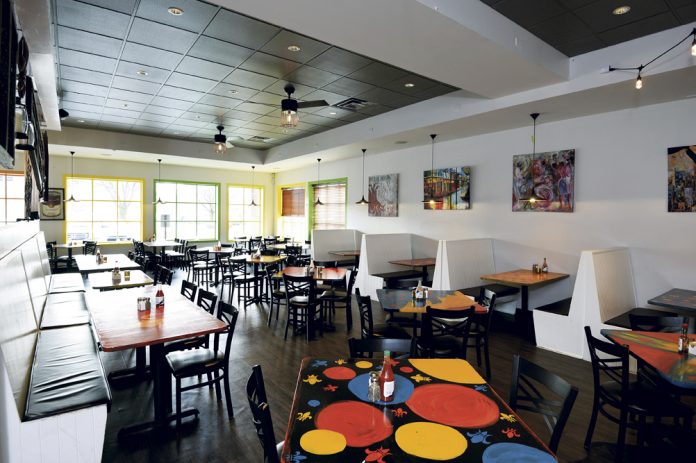 Pauly has had a love for food since childhood when his grandmother taught him to make eggs in a basket. It excited him to see others enjoy his food, and he's had his hand in food ever since. His curiosity led him to ask the chef at his high school job the difference between olive oil and virgin olive oil. When the chef didn't know, Pauly decided to go to culinary school. Schooling at the Institute of Culinary Education in New York City and working in a variety of restaurants there and in Louisville (like Jack Fry's) gave him the answers he was seeking and led him to the level of focus required to now manage multiple kitchens. Pauly managed the kitchen under Wallace, and Matthews kept the entire staff when he set out to make a few tweaks.
"Clay and I agreed the place needed some TLC, and I didn't want the 'Lou Lou' name to go away," Matthews explained. "It was already a good restaurant with a good name."
His desire to "breathe new life" into the restaurant was a welcome investment to Pauly.
"Clay did a great thing for Lou Lou," Pauly added. "It was an intelligent, well-thought-out restaurant from the beginning but by the end of it, he was tired and he was letting other people run it, and anytime you take your thumb off something, it will start slipping."
Updates came in the form of some new art, a more modern dining room with the same colorful Mardis Gras appeal, new signage and some tweaks to the menu. Most notably, gluten-free options for the pizza and pasta were added with input from Rebecca, because she eats gluten-free.
"I really wanted to bring consistency to the dishes," admitted Pauly. "The main thing I did in the kitchen is create permanent positions that didn't exist before."
Their consistently good dishes include appetizers like shrimp & grits with Cajun spices, Wild Bill's famous Cajun cheese with breadsticks, a Thai chili chicken lettuce wrap, soups, and salads — also, entrees like pastas, sandwiches, pizzas, calzones, and staples like pan-seared salmon or chicken breast topped with a choice from a variety of sauces including mango jalapeño salsa, and chili hollandaise Cajun butter. From the bayou, there is Jambalaya, Chef Clay's Famous Gumbo and other Cajun favorites. The Cajun influence extends to their pasta section where you can find Cajun crawfish bucatini puttanesca or linguini, or black bean lasagna that gets its kick from jalapeños, pepper jack cheese and green chiles. Other entrees include twin crab cakes, Cajun-dusted oysters and a Hot Brown to name a few.
Cocktails feature originals from Matthews like Makers McKnight Tea (blood oranges infused for 24 hours with Orange Curaçao, muddled into his own recipe for sweet tea and Makers Mark; named for the founder of Forecastle) and sips left over from Wallace like Helen's Relaxation (Finlandia Vodka, pomegranate juice, fresh lime juice, simple syrup: named for Wallace's mom). The dessert cocktail menu features Ballotin flavored whiskeys.
Especially popular are quarterly family-friendly special events: a big crawfish boil and bands (June), a tailgate big bayou buffet and football kickoff (September), a Christmas shrimp boil (December), and Mardi Gras (March).
"They've all been going too well," said Pauly, to which Matthews added, "We need a bigger boat."
And that is why they have their eyes set on opening an additional location—or three.
Saving a Legacy
It was during a search for additional locations that Louisville's legendary restaurateur Dean Corbett asked Matthews — a regular at Equus & Jack's Lounge — about interest in buying the business. Although completely honored, Matthews wasn't interested at first, but it came down to two possible outcomes: he would buy it and keep the names alive or Havana Rumba would buy it, and Corbett's 34-year legacy, named for his father Jack, would disappear.
"We wanted to keep the tradition of Louisville and St. Matthews alive," he explained about his decision to buy it. "We wanted to do the same thing we did with Lou Lou: just improve it a little. We kept the entire staff; some have been there for up to 20 years."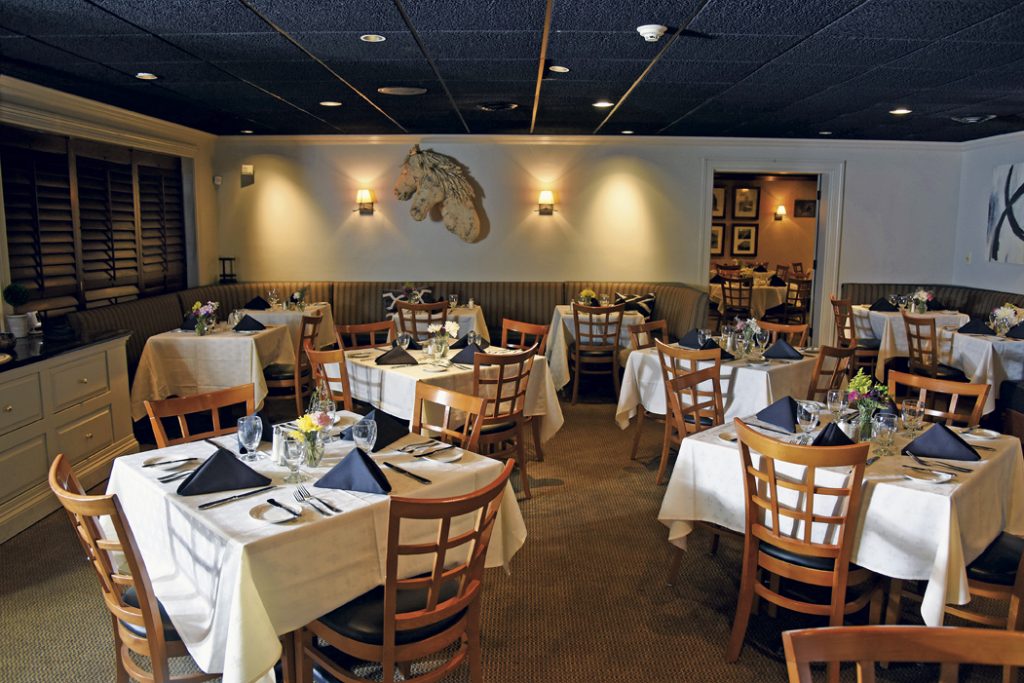 Like Lou Lou is tied to Matthews' childhood memories, Equus is coincidentally a throwback to his partner Barnes' childhood. When Corbett pitched the restaurant to his father, Jack went into his financial advisor, Thomas Barnes Sr. Barnes Sr would bring clients to the restaurant, and now Barnes Jr (also in finance) brings his clientele to the restaurant.
What began as a rescue mission has become an homage since Corbett passed away unexpectedly. His accomplishments hang everywhere, including his chef's coat in the center room.
"He was one of the most legendary and influential chefs to come out of Louisville," Matthews promised. "We're going to keep his legacy alive and keep it going so he'd be proud of us and our changes."
Transformed into Equus & Jack's Bourbon Restaurant | Lounge, that legacy now features about 75 different bourbons in the elegant lounge, which is reminiscent of a study with dark woods and seats for about 10 at the bar plus another 90 in an assortment of comfortable leather sofas and overstuffed chairs.
The menu is where the most changes have occurred. Pauly slashed the prices by about thirty percent, partially possible by bringing Lou Lou purveyors with them such as Chicago based Allen Brothers, whose beef is used for the 8-ounce Jack's Prime Burger at Equus and also in Lou Lou's most popular dish: The Cajun Lou Lou Cheeseburger. Then, Matthews assigned menu design to Co-Executive Chefs William "Dub" Heare and Aaron Farschman, whose carefully considered dishes are displayed on the menu as appetizers (Asian Meatballs with Asian bourbon barbecue; Equus Slaw; Tuna Tataki), Soups & Salads (Seasonal Salad; Equus Mushroom Fume; Steak and Spanish Manchego Salad), and entrees from "Land" (Yankee Pot Roast; London Broiled Flat Iron Steak; Bourbon Mustard Pork Tenderloin) or "Sea" (Parmesan Crusted Sea Bass with whipped potatoes, sauteed squash, zucchini and lemon beurre blanc; Blackened Sea Scallops with lemon cilantro quinoa, bourbon tomato jam).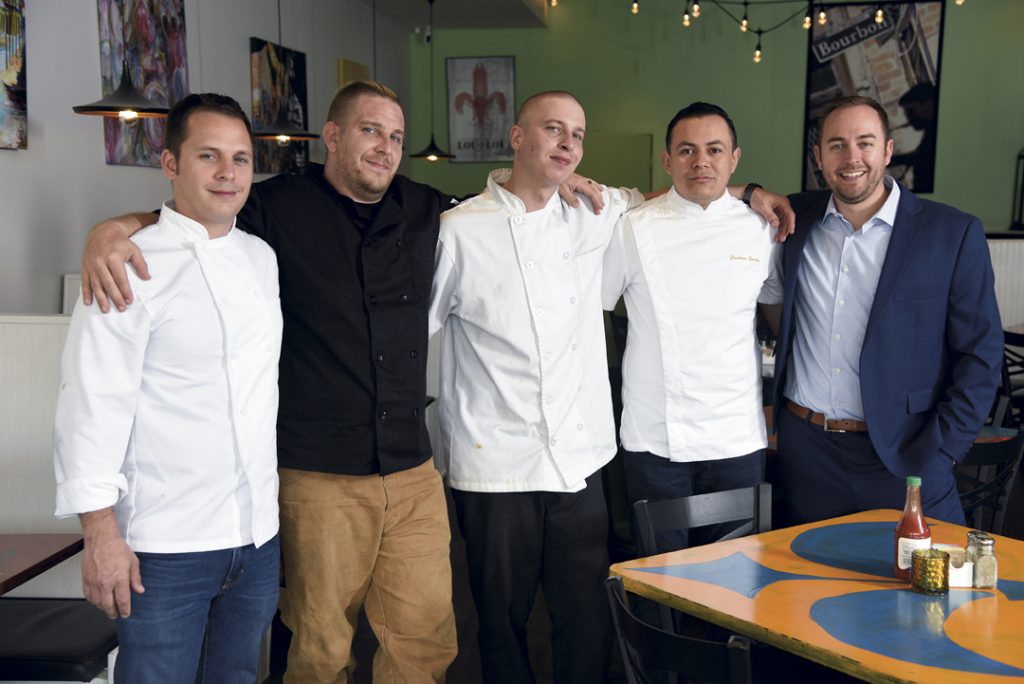 Other changes consist of new awnings, paint, and updated bathrooms. Matthews bought new furniture and a fire pit for the popular year-round patio that seats about 30, and white tablecloths now grace the tables in the back and center room, which have combined seating for 125. When people want a private dining experience, another 60 seats hide in the private EP room.
Still Growing
Matthews isn't slowing down any time soon. Following the Equus transformation, he's been on the search for the next Lou Lou location, but before we could even get this issue to print, he and his partners at Diamond Pub & Billiards told us about a new spin-off called Diamond Street Grub & Hops. It's slated to open later this month at 3922 Shelbyville Rd —where Mellow Mushroom just closed. (Update: Diamonds Street Grub & Hops opened Friday, June 28) The new venture will feature street foods from around the world and about 40 craft beers in a sports and entertainment environment that features plenty of televisions, acoustic music at night, indoor shuffleboard and pinball.
Matthews told F&D that he wants "families to feel comfortable to come in and have a great dinner as well as folks getting together to watch a sporting event while having a good beer."
With so much already in motion, one might wonder how Matthews and Pauly — who will not be part of Diamond Street — plan to manage more Lou Lous.
"If you have a good team, you can open tons of restaurants," Matthews said.
Pauly said that Jared takes great care of the teams and has taught him to think like a businessman, saying "It's made me the best version of myself I've ever been."
Being a great leader appears to stem from the same passion that Matthews started with as a bartender: a genuine love for serving people. Unlike many business owners who acquire businesses until they can retire, he longs for the day he can return to the bar.
"I figure I have another 10 years in me of hustling," he said. "I spend most of my time doing paperwork, but anytime I get to hop behind the bar, it's great. That's what I plan to do again one day." F&D
[ngg src="galleries" ids="15″ exclusions="384,378,380″ sortorder="384,378,380,377,373,374,376,379,381,383,385,386,382,388,389,390,375,387″ display="basic_thumbnail" order_by="sortorder"]