All in the Family
Father and son duo, Kevin and Erick Strnatka, operate The Manhattan Project with help from the rest of the family.
(Originally published in the Fall 2019 issue of Food & Dining)
When Kevin Strnatka retired in 2013 from NIPSCO, the firm that supplies natural gas and electricity to Northern Indiana, he didn't have any specific plans — other than to live out his golden years having fun and relaxing. Six years later that idea is still on hold. Instead, Strnatka said, he and his wife Barbara found a new niche, one he likes because, "it keeps me physically and mentally active."
That niche happens to be being part-owners of a gastropub/sports bar called The Manhattan Project in Louisville's Clifton neighborhood. Instead of lounging on a beach in Florida, Strnatka and his wife Barbara split their time between their home on Brownsboro Road in Louisville and the house where they raised their three children in Schererville, Indiana (nicknamed "The Crossroads of America").
The Restaurant Bug Bites
In early August, Kevin was sitting in a booth in the front room of the Manhattan Project next to his oldest son Erick, the establishment's managing partner. The un-retiree was struggling to explain the thought process that led him from one enormously complex and demanding, large-scale industry to an enterprise that, though much smaller in size, is just as challenging.
Finally, Kevin turned to Erick and asked, "How did you talk me into this?"
Shrugging, Erick replied, "I don't know." And both men laughed.
Erick Strnatka's career path is easily traced. He got into the hospitality industry while attending Purdue University. From bar-backing in the student hangouts around campus in West Lafayette, Indiana, he advanced to bartending. After earning a degree in Hospitality and Tourism Management in 2007, Erick relocated about 45 minutes from his family's home to Chicago, where he soon advanced into managing bars.
"Once you've been in the hospitality business so long, bartending and managing, then owning your own place is the next step if you're going to stay in the industry," Erick said. "You can only bartend for so long,"
Erick found his way to Louisville, and in 2011, with a couple of other partners (and an investment from Kevin) he opened Baxter's 942 Bar & Grill in the Highlands.
Kevin says that the restaurant bug bit him gradually. After he allegedly retired, Kevin and Barbara started spending time in Louisville visiting Erick, his wife Nicole, and their two young children who were born here. That, in turn, meant spending more time at Baxter 942. And before long the "retiree" was back at work — washing dishes and bussing tables when the staff was short-handed.
Thus, Kevin's was an old-fashioned introduction to the business, learning it from the ground up. And the more he learned, the more interested he got. Eventually, he and Erick started talking about starting a second, more low-key establishment. Ultimately, they decided to take advantage of Louisville's place at the center of the bourbon universe with a hybrid blend of gastropub and sports bar.
"Baxter's is all based around nightlife, most of our sales are 10 o'clock on. I wanted something that was a little different, more food-based, a different sort of atmosphere," Erick explained.
In 2016, with location and design assistance from real estate investor Fred Pizzonia and his wife Angelica, the Strnatkas opened the first phase of The Manhattan Project in a former consignment shop behind what was then Nancy's Bagel Grounds. When Nancy's relocated last year to a nearby location on Spring Street, the Strnatkas expanded their establishment and created the gastropub/sports bar of their dreams.
Fission and Fusion: Gastropub+
These days, The Manhattan Project has two distinct personalities.
The new front room, which opened in January 2019, is a sleek wood and metal decorated gastropub that seats 94 people. The bar and tabletops are made of repurposed wood from a New Albany bowling alley. The back room, the original site they opened in 2016, has all the trappings of a classic sports bar. It's an expansive space that seats more than 150 and connects to a patio that can seat an additional forty people. Indoors, there are more than twenty televisions. Barrel slats frame the booths lining one wall.
[ngg src="galleries" ids="19″ sortorder="467,466,464,465,463,462″ display="basic_thumbnail" order_by="sortorder"]And like the space itself, the name "Manhattan Project" has a dual meaning.
Erick, a history buff, knew the name would invoke the famed World War II research program that developed the first nuclear bomb. But the Manhattan is also Kevin's favorite cocktail. The name resonated with both father and son because they wanted to create a destination that would appeal to bourbon lovers. It's an idea that has proven successful: one of the bar's most popular drinks is the OG Manhattan, which updates the classic cocktail with a kiss of raspberry liqueur.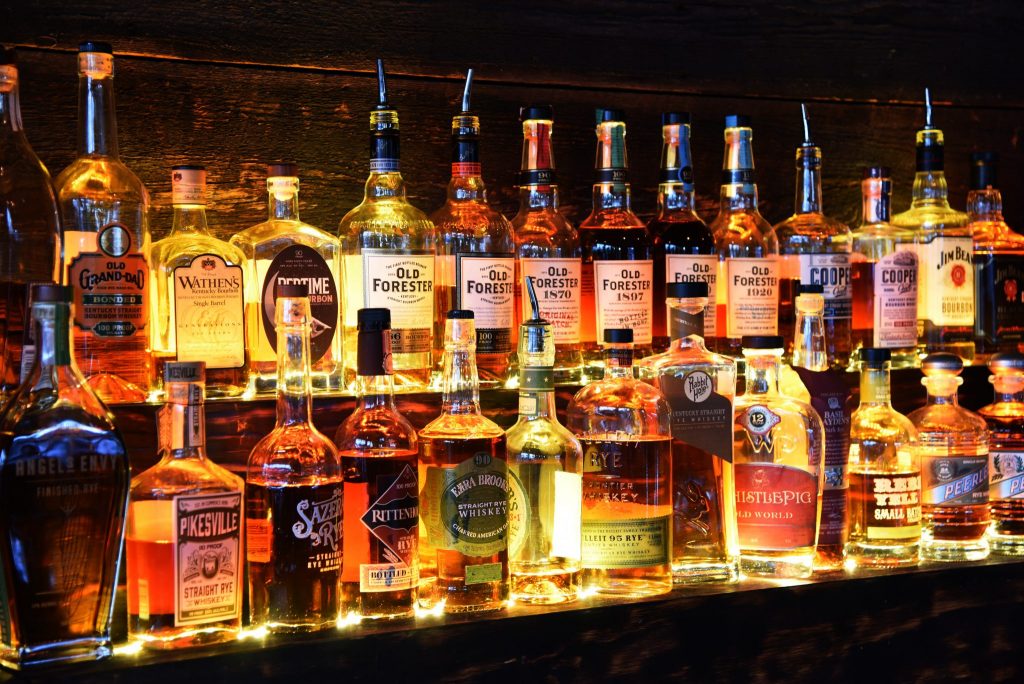 The Manhattan Project beverage program offers nearly 90 bourbons and whiskeys, including scotches, ryes, etc., (some offerings are seasonal). Erick says that one of his goals is for the restaurant to become a stop on the Urban Bourbon Trail.
Kevin and his wife Barbara have been extremely hands-on at the Manhattan Project. She focuses on ensuring that the interior has a polished sheen and that the exterior landscaping is attractive and inviting. (Erick jokes that the flowers always die when Barbara goes home to Indiana for a visit).
In addition to helping in the front and back of the house, Kevin has become the official food taster. If something goes awry in the kitchen, Kevin is prepared to offer quality control. "I try to stay out of the kitchen," he said. "But I give my comments on whether the food is good or not."
Bringing a Taste of Home
One of Kevin's suggestions was to make sure the menu reflected the family's northern origins.
In Northern Indiana and the Chicago suburbs, lake perch is a culinary obsession. According to Kevin Strnatka, it has been that way since at least 1910, when a legendary restaurant called Phil Smidt's opened in Hammond, Indiana. Teibel's Family Restaurant, a competing establishment, opened in Schererville in 1929. Until Smidt's closed in 2007, it and Teibel's carried on the kind of regional rivalry that's usually associated with college sports.
For generations folks from "Da Region" (as people from that part of the state call the Northwest corner of Indiana), showed their allegiance by frequenting Smidt's or Teibel's on Friday night. According to a report in the Hammond Times, during the 1960s, Phil Smidt's alone served more than a million meals a year.
For Kevin, bringing lake perch to Louisville was a passion project. "I wanted us to offer something unique and something from home," he said.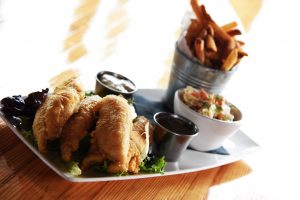 Erick was an enthusiastic supporter. But he wanted to accent the freshwater lake perch with a taste of Kentucky. So, the cooks at the Manhattan Project lightly coat the filets in Weisenberger fish batter mix and serve it the traditional way, with drawn butter, tartar sauce, fries, and coleslaw.
Testimonials – from first-time perch lovers and people who've experienced it up north have been overwhelmingly positive, the Strnatkas say.
Early on, Erick said, the Manhattan Project triggered some concerns from Clifton residents who thought it might mirror the night-life atmosphere at Baxter's 942. But these days, he said, neighbors have warmed up to the business, and area residents account for much of the restaurant's foot traffic.
The Manhattan Project has spaces available for special occasions and is committed to building a sense of community through weekly events like the popular Tuesday night "Family Feud" style quiz competition, and wine and food specials.
"We're shooting for an upscale bourbon bar/sports bar. But we're not talking about pricing. It is more about atmosphere, presentation, service and quality. We're trying to do something that will fit in the neighborhood really well," Erick added.
Running the Manhattan Project has been a learning experience for Erick because it is the most food-based establishment he has been a part of. Much of his career focused on bars that depended on high-value liquors sales. Making the transition successful required him to spend more time considering food costs and ordering procedures.
Since Frankfort Avenue is one of the city's most prominent restaurant rows, establishing the right culinary niche for the Manhattan Project has been a learning experience that required multiple kitchen reboots under different chefs.
In the beginning, Erick said, he thought the cuisine was too "chef-driven," but didn't stand out enough in an area already dominated by restaurants like Varanese (which is located directly across the street from the Manhattan Project) or nearby Volare Italian Ristorante.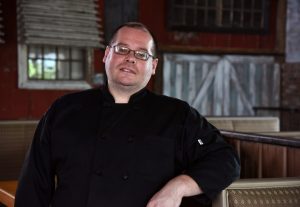 Now, with the arrival of Chef Ronnie Dunning, Erick said, the Manhattan Project has found its sweet spot. Dunning, an experienced chef who has worked at fine-dining establishments like Corbett's and Volare, has created a menu that occupies a popular and important niche based on excellent execution of a menu that bridges the gap between comfort food and fine dining.
Beyond the perch, the Manhattan Project's menu is simple and fun. Build-your-own mac and cheese options range from savory proteins — such as fried shrimp and grilled chicken — to adventurous veggie options like roasted tomatoes and pickled red onion. Among the desserts is a PB&J Bread Pudding with a dollop of vanilla ice cream. There are also other items like wings and burgers which you would expect from a sports bar.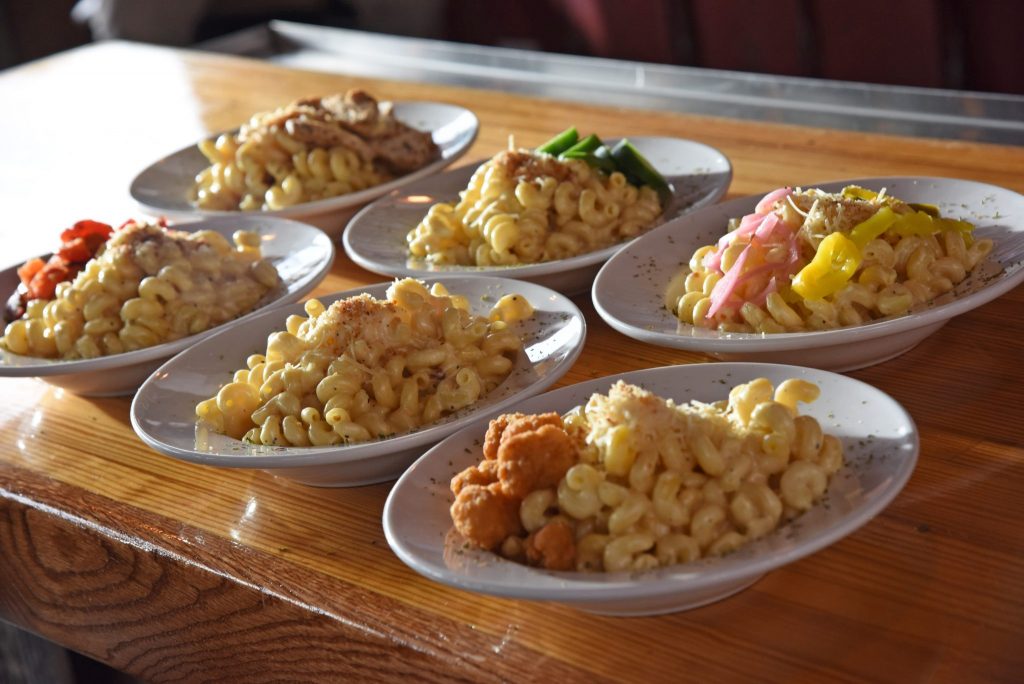 "We're not fine dining, but we're also not that pub where all you are going to get is fried cheese sticks," Erick added. "We've found our niche. When there is a big sporting event, we get packed. March is one of our busiest months because of the NCAA tournament. The women's World Cup started at 11 o'clock on a Sunday and every seat in this place was taken."
Of course, since this is a family affair, Erick also had to learn to say no to Kevin, the guy who used to set his curfew. "When it comes to something he doesn't really know about, he typically just lets me go with it," Erick said. Then after a chuckle he says, "But sometimes, he'll make a change and after three days I get, like, four customer complaints. Then I'll just say, 'I'm going back.' But we don't disagree that often for real."
Because of all the changes going on at the Manhattan Project this year, Erick spends most of his time there. For a while he was general manager, kitchen manager and bar manager. Now he has two assistants, one to take care of the bar and one for the kitchen so that he can take a few days off each week.
As for Kevin, he spends most of his workday in his office at Baxter 942 and stops by the Manhattan Project mostly as a patron afterward. But he's been thinking about cutting back his hours. In fact, he's thinking about retiring again (or is that for the first time?), since Erick seems to have a handle on both their businesses.
"Staffing is very competitive in this town," Kevin said. "But we are very sound in the kitchen, and in the front-of-house as well. I don't see myself working here too much longer. People are invested. My friends back in Indiana are all telling me that I never retired. You put a lot of hours into this business. It's a young man's game."
The Manhattan Project is open Tuesday through Thursday from 4 p.m. to 11 p.m.; 4 p.m. to Midnight on Fridays; and 10 a.m. to 11 p.m. on Sundays. It offers brunch on Sunday from 10 a.m. to Noon. (And by the way, Kevin and Barbara exerted some influence on the brunch menu, too: one of the popular offerings, Barb's French Toast Roll-Ups, was inspired by one of Barbara's specialties.) F&D