Proof on Main (702 West Main Street) has announced bills of fare for Christmas Eve and New Year's Eve, 2021.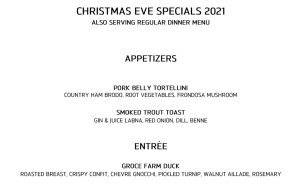 Executive Chef Jeff Dailey's regular dinner menu will be augmented by specials on Christmas Eve (5:00 p.m. – 10:00 p.m.) The specials include Pork Belly Tortellini and Smoke Trout Toast for appetizers, and Crispy Duck Confit for an entrée.
On New Year's Eve there'll be a New Year Amuse-bouche menu with Ricotta Cavatelli, Prime Ribeye and Red Curry Spaghetti Squash. Proof will be open for dinner on December 31 from 5:00 p.m. to 10:00 p.m. The lounge will remain open until 1:00 a.m.
For those wishing to cook at home this Christmas, Dailey has revealed his recipe for Trout Roe Cacio e Pepe, along with a potentially important reminder: this same dish will be available at Proof on New Year's Eve. Follow the link for the full recipe.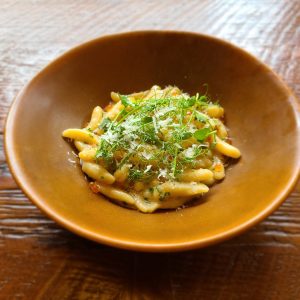 Chef Christmas Recipe: Trout Roe Cacio e Pepe
"I've always loved The Feast of the Seven Fishes tradition that Italians do for Christmas Eve and this would be a great dish for one of the fish. It's a very simple Ricotta Cavatelli that is done in the style of Cacio e Pepe with the addition of Trout Roe. The Roe lends a slight salinity to the dish and really helps elevate it."
advertising content
advertising content