We're combing the archives for items of interest, and this 2014 interview by Michael L. Jones with Chef David Danielson remains fascinating. How does he feed all those people at Churchill Downs on a typical Derby Day? Find out here.
—
David Danielson, executive chef at Churchill Downs, marks time now by the Kentucky Derby, frantically getting ready for his fourth Derby. Before moving to Louisville, Danielson operated a catering business that specialized in large events, cooking for everything from the Super Bowl to the Olympics. When you are cooking at Danielson's level, it's about more than just making the food taste good.
"What we do is show business," Danielson explains. "We provide sustenance, we nurture, but we also provide entertainment. At Churchill Downs, we really play into that. Everybody remembers the Derby whether it is their twentieth." Food & Dining sat down with Danielson in the Mansion, the track's new, luxurious hospitality suite. The Chicago-born chef gave us a rare look behind the curtain of spectacle that is Churchill Downs.
(Originally published in the Spring 2014 issue of Food & Dining)
Name: David Danielson
Age: 47
Current Restaurant: Executive Chef, Churchill Downs
Previous Restaurants: Ritz Carlton in Chicago, United Nations
Neighborhood (current): Crestwood
Hometown: Chicago, Illinois
Significant Other: Laura
Kids: Eric and Lee
Favorite Hobbies: Listening to blues music, sailing
Favorite Cookbook: The Art of French Pastry by Jacquy Pfeiffer
Favorite Kitchen Gadget: Microplane
How did you end up at Churchill Downs?
I had a catering company in Chicago that specialized in large global events. I catered the Olympics, Lollapalooza and Red Bull. I've been involved with a lot of events like that. I sold my catering company, and I was looking for new opportunities when I heard about the opening at Churchill Downs. I came down to visit and really fell in love with the city.
What was your first Kentucky Derby like?
I got here two weeks before the Derby. I walked in and they said, "This is what we're doing, hold on." Fortunately for me, I've done everything from Olympics to Super Bowl to PGA. But I've never seen anything like the Derby, just in the sheer volume and size of the food and beverage operation. I don't know any event in the world that compares to it. If you go to another sporting event, the action is happening on the field. But at the Kentucky Derby, the fans are part of the spectacle. Yes, it's the greatest two minutes in sports. But it is also a day of people getting dressed up and coming out to eat and drink. There is a social aspect and a food and beverage aspect to the Kentucky Derby that you won't find at any other sporting event.
What are your responsibilities during Derby time?
As the executive chef, I'm ultimately responsible for all the food being served here at the Mansion, Millionaire's Row, all of our premium areas, as well as overseeing the concessions. Anything 160,000 people decide to eat ultimately is my responsibility.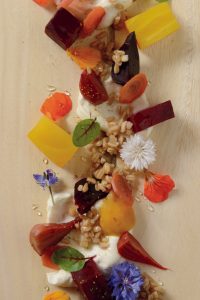 So when do you start getting ready for the Derby?
The day after the Derby, we start getting ready for the next one. I tell the guys that work for me that there are three things we have to look for: what we need to keep doing; what we need to stop doing; and what we need to start doing. The goal here is to create a richer experience for the guests every year.
Besides the Derby, do you have to provide food for all the meets?
What we do is the food and beverage through the entire spring meet, the new September meet, and then the fall meet. We also have other big days. We do 6,000 people for Mother's Day. We just did 7,000 people for Thanksgiving dinner. While Derby is really, really big — our schedule centers around that — but there are other big things happening here. We are continuing to open new areas. We have a new garden pavilion, we are about to open a new paddock area. We are always developing new menus, new experiencing.
What is your first food memory?
My grandparents came from Sweden, and my grandmother use to bake fresh bread every single day. She would bake and cook all through the day. I remember going over there and watching her. I thought baking bread every day was normal.
Who has influenced your cooking the most?
When I started cooking, Fernando Gutierrez, the executive chef at the Ritz Carlton in Chicago, was my mentor. He probably had the biggest influence on me, building a work ethic in me and getting me to understanding the importance of food.
Why did you become a chef?
My first job in high school, I washed dishes at a French bakery. I use to watch the pastry chefs making all the torts and the beautiful desserts. Great chefs have the ability to put something in front of someone, and it stops them for a minute from thinking about what else is going on in their lives.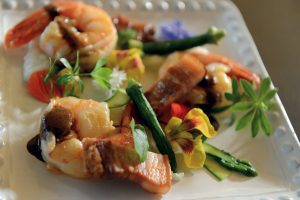 Fill in the blank: If I weren't a chef, I'd be…
Hopefully, sitting on a beach somewhere.
What did you want to be when you grew up?
There was a point in my life that I wanted to be a marine biologist. I loved the water. I love swimming, snorkeling and diving. I played hockey for a long time. I thought that was a possibility until reality set in. I never thought of cooking as a profession until I started working in that bakery.
Who are your favorite chefs?
Thomas Keller at French Laundry. Michel Bras in France. Heston Blumenthal at Fat Duck in England. Anne-Sophia Pic owns a restaurant called La Maison Pic in France. She's the only three-star Michelin woman chef. Sean Brock who is the guy kind of leading the whole Southern Food thing at a restaurant called Husk down in Charleston, South Carolina. I really like what those guys are doing.
Besides Churchill Downs, where is your favorite place to eat in Louisville?
My go-to restaurant, because my kids love it, is Havana Rumba. I like downtown, seeing all the new restaurants. Decca, Rye, I've hit all of those new restaurants. Jack Fry's is an amazing place.
Other than your own restaurant, what's the first place you'd take an out-of-towner?
If I had out of town guests, the first thing I would do is take them on the Bourbon Trail. We would hit several distilleries and stop at little restaurants in between.
Which seasonings are underrated?
Cardamom is underrated. It is a pod seasoning. A lot of people think it is mostly used in Indian food. But it's used a lot in what I grew up with, Scandinavian cooking.
Are there any culinary trends you are wild about right now?
It's really inspiring to see how the Southern food is coming back again. That is one of the things that we've tried to embrace here at Churchill Downs.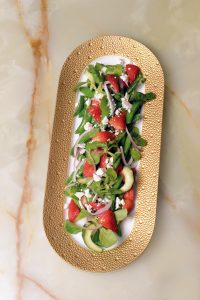 What's your greatest strength in the kitchen?
My realization is that my staff is the best product that I have. My challenge is to take my knowledge and import that to my staff.
What's your downfall?
Probably like all chefs, my temperament. When you are young, your success is based on your ability to put out a dish. As you move up and become a chef, your success is dependent on a lot of other people doing their jobs.
What's your favorite go-to ingredient?
Butter. Butter makes everything better. I am an old school French guy.
What was the last book you read?
I read a lot of cook books. There are two books on my counter at home, right now. "Devil In the Kitchen" by Marco Pierre White, and I'm reading "The Art of French Pastry" by Jacquy Pfeiffer.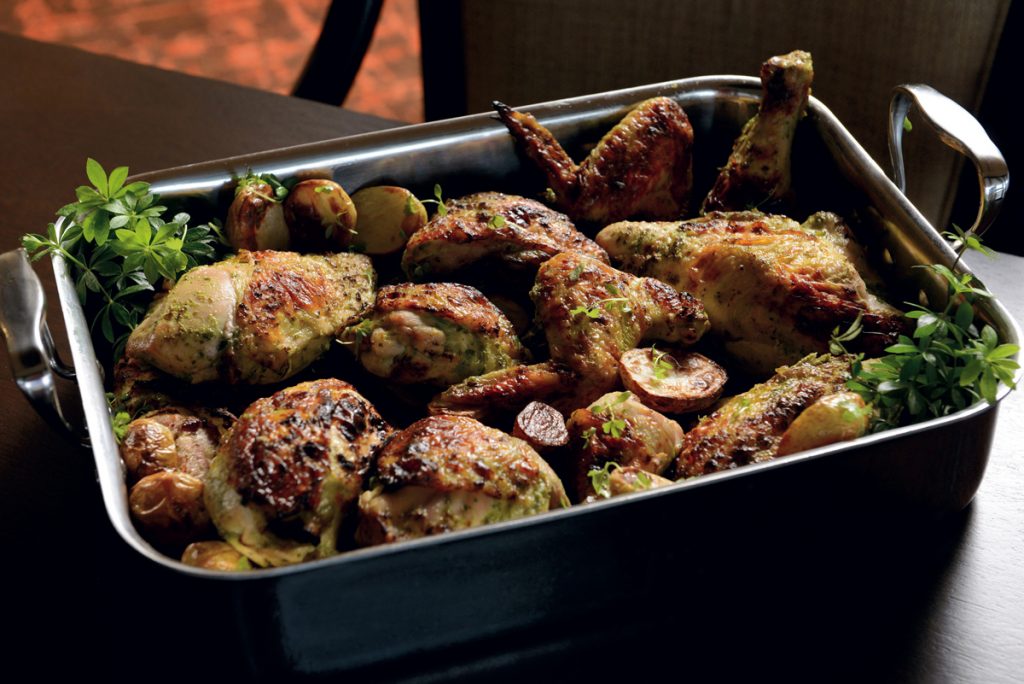 Is there a secret ingredient in your kitchen?
I have secret ingredient called Gunpowder that I buy in a butcher shop. I don't even know what's in it. It's great on steaks and poultry. I also started experimenting with ash. I take thyme, rosemary and cook them in a cast-iron pan until they are burned up in ash. We grind them in a coffee grinder. We mix seasoning up with that.
What food is your guilty pleasure?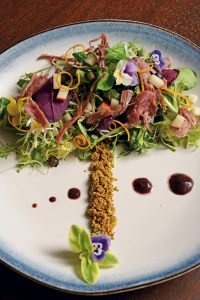 Italian Roast Beef Sandwich from Chicago. I'm also a sucker for pizza.
Is there a food you can't bring yourself to eat?
Not a huge fan of offal, organ meats. Just can't do it.
Your favorite quick meal to prepare at home?
A patty melt is my go-to secret late night meal.
Best cooking tip for a novice?
If you are sautéing, start with a hot pan. Nothing sticks to a hot pan. I watch people start cooking in a cold pan and it sticks. A hot pan caramelizes, it gives color, and it gives flavor whether you are sautéing mushrooms or chicken breast.
Kitchen tool(s) you cannot live without?
A fish spatula and large sauce spoon. That's all a good chef needs.
Kitchen tool the home chef doesn't know about but should?
Microplane. It is the greatest thing for thing for grating in the world, whether it is grating cheese or citrus zest. I've tried to grate just about everything with a microplane.
If you had a time machine, what would be your first stop in culinary history?
I would go back to the early '70s, about anywhere in France. I would like to watch as they broke the mold from old French cuisine. That's in when things changed into the way we cook now.
What do you think is the next worthwhile food/dining trend?
Barbecue is really big and that's going to continue to go mainstream in restaurants as people understand smoking. We're smoking different kind of meats, like leg of lamb, and playing around with smoke as an ingredient.
Give us one reason Louisville should be considered a culinary destination for traveling foodies?
We are a town that kind of borders that Southern tip. We've got one foot in the North and one foot in the South. Because of that, we got one foot in tradition and one foot moving forward. There are a lot of independent restaurants here, including some amazing ethnic places. There is something for everybody. A lot of cities are happy with cookie cutter, but in Louisville we support the independents.
Louisville Chef, Survivor Island: Name two local restaurant personalities you want on your team.
I love Volare. Josh Moore is somebody I've gotten to know. I would take him and any of the guys that work at Churchill Downs with me. I have an amazing group of Sous Chefs. F&D