Saul Garcia is being affectionately remembered by Louisvillians from all walks of life as a restaurateur, entrepreneur, pioneer and community leader.
Saul Garcia, owner of Los Aztecas and a pillar of Louisville's Latino community, dies, by Emma Austin, Louisville Courier Journal
Saul Garcia, owner of Los Aztecas Mexican restaurants and a respected leader in Louisville's Latino community, died Thursday after losing his fight with pancreatic cancer.
Garcia, a native of Mexico, opened his first downtown Louisville restaurant in 1998, according to Louisville Business First. The company grew to include multiple storefronts around the city.
Al Dia en America, Louisville's Spanish language newspaper, eulogized Garcia.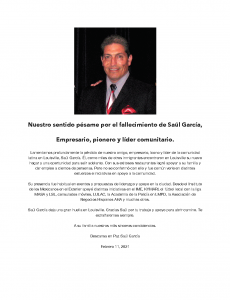 "Our deepest condolences on the passing of Saul Garcia, pioneering entrepreneur and community leader.
"We deeply mourn the loss of our friend, entrepreneur, icon and Latino community leader in
Louisville, Saúl Garcia. He, like thousands of other immigrants found their new home in Louisville and a chance to get ahead. With his successful restaurants he managed to support his family and employ hundreds of people. But he didn't settle for it and it was common to see him in different efforts and initiatives in support of the community.
"His presence was habitual in events and proposals for leadership and support in the city. From the Mexicans Institute Abroad supported various initiatives at the IME, KYMARI, local football with MASA and LSL league, mobile consulates, LULAC, Police Academy in LMPD, Hispanic Business Association AHA and many others ..
"Saul Garcia leaves a big mark in Louisville. Thank you Saul for your work and support to make way. We will miss you forever."
Our cover photo of Garcia is courtesy of Sergio "World Beers" Ribenboim, who posted a remembrance on social media.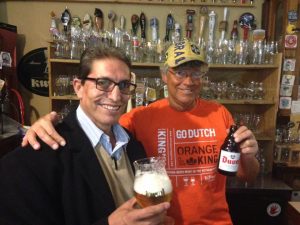 "This is me and my friend Saul Garcia and he died yesterday. We always made time for each other. Even for drinking a Duvel or other Belgian beer.
"We were not born in this country, but he especially became a strong presence in the Latino community here.
"His perseverance, hard work, and humility makes him one of the great ones to aspire to. We bonded over the last 20 years and 'family always came first.'
"We would talk about the future and his dreams to take his son to a football game in Barcelona and taking his family on a cruise, travelling to Europe and South America, etc.
One of our highlights was the trip to Cuba from Toronto with the boys.
"We had lunch just a few days ago…it just goes on and on. The man was great.
"Lo siento mucho mis amores."