One of the most important facets of economic localism is the local multiplier effect, which is "the additional economic benefit accrued to an area from money being spent in the local economy. The concept has been taken up by advocates for 'spend local' campaigns."
On average, 48 percent of each purchase at local independent businesses was recirculated locally, compared to less than 14 percent of purchases at chain stores.
The American Independent Business Alliance explains more about this phenomenon.
It's an important concept to bear in mind as we turn to other news.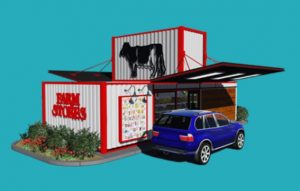 A rapidly expanding Florida-based company called Farm Stores seeks to plant a franchise in an abandoned Rally's at 2009 Brownsboro Road. According to its vintage-themed web site, Farm Stores has been "keeping families happy since 1957."
Farm Stores provides a unique neighborhood experience. A combination of grocery store, bakery and restaurant, we give you the freshest products in the most convenient manner: the equivalent of a drive-thru supermarket express lane.

We offer all your favorite grocery brands in addition to products you won't find anywhere else, and we bring it all directly to your car! In fact, Farm Stores has been a convenient last stop on the way home for families for nearly 60 years.
Marty Finley has more on this topic at Louisville Business First.