"Re-Make/Re-Model."
It's a classic Roxy Music tune, and also Tony Palombino's mantra. 21 years after the inception of BoomBozz Pizza & Watch Bar (formerly "Taphouse"), founder Palombino is leading a sweeping reimagining of his award-winning creation.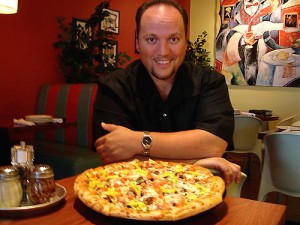 The Jeffersonville, Indiana location of BoomBozz at 1450 Veterans Parkway is the prototype for its sister restaurants, with updated decor and furnishings, audio/video enhancements, a refreshed company logo, a new slogan ("Crafted for You"), an expanded wine and cocktail list, and a dedicated takeout entrance.
All will be revealed to the public in an official reopening in Jeffersonville on Tuesday, October 22nd.
Starting October 22nd, the restaurant will also offer their new menu items including Tater Kegs-jumbo tater tots stuffed with bacon and cheddar cheese, a larger sized pizza, cauliflower crust pizza, and seasonal pizzas. They will also feature new daily and gameday specials for UK, UofL, IU, Purdue, and the Colts including $2 Talls (23 oz.) select beers, bucket specials, and $2 off snacks and shares. During that week, they will be offering Buy One Get One Free pizza on Tuesday, Wednesday, and Thursday.
But there's more: BoomBozz "will be giving away a grand prize of free pizza for a year to one lucky winner. The contest will run for two weeks starting October 22nd, and the winner will be drawn on Monday, November 4th. Contestants can enter to win on the BoomBozz Jeffersonville Facebook page."
BoomBozz in the Highlands (1448 Bardstown Road) also is being remodeled and will be known as Boombozz Pizza & Watch Bar. The company's other locations in Kentucky, Indiana and Tennessee will retain the name Boombozz Craft Pizza & Taphouse, at least for now.
When Palombino spoke to Food & Dining Magazine in 2017 (Winter 2017; Vol. 58), the veteran restaurateur's comments about the need to keep his establishments relevant plainly foreshadowed these current BoomBozz remixes.
Using his parents' 700-foot St. Matthews storefront as an incubator, he kicked off BoomBozz in 1998, a pizzeria dedicated to "gourmet" pies in a market where traditional tomato sauce, pepperoni and extra cheese were the norms. BoomBozz met with quick popular and critical acclaim, and has enjoyed continued growth over two decades. Still, Palombino hasn't once hesitated to tweak a winning formula.

"As time goes by, you've got to reinvent yourself and stay relevant," asserted Palombino, "and it gets harder every day." Consequently, keeping all of his restaurant concepts relevant is an obsession, and he knows it can't be done alone. "It's all about the people who've been with me for five, ten, fifteen years. You don't want to let them down. You want to have success because you want them to be successful, too.It is about people, and it is about your staff," continued Palombino. "It's who you surround yourself with. If I didn't have a support team, I'm not opening another restaurant."