(This is a repost for Tuesday, November 17, which did not publish owing to technical problems. My apologies for that – the editor)
The goal of Louisville Pizza Week is to get people to embrace the food and culture of Louisville while getting them out to support the culinary community. It's seven days of paying homage to all things 'za, no matter how you slice it.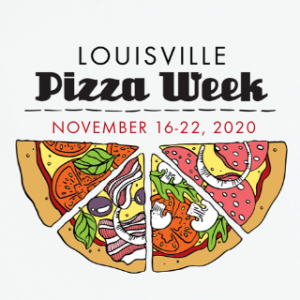 Louisville Pizza Week has returned for a third edition, kicking off yesterday and running through Sunday (November 22).  Participating Louisville Pizza Week locations are offering $9 specialty pies (10″ minimum) as well as Great Lakes Brewing beer specials where applicable.
Union 15's Louisville Pizza Week offering is our cover photo: garlic cream sauce base, mozzarella cheese, diced tomatoes, fresh basil, arugula, and a drizzle of balsamic reduction.
Official Official Louisville Pizza Week passports are available at participating eateries or can be downloaded here. Record four stamps, submit as directed, and become eligible to win $250 in pizza gift cards, a Great Lakes Brewing Toolbox Grill, chairs and other prizes.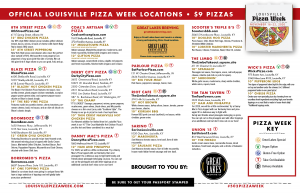 Organizers stress that participating Louisville Pizza Week restaurants and pizzerias are offering carryout for their specialty pizzas, given COVID-19 dine-in capacity restrictions.
2020 Louisville Pizza Week participants:
8th Street Pizza
Angio's Italian Restaurant
Blaze Pizza (St. Matthews)
Blaze Pizza (Middletown)
Blaze Pizza (Paddock Shops)
BoomBozz Pizza & Watch Bar (Highlands)
BoomBozz Pizza & Watch Bar (Jeffersonville)
BoomBozz Pizza & Watch Bar ( Westport )
Borromeo's Pizza & Italian
Danny Mac's Pizza
Derby City Pizza (6 locations)
Coals Artisan Pizza (Middletown)
Coals Artisan Pizza (St. Matthew's)
Parlour Pizza (Jeffersonville)
Parlour Pizza (on Frankfort Ave)
Sarino
Scooter's Triple B's
The Limbo
Riot Cafe
Tim Tam Tavern
Union 15
Wick's Pizza (Hikes Point)
Wick's Pizza (Highlands)
Louisville Pizza Week website
Instagram: @louisvillepizzaweek
Official Facebook Event: https://www.facebook.com/events/595394804694959/