A Chef-Driven Celebration of Middle Eastern Cuisine in All its Colorful Glory
For Louisville-area diners who've come to enjoy Arabic cuisine via the menus served at gracious dining venues like The Grape Leaf and welcoming, reliably fine eateries like Jerusalem Kitchen, Alwatan, Safier, and others too numerous to count, the recent opening of Al Hamra in the Mid-City Mall feels like a major reset.
Many of us have been exploring this rich and varied culinary tradition one menu listing per meal, torn between the familiar delights of already known dishes and the allure of a new discovery.
That dilemma will never arise at Al Hamra, which describes itself as a "Halal Buffet."
Before we go on, let's note that this word buffet needs a bit of a reset, too. In standard American usage, "buffet" has come to signal cheap dining with an emphasis on quantity over quality.
But the idea of offering diners a wide array of food and inviting them to graze at will is actually rooted in the history of opulent courtly buffets in Europe, generous smorgasbords of Sweden and the gracious hospitality traditions of the Middle East.
And it's that latter tradition that drives the offerings at Al Hamra, where the rich, colorful array of offerings smacks of what you might expect to find at a celebratory feast in the Palestinian homeland of Chef-Owner Ibrahim Qasim and his brother and Co-Chef Ayed Quasim.
(Originally published in the Winter 2019 issue of Food & Dining)
The sheer number and variety of dishes is a bit staggering. And that is the point. As cookbook author Reem Kassim writes in The Palestinian Table, "When Palestinians have guests over or a large gathering, the number and variety of dishes also increases dramatically."
Think of your visit to Al Hamra — where the service always seems warm and helpful — as if you were a guest at a gathering. On my visits I've seen strangers chatting to one another as they gaze at the array of dishes, sharing advice, pointing out this or that favorite. The only thing Al Hamra lacks in that regard is a large communal shared table to supplement the existing comfortable booths.
Dozens of Tempting Dishes
Every time I walk into Al Hamra I note the mingled aromas of herbed spices, grilled meats, and simmering soups and sauces. Every day, Al Hamra serves something close to fifty different dishes — stews, roasted lamb, grilled chicken, a host of salads and dips, fresh fruits, two or three desserts. Some items show up every day — the roasted lamb, for instance, and classics like hummus and baba ganouj. But at least a third of the offerings rotate in and out on a daily basis.
And, as you'll read in a moment, there are some items on this menu that are vanishingly rare in our part of the world.
These are dishes bursting with color and texture. In one tray, baba ghanouj the color of light sand is dotted with translucent green pools of olive oil, purple mounds of ground sumac, and stripes of chopped red onions, green and yellow peppers. Next to it, chickpeas and green herbs are scattered atop smoked eggplant glowing like reddish cobblestones in a Van Gogh street scene. Green leaves of spicy arugula mingle with slices of red onion and freshly chopped tomatoes. House-made meatballs swim in cream-colored tahini sauce or rich red sauces near a purple tray of red cabbage. Even the beautiful arrays of carved carrots, yellow squash and green zucchini have an artful look about them.
This is serious, chef-driven cookery by two very focused, very expert brothers whose temperaments and experiences are quite different, but who have come together to create a restaurant that merits attention.
One Saturday morning, I joined Ibrahim and Ayed in the kitchen to watch them work. On this day, Ibrahim was tending to the hot dishes and Ayed to the cold. Their styles were studies in contrasts.
Chef Ibrahim started cooking as a young lad in an agricultural village west of Ramalla in Palestine. Back then, he said, he didn't harbor dreams of becoming a chef. In fact, he had planned a career in engineering and earned a degree in the field at the University of Kentucky. In Lexington, he started cooking for his classmates, and eventually it became a weekend routine for him to prepare full meals for his social circle. He experimented not only with Arabic cuisine, but with cookery from everywhere, and though he's now focused on foods from the Middle East, his culinary knowledge is unbounded by geography or tradition.
Chef Ayed, on the other hand, has spent a couple of decades building a culinary career in restaurants deeply steeped in the various traditions of the Middle East, where experienced diners distinguish between the foods of, say, Egypt and Lebanon, in much the same way we routinely distinguish between the cuisines of any two countries in Europe.
Precision and exuberance in the kitchen
In the kitchen, Chef Ibrahim exhibits both the rigorous organizational mind of an engineer and the uninhibited exuberance of an artist. That morning, he started with nothing on the stove. A couple of hours later he was testing the chronological capacities of his Apple Watch while tending — solo — to more than two dozen simmering kettles plus roasters and skillets.
He never seemed even slightly hurried, but he was never motionless even for a moment, always meticulous in his work and timing.
But when it came to building flavors, Ibrahim was as flamboyant as can be. This day his menu included a saucy Palestinian take on Kebda (chicken livers). He tasted them, contemplated, and offered me a spoonful. Then he added an unmeasured but very generous dose of dangerously red spices, stirred things around and offered me another spoon — and a bright spicy fire lit up my morning.
Ayed, on the other hand, brings a quiet, jovial placidity to his work. He tinkers delicately with the seasonings. And he has a keen eye for texture and design. Some of his finished products have the geometric order of a mosaic, some are whimsically decorated with characters in English or Arabic that represent the dish or celebrate the restaurant itself.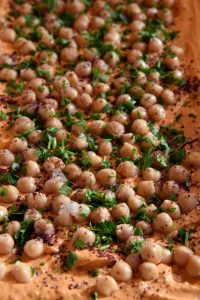 Both chefs love talking about food. I asked both of them about hummus, and both gave me the sort of culinary lecture I'd expect if I had asked a French chef to disco
urse on the nuances of the Mother Sauces. Ibrahim talked to me about the textural nuances of salt and lemon. Ayed spoke about the magic of hand and eye, technique and feel.
Ibrahim's dream at Al Hamra is both to create a space where the local Arab community can gather around traditional dishes and to introduce this cuisine to those of us who have never experienced its full range. The price ($16) is remarkable when compared with typical Louisville restaurant prices for an entrée with sides. And it's designed to lure diners interested in exploring.
Part of experiencing this food is figuring out how to structure a meal, pair elements, and arrange a plate. To some extent that's intuitive, and a diner can't really go wrong. So what's important here, especially on a first visit, is just to slow down and think mindfully about plating and sequence. For our photoshoot, Chef Ibrahim assembled several plates of dishes that go well together. Think of these photos as not just beautiful ornaments, but very good advice. And if you ask for advice, you may find yourself with one of the chefs or enthusiastic servers handing you things to sample.
Roasted Lamb: Every Day a Feast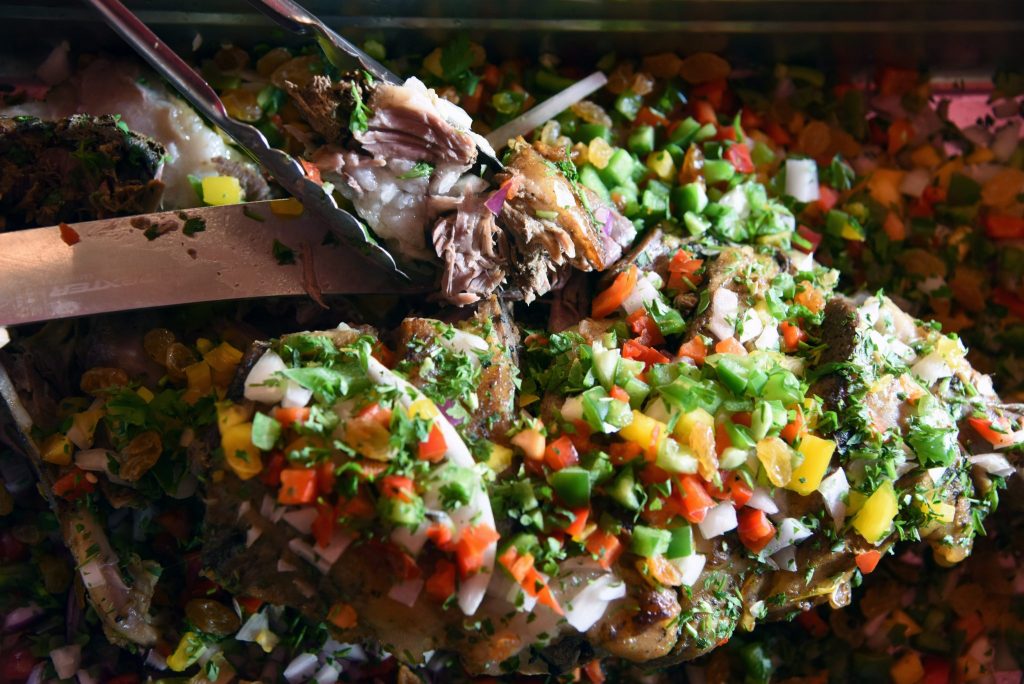 Some offerings at Al Hamra are not intuitive at all. For instance, as you rove the offerings, you will certainly discover the succulent roast lamb that is always on offer. On its own, or accompanied by some spicy potatoes, rice, and vegetables, that is a wonderful dish.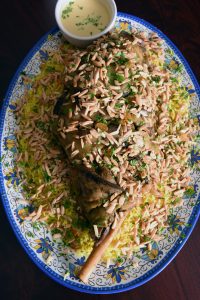 But it's also the centerpiece for a classic West Bank special occasion dish. Look around the buffet, and you will find a vat with the label Mansaf Soup. In that vat you will find a white sauce that some books on Arabic cookery call jameed. Jameed is made from dried fermented yogurt and has a unique tangy intensity unlike anything else. In Zaitoun: Recipes from the Palestinian Kitchen, author Yasmin Khan writes that Mansaf is a "celebratory dish" rooted in Bedouin cuisine that's typically featured at weddings and major feasts. On those occasions, a platter filled with spiced rice and lamb is drizzled with the cooked yogurt sauce, and shared at a communal table layered with flatbreads (there is a conveyor belt toaster on which diners can heat up their own pita).
On occasion, Chef Ibrahim says, the restaurant serves the dish for groups in that traditional manner. But you can easily replicate the dish — if not the experience — on your own plate.
Of course, the lamb doesn't need that treatment. On its own, it expresses the essence of this cuisine. Its texture is luxurious and its flavor is a subtle mix of spices as finely balanced as an acrobat on a high wire. You might or might not note the hints of cardamom and cinnamon, but they are there.
Chef Ibrahim's kitchen is stocked with 40 or 50 different spices and each one is in use. In his kitchen, his go-to base for many stews and sauces is a house-made tomato stock that tastes like the simplest, purest possible expression of its source. From that base he builds the variously flavored sauces for both vegetarian and meat-based dishes — zucchini stuffed with rice or ground lamb. Another array of items are served in a classic tahini sauce.
The chefs are rigorous about replacing foods that sit for a while on the buffet, and part of Ibrahim's strategy with many dishes is to garnish them with herbs or diced aromatics to preserve texture and moisture.
Nearly every item on the menu shows up in multiple hot and cold contexts. A person could make a banquet from eggplant alone. On any given day there will be several approaches to chicken, and though there's usually only a single fish dish, it's a quite nice take on red snapper. For that matter, a person could easily create a satisfying meal without ever departing from the salad selection, starting with the multiple takes on hummus and baba ghanouj.
On the other hand, I wouldn't recommend skipping the lovely array of house-made pastries, sweet, flaky baklava, turnovers and the like. Those, along with a cup of stout Turkish coffee make for a fine ending to a memorable meal. F&D
[ngg src="galleries" ids="24″ exclusions="565″ sortorder="561,559,562,557,558,560,564,566,556,567,563,565″ display="basic_thumbnail" number_of_columns="3″]