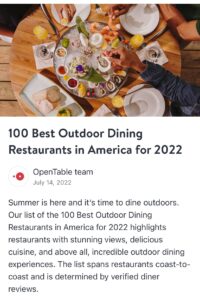 River House Restaurant and Raw Bar is honored to be named one of the 100 Best Restaurants for Outdoor Dining in America 2022 by OpenTable diners! The list is based on over 13.6 million verified diner reviews submitted in the last year. We can't say THANK YOU enough for your support! We'll see you on our patio soon.
In fact, no other restaurant in Kentucky or Indiana made OpenTable's list of best outdoor dining. River House Restaurant & Raw Bar (3015 River Road), the adjacent Levee Bourbon Lounge and Varanese (2106 Frankfort Avenue) are owned by chef John Varanese.
River House debuted in 2016.
It's open from 11 a.m. to 10 p.m. Monday through Thursday and Sunday, and 11 a.m. to 11 p.m. Friday and Saturday.
OpenTable's full list is here.