Kentucky's and Indiana's restaurants are adapting to on-premise restrictions by emphasizing carryouts, curbside pickups and deliveries. We're maintaining and regularly updating a list — Louisville Restaurants Offering Carryout and Delivery — and delving into our archives for background reading.
Volare Italian Ristorante is a longtime fixture at 2300 Frankfort Avenue, founded in 2004 and extensively remodeled in 2017. Executive chef and managing partner Joshua Moore is a legend in local "catch of the day" circles, and was spotted just this week with an obliging pink grouper.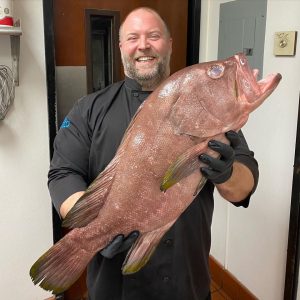 During the altered reality of the coronavirus, this and other items from the Volare menu are available for curbside pickup and delivery. Visit the limited menu tab at Volare's website to survey the options,
https://www.facebook.com/VolareLou/posts/2743504192352042?__xts__%5B0%5D=68.ARBtg05tNrikDWkF0AmlWkTU8NZROHeBxut9Vw3mb_WcvJ_Eskv1PWx67SNNMlk-WciK7K3PQFmbCnyTofUEw1BgjD-fIDbitIOBS_1HLKya7u2MZBSFlyZ-tv5wrqQi9j5otNVWHk3nQ1JYdGYQMJZ8msw3MmTaEApvc9yukOvMyytKyYSWzVsSwKW1wr7bvoQqhu7ecQ5h90Gfm8S7Io5IkuoNMlQQ8wd_YCzcEMSaPUfBrcdSYiSuo9-AK5dVMHwSlRqjPFbs4cLmaBxWJT8H8qNNMRYKaiiaAIgyQ82Gx-Qb1PG4dnomeSOSpxetUue8JXyQ-2AH2j_TgGmEHdx_EA&__tn__=-R
An information release provides details.
Volare will offer these services each day from 4:00 pm – 8:00 pm, seven days a week. Please refer to the menu at www.volare-restaurant.com to make selections. Please telephone the restaurant at 502-894-4446 to place orders, pre-pay and select curb-side or delivery. ALL orders MUST be placed through the restaurant phone number.
In Food & Dining Magazine's Winter 2017 edition, our Michael L. Jones profiled Volare Ristorante.