Sarino (1030 Goss Avenue in Germantown) has reopened for regular business hours. Two years ago Michael L. Jones profiled Sarino. It's an excellent opportunity to get reacquainted with a relatively new eatery, boasting longstanding family ties. 
—
A new generation of Gabrieles offer Louisville diners Italian tradition with a contemporary twist
Gabriele is a revered name in St. Louis and Louisville, because it represents the family behind some of the best restaurants in these cities. This culinary dynasty began in the late 1950s when Agostino Gabriele immigrated from Sicily to St. Louis, where he built the family's reputation at Agostino's on the Hill, Agostino's Colosseum, and G.P. Agostino's. He set the foundation for the next generation of Gabriele restaurateurs, which would include his sons — John and Paul — and nephews Giovanni, Rosario (nicknamed "Sarino"), Vincenzo and Agostino.
Louisville diners are familiar with two of the nephews — brothers Vincenzo Gabriele (namesake of the venerable Vincenzo's restaurant) and co-owner Agostino Gabriele. A downtown institution for nearly three decades, Vincenzo's has launched the careers of many of the city's top chefs. Their older brother Giovanni and cousins, John and Paul, are equally celebrated for their Italian restaurants in St. Louis.
(Originally published in the Summer 2018 issue of Food & Dining)
Unfortunately, Sarino never became as well known as the others, but he is no less important to the Gabriele legacy. Sarino owned a restaurant in Sicily where Giovanni, Vincenzo and the younger Agostino learned the cooking business. He was also Agostino's first business partner; they co-owned a restaurant in Sicily and later one in St. Louis called Agostino's Little Place. Had he spent more time in America, Sarino might be in the Distinguished Restaurants of North America Hall of Fame today like Vincenzo and Agostino (inducted in 2014).
"After my grandfather passed, Sarino went back to Italy with my grandmother. She didn't want to move back without at least one of her sons. If he had stayed in this country, he would have been successful. He would have had a restaurant with his name on it, but he never had that opportunity," asserted his nephew Carmelo Gabriele.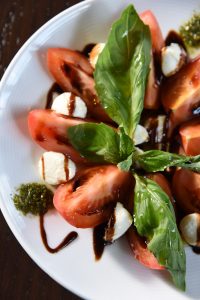 Carmelo is the second child and first son of Agostino Gabriele. He and younger brother Michael became part of the third generation of restaurateurs in December 2017, when they opened Sarino in Germantown. The restaurant continues the Gabriele family's tradition of authentic Italian food but in a casual setting designed to appeal to contemporary diners. In a few short months, Sarino has developed a devoted following that includes Louisville Metro Mayor Greg Fischer, who has raved about the restaurant on his Instagram.
Choosing to name their restaurant Sarino was a tribute to their uncle — who died of cancer about eight years ago — and a nod to their father's beginnings in the cooking business. Carmelo and Michael know some people will judge Sarino by what the Gabriele family (especially their father) has accomplished in the past. Public expectations do not bother them.
Carmelo admitted, "There was certainly some added pressure in the beginning because of our last name. We are very cognizant of who our family is and who our father is — the bar that he set. We feel like we shouldn't have any problem hitting it."
Different Routes, Same Destination
Carmelo was just four years old when his father moved to Louisville in 1985 to take over the kitchen at Vincenzo's. Even then, he knew it was his destiny to work behind a stove, too. It was a denouement that was tough to avoid, because his relatives have asked him when he was going to work for his father for as far back as he can remember. He held out as long as he could, but poor grades at school made working at Vincenzo's a self-fulfilling prophecy.
"Toward the end of my high school career, my father realized I wasn't the best student, and I probably wasn't going to college. He said to me, 'Well, if you're not going to college, it's time to get your butt in the kitchen.' So, at 17, I started working at Vincenzo's at the very bottom. They had me mopping floors, chopping vegetables and making salads."
Carmelo worked his way up through the ranks and learned practically every task in the kitchen, but he didn't develop a passion for what he was doing until about 10 years into his career when his uncle Sarino returned to America. Carmelo said their relationship helped mold him into the chef he is today. Working side by side with young Carmelo at Vincenzo's, Sarino became a mentor and friend.
Expectations were a bit different for Michael Gabriele, the youngest of Agostino's four children. Although he worked in the front of the house at Vincenzo's while he was in high school, Michael was never steered toward the family business. In fact, he majored in creative writing at Eckerd College in St. Petersburg, Florida. Carmelo loves to needle him about that.
"Really what Michael studied was fishing. He chose his college because it was right on the Gulf," the older brother jokes.
Carmelo and Michael are very close. Carmelo once told a reporter that he threatened to leave home as a ten-year-old if his mother didn't have another son. He already had an older and younger sister,  so he wanted someone to share the torment of being surrounded by women while father was at work.
That young camaraderie grew into a smooth partnership, where Michael runs the front of Sarino's house and Carmelo handles most of the kitchen duties. Michael said growing up watching Agostino and Vincenzo gave them a view of the joys and pitfalls of working with your brother.
"We certainly saw with our father and uncle that there are certain challenges when you are working with family," Michael confessed. "It is fair to say Carmelo and I have a different relationship."
Michael, 27, wasn't sure what he wanted to do with his life after he graduated from college. He took a job as a server in a restaurant called Haven in Tampa, Florida just to earn some money, but he was nervous about working at a restaurant not owned by his family for the first time. Carmelo proved to be the best moral support. He reminded Michael that he probably knew more about the industry than the people writing the checks at his new job.
It didn't take long for Michael to realize his brother was right. Just listening to Carmelo and their father talk about Vincenzo's at the dinner table had taught him nearly everything he needed to know.
After a few years working as a server and bartender at various places, Michael became convinced that he and Carmelo should open a restaurant of their own. Carmelo was interested in the venture, but it took nearly two years for the brothers to get on the path to that led them to Sarino.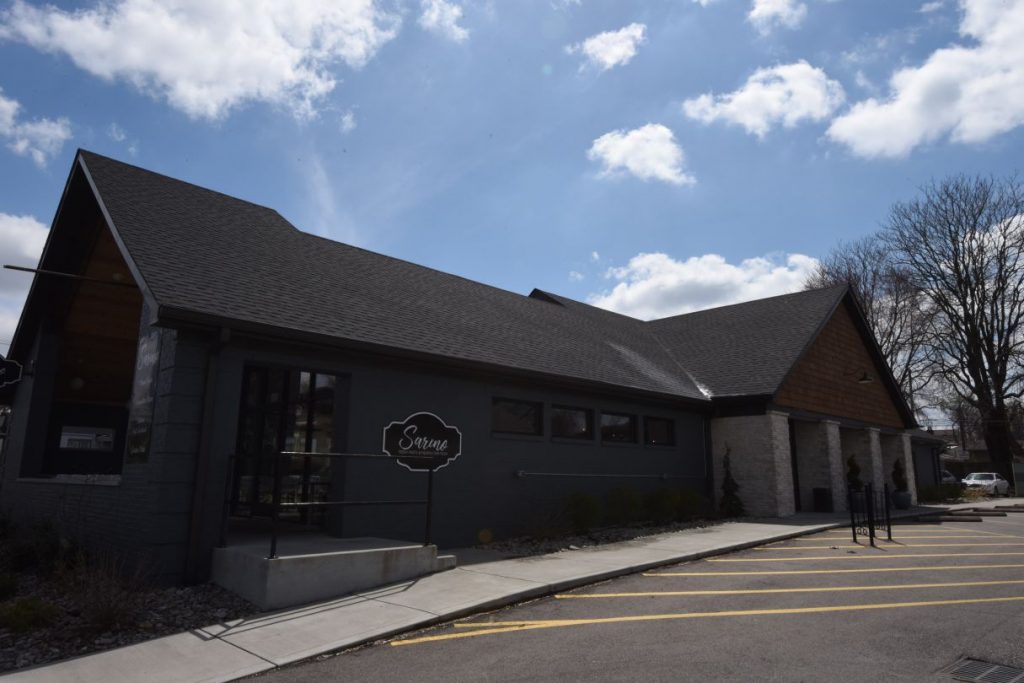 The original plan was to open a place in Florida because Michael was already living there, but the brothers could not find the right opportunity or original concept to make a business work in the Sunshine state. After they decided to make their mark in Louisville, Michael came across the space at 1030 Goss Ave. that Pat Hagan — co-owner of the Crescent Hill Craft House and founder of the Bluegrass Brewing Company — had originally renovated for the short-lived Germantown Craft House in 2016. Hagan and his partners reopened the space in 2017 as the Goss Avenue Pub, but it too closed after a few months.
The practically new construction on Goss with its glass-enclosed dining room, covered patio and a large kitchen was the ideal space for what Michael and Carmelo had in mind. "We came in and did some work, but what was already there was not like nothing we'd seen before. It is rare you come across something that is on the market, available, that has all the things you want. That really helped with our startup time," Michael said.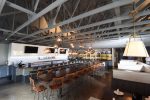 Carmelo added, "Once we found the building, right away we kind of fell in love with it because of the location. We like the proximity to the Highlands. It's only five minutes from downtown and a couple of minutes from Old Louisville. Plus, we really feel Germantown is a very up and coming neighborhood."
Although Carmelo has been in the restaurant for 20 years, this was the first time he had to start a restaurant from scratch. He had never had to juggle contractors or deal with permits. This part of the process was a learning curve for both brothers, but their father Agostino was very supportive. He offered help any way he could, and he still gets together with his boys to make Sarino's homemade Limoncello (Italian lemon liqueur).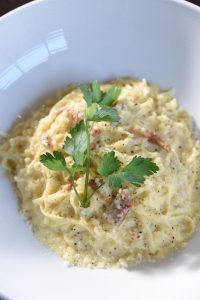 Sarino's concept is traditional Italian cuisine with an emphasis on Neapolitan pizzas and fresh pastas. One lesson the younger Gabrieles learned from Agostino is attention to detail and authenticity, and there is nothing more authentic than house-made pasta. The Sarino kitchen makes 20 portions of eight different varieties of noodles daily. That is somewhere from 15 to 20 pounds.
Traditional dishes like Pomodoro and Carbonara grace the menu alongside standouts like Vodka Sauce (rigate, vodka tomato cream, shrimp and mushrooms); Pea Pesto (radiatore pasta, pea pesto, toasted pistachios, toasted breadcrumbs, dehydrated Kalamata olives and pecorino romano); and Linguine Pesto Seafood (linguine, white wine, fish stock, pesto, shrimp, swordfish, salmon and Parmigiana-Reggiano).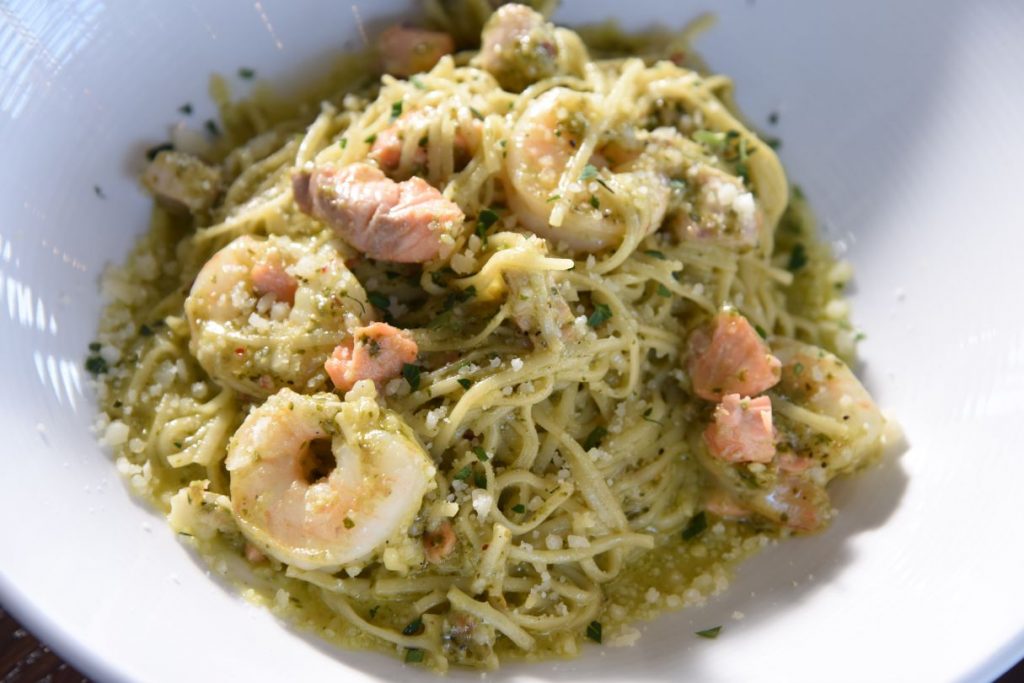 Sarino wants to appeal to diners from all demographics with a variety of food options and price points, so pizza is an important option — something the Gabriele family has never been known for.
"Our family, they have always been into fine dining. Our uncles, cousins that are in the restaurant industry, they never did pizza…  Pizza is something Michael brought to the concept," Carmelo said.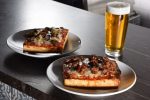 After attending the Biverò Pizza Academy in Florence, Italy, Michael really fell in love with the pizza-making process itself. He enjoyed learning to make the dough from scratch, forming it by hand and working with fresh ingredients.
"I don't know how other people learn how to make pizza. Maybe they go work at Papa John's or somewhere like that, but having that authentic Italian experience made me more excited about it. Having these quality ingredients to make pizza was sort of like trying it for the first time," Michael explained.
He liked the pizza academy so much that he dragged Carmelo there, so they could take the classes together. They brought a pizza oven home with them and import many of their ingredients from Italy in order to follow the strict guidelines of a crispy airy crust Neapolitan pizza. They must use  volcanic plane grown San Marzano tomatoes (Mt Vesuvius), and Mozzarella di Bufala Campana,  a water buffalo milk origin cheese (from the marshlands of Campania and Lazio).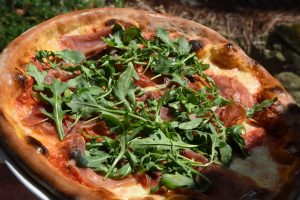 The pizza selection at Sarino varies from expected combos — Calabrese Salame or the Prosciutto Arugula pizza — to Smoked Duck and Sausage or Roasted Potato pizzas. Then, there are the other non-pizza popular entrees like Grilled Shrimp, Grilled Salmon Captona, and Swordfish or Roasted Half-Chicken, Pork Milanese and the New York Strip.
The Cheese and Charcuterie plate offers light eats alongside a selection of salads and appetizers. The Deconstructed Tiramisu and the Limoncello are the standouts on the dessert menu.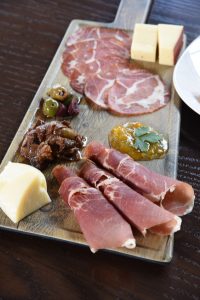 The brothers have been so busy with this work in progress, that neither of them has had time for a family, however Carmelo is leaving it up to Michael to carry on the family tradition.
"Right now, Sarino is our child. It is our wife. But my brother is young. It's time for my brother to give his father what he really wants: a grandson with his name. Yes, Michael is going to give you all the fourth generation. He's taking applicants now," Carmelo said with a laugh. F&D