(Edibles & Potables will return next week)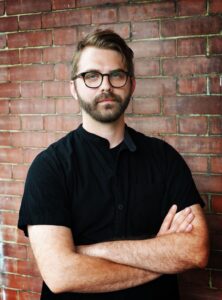 Barn8 Restaurant & Bourbon Bar (10500 W Highway 42 in Goshen) has announced a kitchen transition.
Alison Settle, who has served as the restaurant's executive chef since its inception in 2020, has departed and the new executive chef is Seth Kinder.
Owner Steve Wilson provided details in an information release. About Settle, who is stepping away to spend more time with her family:
"Chef Alison created a strong team of chefs who share her vision and passion for our mission of providing a true farm-to-table able experience and helping build the culinary programs at Hermitage Farm, making it one of the top agritourism venues in the country,. We wish her the best."
And Kinder:
"Chef Kinder has been an integral part of our team since the beginning and brings a wide range of experience to Barn8. He has continued to show his leadership abilities and his culinary skills and was promoted to chef de cuisine earlier this year in recognition of his contributions to the team. I'm delighted to promote him to the top role at the restaurant and am excited about our future."
According to the release, "Kinder's 13 years of industry experience spans a wide range of restaurant roles in Lexington and Louisville, starting as a busboy at age 18. He's worked as a bartender and bar manager, as well as numerous kitchen positions from staging, catering and sous chef."
Here's a Barn8 refresher.
Barn8 Restaurant & Bourbon Bar, 10500 W Highway 42, in Goshen, Kentucky, is located on the historic working thoroughbred and sport horse farm Hermitage Farm. 21c Museum Hotel co-founders Steve Wilson and Laura Lee Brown established Barn8 as part of their overall conservation efforts to expand the farm's agritourism destination experience and preserve Kentucky's rural heritage. From a dairy barn to a horse barn, to an exciting new restaurant, Barn8 offers a seasonal menu crafted by executive chef Seth Kinder. In addition to focusing on sustainable ingredients from the restaurant's on-site gardens, three-tier climate-controlled greenhouse and neighboring farms, Kinder incorporates natural ingredients found throughout Hermitage's 683 acres in both the food and cocktail menus. The restaurant's Bourbon Bar & Lounge offers an extensive list of rare whiskeys and aged bourbons from its small batch program. The Bourbon Library also features whiskies available for purchase. Barn8 is open for dinner Wednesday through Saturday from 5 to 10 p.m. and for brunch Sunday from 12 to 4 p.m. For more information or to make reservations, call (502) 889-1835, visit HermitageFarm.com or follow on Facebook and Instagram.
advertising content
advertising content