At Food & Dining we are often asked: "What is your favorite dish?"
We have the pleasure of covering one of the most robust restaurant cities in all of America with more than 1,200 restaurants at last count. It's like asking Mother Goose's "the old woman in a shoe" who her favorite child is.
We decided to focus on four dishes that everyone eats at least occasionally, and almost everyone has an opinion about. Not fancy preparations or exotic ingredients, but those standard dishes we can all relate to, and debate about: a good bar burger, chicken wings, a fried fish sandwich and a Hot Brown.
The Food & Dining staff got together, tossed around their ideas and, after some lively debate, came up with our choices for these four dishes. Let's see how they stack up against your list.
 
The Best Bar Burger
America has a love affair with the burger. It can be found on more restaurant menus than anything else. You can find a burger anywhere from top fine-dining spots to Chinese restaurants. There are numerous restaurants dedicated to the burger. In F&D's guide we list 24 restaurants with a form of burger in their name.
Chefs have taken the simple burger and elevated it to new heights with an array of world-class ingredients. Last year, for example, the Butchertown Grocery introduced a $50 burger with five-year-old prosciutto, shaved black truffle and foie gras.
But our goal this issue was to find the best bar burger — a simple burger around $5-$6 with a beef patty and a nice slice of cheese with simple toppings.
Our choice is the cheeseburger ($6) from Kern's Korner, 2600 Bardstown Road.
Of all the dishes we selected for this column, the burger inspired the mostly lively debate. While still researching our pick, I invited Chef Fernando Martinez of Mussels & Burger Bar to join me at Kern's Korner.  He had three burgers that day. "Best burger in Louisville for the money," Martinez said. That was enough to sway the vote.
Kern's Korner has been a neighborhood bar for almost 60 years (20 of those years under the name Godfrey's).  A small spot with around a dozen tables and 14 seats at the bar, Kern's has no kitchen, just a simple grill tucked in the back corner of the bar. There are no printed menus, just a board hanging on the wall with a short list of rotating soups, chili and a handful of sandwiches. But the burger is the star here.
To begin each day, a stop at Kingsley's Meats is made to pick up a 30-pound supply of 85/15 ground chuck. Some days a second run is required. "We sell between 30 and 60 burgers a day," current owner Clay Shulhafer said. "Around March Madness we can sell as many as 75 a day."
What makes Kern's burgers so special? The secret may be in the grill. Kern's has been using the same grill for 60 years. They crank the grill to high (375 degrees to 400 degrees, they're not sure since the print on the knobs have worn off years ago), where it stays all day.
They patty each burger to order. No special seasoning, not even salt and pepper. When the burger hits the grill they make a small hole in the center of the patty. "That's a trick my mother taught me," said Jeff Kern. "It makes the burger cook more evenly." The bun goes on the grill too, giving it a nice crust.
"Once the burger hits the grill, don't mess with it," Kern added. After five minutes the burger is flipped and a slice of American cheese is added. Five more minutes, and the burger is done. It's served cheese side down on a crispy bun with lettuce, tomato and onion, pickles and condiments on the side.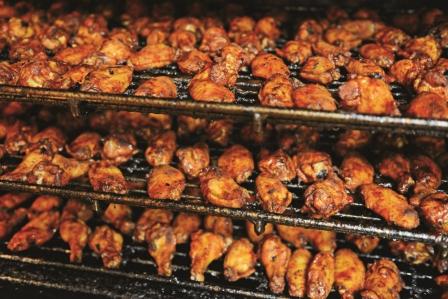 The Best Chicken Wings
If you think about it, chicken wings might be the most adaptable dish you can find. Wings make a great party food at a buffet table. They are a popular appetizer selection on menus. A mess of wings makes for a very satisfying dinner. They are a must-order when at a sports bar to watch a game.  And a cold chicken wing, plucked from the fridge, is just about the perfect late-night snack.
The genesis of this excellent use of what to a chicken is a relatively useless appendage can be traced to the Anchor Bar in Buffalo, N.Y., which introduced their "hot wings" in 1964. It has grown in appeal and in variations ever since.
And variations are plentiful. Wings can be battered or breaded, rubbed with spices or left bare. They can be fried, grilled, broiled, roasted or smoked. The list goes on.
Our choice for the best chicken wing in Louisville goes to Momma's Mustard, Pickles & BBQ.
Owner Chad Cooley and Chef Jamie Givan have been serving authentic Kansas City-style smoked meats with traditional sides at 102 Bauer Avenue since 2012 (a second location at 119 S. Hurstbourne Pkwy. opened in spring 2014).
Before they opened, Cooley and Givan went to study with Chef Paul Kirk, a renowned member of the Kansas City Barbecue Society and seven-time winner of world barbecue championships. Their intense tutorial included examining and testing equipment, learning about meats and, most importantly, unlocking the key to Kansas City-style — the dry rub.
"Momma's rub" is what sets their wings apart, a 13-ingredient proprietary house dry rub that is worked onto the wings before they are smoked over hickory wood for an hour and a half at 230 degrees.
Once the wings come off the massive smoker-grill they are fried for about two minutes to give them a crispy skin. Then they get one final toss in "Momma's rub" before plating. The restaurant offers a of couple house-made sauces on the side, but we promise you won't need them.
We are not alone with our praise for Momma's wings. Johnny Fugitt's 2015 book The 100 Best Barbecue Restaurants in America lists Momma's among the highest-rated wings in America.
And if all of that is not enough to entice you to give Momma's a try, know they are a restaurant that gives back to the community. Their "2% for Louisville" program donates that percentage of their proceeds to support local non-profit organizations.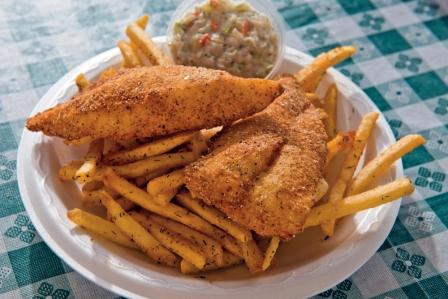 The Best Fish Sandwich
Warm and flavorful, coated with batter or meal, and fried to a crunchy golden brown, its flesh as white as angels' wings, lying between slices of rye bread: the fish sandwich is simple fare, but Louisvillians hold it in high esteem.
So how did Louisville's love affair with the fish sandwich come to pass? Simple answer: Catholics, fish camps along the Ohio River and Lent.
Many speculate that our fish-eating customs grew from the city's Catholic roots. Today, between one-fourth and one-third of the city's population is Catholic; 70 years ago that percentage was higher still. During the 40 days of Lent (which falls somewhere between mid-February and mid-April, depending on the year), Louisville Catholic Churches host no less than 50 fish fries across the city. Which church fish fry is the best? Well, that is a whole other argument on its own.
Louisvillians debate about the best fish sandwich as much as they discuss the finer points of barbecue or pizza. Should the coating be thin or thick, fine or crunchy? Should it have a peppery or herbal seasoning?
For our choice for the best Fish Sandwich in town is the scrod sandwich at The Fish House, 1310 Winter St. Adam Hilsenrad said that 25 years ago his father, David, could easily source young cod caught in on-shore fishing grounds in New England, the kind of fish popularized in Boston as scrod. Now, they get deep water cod, shipped to them in 3- to 5-pound fillets, which they hand-cut in-house to spec; the "scrod" name is a nostalgic leftover.
The Fish House serves fried fish Kentucky Green River style, the fish fillet coated in a crispy cornmeal coating, not a batter. The cornmeal is first seasoned with salt and lots of black cracked pepper and "secret seasonings." The fillets are dipped in buttermilk, then single dipped into the cornmeal breading. Adam explained that letting the breaded fillet sit for 45 to 60 minutes before frying allows some of the moisture in the coating to evaporate, which locks in the flavor in the fish and makes the coating crispier.
Frying has to be done at the right temperature, about 375 degrees, hot enough to cook the fish quickly and to keep the coating from absorbing too much oil, but not so hot that the coating is burnt before the fish cooks.
Order the the Scrod Sandwich Combo ($8.50). It comes with a side of fries and slaw on choice of bread, but don't mess with a good thing – go with the rye.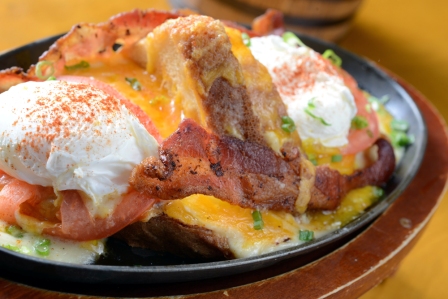 The Best Take on a Hot Brown
The story of the iconic Louisville dish the Hot Brown has been told many times, the result of Chef Fred Schmidt's efforts to make an original dish to sate late-night appetites of dancers at the 1920s-era Brown Hotel. Schmidt's brainstorm — an open-faced turkey sandwich with bacon, tomato and a delicate Mornay sauce. Voila! The Hot Brown.
This fairly simple open-faced sandwich has become so iconic for Louisville that in 2015 it garnered Louisville inclusion in National Geographic's "The World's Top 10 Food Cities," a list citing each city's iconic dish. Louisville and the Hot Brown were listed alongside Buffalo and buffalo wings, Bologna, Italy and pasta Bolognese and Ho Chi Minh City and the bánh mì sandwich.
You can find versions of the Hot Brown on countless menus around town, but if you want to try the best original version, you must try the original Hot Brown at The Brown Hotel. They still serve it in all three of their restaurants — The English Grill, J. Graham's Café and the Lobby Bar.
But our goal for this article was to seek out the best variation on the original Hot Brown.
The one that F&D ranks highest made only one small change to the original recipe — adding poached eggs. After trying this version we wondered why it was not part of the original recipe. Such a perfect addition. I'm sure Chef Schmidt would approve.
The Eggs Hot Brown ($11.25) is served at Dish on Market at 434 W. Market St., the brain child of Owner/Chef Marshall Grissom.
This variation on the classic was first conceived as Grissom and his kitchen crew were experimenting with eggs Benedict dishes. He began fiddling with the Hot Brown so it would look like an eggs Benedict concoction, but decided that the idea worked better presented as a classic Hot Brown, not as something else. He laughed when he admitted that it took about six months for him to reach that conclusion. Grissom's sandwich is served in a heated cast-iron skillet. Texas toast is topped with slices of roasted turkey breast, applewood bacon, fresh tomatoes and house-made Mornay sauce, made with Havarti cheese. The sandwich is heated in the oven, and when it is bubbly, Grissom garnishes it with grated cheddar, sliced green onions and those poached eggs. F&D