The Fall 2022 issue of Food & Dining Magazine (#75) is now available in all the familiar places: Louisville area eateries and food shops, newsstands and online. Go here for a preview of the features, profiles and columns, with links to the new edition at issuu.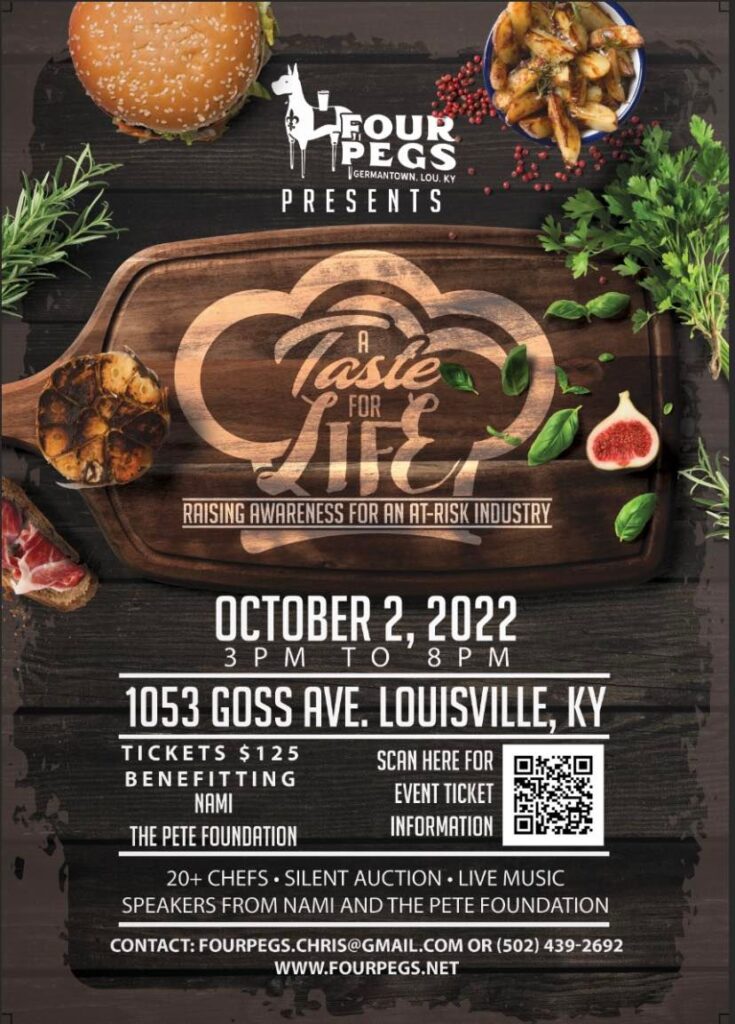 The second edition of A Taste for Life (2022) was delayed two years by the pandemic and its aftermaths, which ironically (and sadly) have served to make the observance even more relevant than it was previously.
From 2019:
A Taste of Life honors Anthony Bourdain by raising consciousness about mental health and suicide prevention
But now the Louisville restaurant community will again honor the legacy of celebrity chef, travel writer and television documentarian Anthony Bourdain, who committed suicide in 2018, and in the process bring to light the industry's stress and anxiety issues.
At Louisville Business First, Michael L. Jones has a preview.
The 2nd annual Taste for Life will take place from 3 to 8 p.m. on Sunday, Oct. 2, on Spratt Street near the Four Pegs Smokehouse and Bar in Germantown. The outdoor event is a benefit for The Pete Foundation, which promotes youth mental health and wellness, and the National Alliance on Mental Illness (NAMI), the nation's largest grassroots mental health organization.
Four Pegs owner Chris Williams said in a press release that the event is an acknowledgement of the pressure that is involved in working in the service industry.
"Working long hours and nights in this business often keeps us away from our loved ones, family, and friends and that puts us at risk for mental illness, addiction and suicide," Williams said. "If we don't talk about these things and help people find available resources, the stigma continues. We want to let people know it's OK to not be OK."
More than local 20 restaurants will be on hand to honor Bourdain, who explored cuisine from around the world on his popular shows "Parts Unknown" and "No Reservations."
Tickets to "A Taste for Life" are $125 and include free food samples and a drink ticket. There will also be live music, a silent auction and a cash bar. You can find more information here.
Also, from A Taste for Life's event page, following are lists of chefs and bands:
#itsokaynottobeokay
Chefs
Josh Moore, Volare
Dallas McGarity, Fat Lamb
Heather Yates, Smokin Cantina
Serge Katz, Flavaville
Devon Rosenblatt, Four Pegs
Nicolas Robey, Renshoku Ramen
Lamont Bobo Fox, Den Billiards
Dustin Che Stevens and Houston Rose (in honor of Gloria)
Allen Rosenberg, Hauck's Corner
Henry Wesley, 8UP
Chan Nelson, Back Deck BBQ
Shawn Haggerty, Commonwealth Catering
Zach Henderson, Vernon Lanes
Daryk Havlicek, Daryk's
Steve Bowles, Crowler Catering
Alex Parker, LouVino
Jessica Parker, Monnik
Carmelo Gabriele, Sarino
Jackson Skelton, LouVino Douglass hills
Ian Cincinelli, Embassy Suites
Erica Goins, Silver Dollar
David Allen and the Varanese team
Joe Phillips and Troy Stewart, Pints and Union
Mike Boyle, El Mundo
Brittany Kelly, North of Bourbon
Bands
Austin Walkin' Cane
Death Leopard (ft. Jeremy and Carly Johnson)
Hot Sauce Brass Band
The Jesse Lees