If you want to see a national recreational area without leaving the state, head south west from Louisville to the Land Between the Lakes. However, not too far from there is a lovely resort worth visiting at Kentucky Dam Village State Park. That's where a friend and I headed to try our first Taste of the Bluegrass Culinary Trail heritage meal at Harbor Lights, the lodge restaurant at this 1,351 acre Kentucky State Park.
If you missed the article about the Culinary Trail, read more here. Diners can get a different heritage meal at nine Kentucky State Parks until October 31 and get a stamp on their passport at each to earn a free Better in the Bluegrass cutting board.

Just One of Many Great Day Trips From Louisville
As we pulled into the area, I was excited to drive past the Kentucky Dam built during World War II, and I looked forward to getting a closer look at the hydroelectric power plant. But first, the meal. We felt like we'd traveled back in time as we approached the vintage lodge, which reminded us of the family vacation in the movie Dirty Dancing. The lodge forms a horseshoe around the parking area, with easy access to each room. The lodge lobby features a gorgeous enclosed circular copper fireplace set against large windows with a view of the lake, and it's just a quick trip downstairs to the restaurant. There is a pool just outside the restaurant (but not within view of the dining room windows).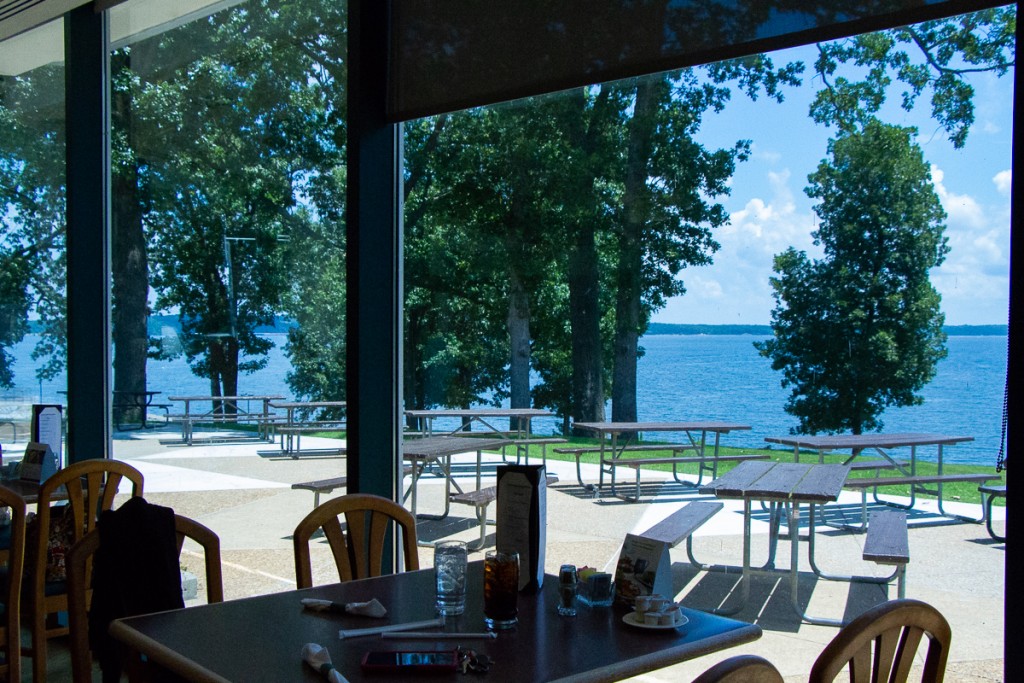 The huge fluffy white clouds in the sky and surprisingly blue reflective waters made for an amazing view from our table at the large windows that line one wall of the restaurant and bar. It wasn't long before we had two delicious Kentucky Dam Iced Teas in front of us. The $15.99 "Western Waterlands" meal includes the mason jar served beverage,  which consists of sweet tea flavored with a shot of lemonade and Peach flavored whiskey from Paducah's Bird Dog distillery.
We stared out at the lake in awe of its massive size. Then, our attention turned to the massive meals set in front of us. I felt full just looking at the unbelievable amount of food. Did I unknowingly enter a food challenge? Four bowls and a large plate rested there, featuring a large slice of Country Ham, a decent sized piece of fried catfish, three hushpuppies, a bowl of sweet corn, a bowl of green beans, a bowl of white beans with ham hock, and a bowl of banana bread pudding. I immediately knew most of this would have to be boxed up.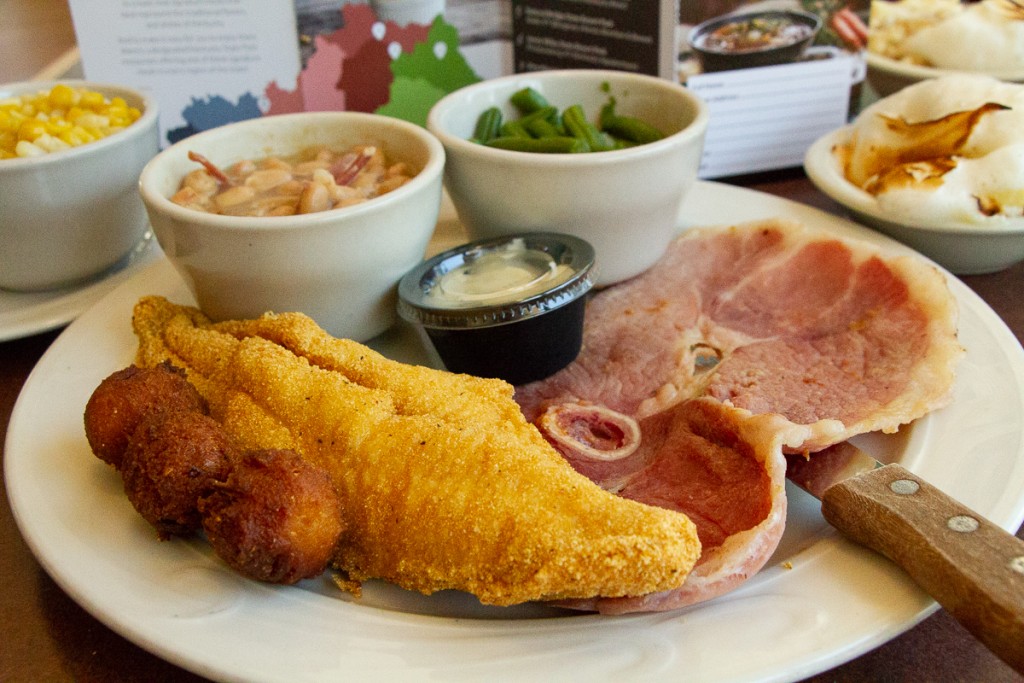 Every aspect of the meal prepared by Chef Kelly Staples was very flavorful, as you would hope in a plate full of southern food.  The locally farmed Kentucky Proud fried catfish and hush puppies were not at all greasy and had a lovely breaded crunch. The Country ham was salty, and the vegetables were delicious. I'm not even a fan of white beans, but the ham hock and flavoring invited me to finish them off. The banana bread pudding was also delicious. As we did our best to make a dent in the smorgasboard, my friend asked Chef Staples how far expansive lake stretched.
"About another 30 to 40 miles," he responded. Google says Kentucky Lake is 183.9 miles long! Call me an uneducated Kentuckian. I had no idea we had something like that in the Bluegrass.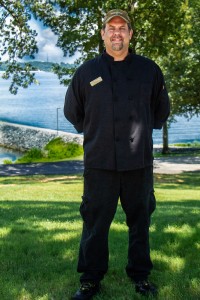 Like many in the culinary world, Chef Staples began his journey in the dishroom when he was 19-years-old and worked his way up.
"I was driven by money at first," he admitted. "But then I realized it was actually a passion. The more I learned, the more I wanted to learn. I enjoy the praise; I enjoy the guests being happy, and I like to eat."
We chatted a bit longer about where he is from (Paducah), his favorite southern foods to eat (meatloaf and homemade mashed potatoes), and his favorite food to cook (all of it, but especially likes to grill, so he can marinade). He went on to tell us about some of the cool history in the area. In order to create the Kentucky Lake, a few towns were evacuated before being flooded. One of those villages was Birmingham, and foundations and other remnants of the town are still visible when waters are low.
After collecting our passport stamps, we wandered down a gentle slope from the lodge to an area where you can make your way across paved walkways out and over the water. After that, it was just a short drive to the Marina where you can rent pontoon or other boats and jet skis. We enjoyed the statues of Venus and Neptune as we noted the pontoon boats with built-in slides, imagining what fun it must be to fly off one of the slides into the lake.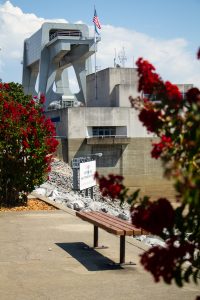 Then, we drove a couple miles to hike around the dam and powerhouse. You can drive across the dam and hop out to peer across the seeming never-ending lake from a lookout point before driving around to the area where you can take steps down to view the dam from below. I can't be the first to notice that the hydroelectric plant's powerhouse looks like something out of Star Wars.
Before heading back to Louisville, we noticed a group of folks enjoying some fishing off a concrete pier — probably hoping to catch one of the monsters evidenced by toddler sized skeletons on the rocky shores. I wondered if some of the slender egrets we saw resting on the shore had managed to wrestle one of the gargantuan fish from the water or if the fish were just victims of receding water.
At just around three hours from Louisville, the jaunt made for a beautiful  day trip, although some may not enjoy driving as much as I do and might find it worthy of an overnight stay. The resort definitely inspired a desire to return with a group of people to rent a boat — or, with enough Kentucky Dam Iced Tea, maybe storm the Star Wars base.
Photography by Jessica Mathis