If you're looking for a little bit of paradise in Kentucky, a nice summer day in Prestonsburg at Jenny Wiley State Resort Park might fulfill a bit of your desire. Continuing our travels on the Taste of the Bluegrass Culinary Trail, we arrived to a breathtaking view of May Lodge set against the mountain of trees behind it. The lodge entry had wooden furniture outside in the breezeway, which led to the front doors or a lovely back patio overlooking the lake and featuring metal patio furniture. Inside the lodge, there was a table set up with orange or strawberry infused water for guests to enjoy in a seating area with couches. A small gift shop (where you can buy hand carved coal sculptures), some meeting rooms and an enclosed bar with huge windows occupy the rest of the lodge's top floor.
The Music Highway Grill resides in the lower level, and the view from the restaurant was mesmerizing as boats zipped to and fro, parting the seemingly green waters with white wake trails that chased the boats around the bend. Beneath the cloud dotted sky, the green appearance of the water – created by the reflection of the surrounding forest – and the wake trails behind the boats looked like an oil painting and instilled a sense of peace as we waited in anticipation for the heritage meal designed to represent the Kentucky Appalachian region.
Like the Better in the Bluegrass meals we've enjoyed at other state parks, this meal called for take home boxes, because there is just so much food. Despite the restaurant being pretty busy for their Sunday brunch, our first course of bean soup with cornbread arrived swiftly as did the included coffee. Two huge hunks of cornbread sat beside the bowl of beans and were just the right texture for the also just right bean soup. This course was quickly followed by the second course — delicious salmon patties with a side of fried potatoes and a cucumber, onion and tomato salad in Italian dressing.
I was curious, wondering how the Italian style salad represented Kentucky heritage. Food and Beverage Director Natasha Moore said that the vegetables were a staple in the region during the depression, because they were something cheap that people could grow at home. The Italian dressing was added for flavor.
"It became part of the appalachian culture," she said. "It's very popular around here. We tried different flavors like lemon on the vegetables when designing the meal, but the Italian was the best."
Moore seemed just as sweet as the blackberry jam cake we received as dessert. However, speaking of confusion, I'd never had the popular treat. It was covered with caramel icing and tasted a whole lot like a spice cake or carrot cake. There isn't a blackberry taste to it at all, but that didn't stop us from eating the entire huge helping. It really took a while to clear our palates after the intensely sweet caramel flavor. Moore said it's probably one of the most popular items they sell.
She was so easy to talk to, I found myself further questioning her about the success of the culinary trail meal and if mostly locals take advantage of the special three course meal for $14.99. She said it has been very popular with locals and tourists alike,  saying they sell about 50 or 60 of them on a busy Friday or Saturday night.
As she told us about the local culture, I asked about her own tastes. I wanted to know more about the food at the restaurant and what she enjoyed about her role at the park. She told me that she grew up "a few counties over," and she had come to the park as a youth and always loved it.  As an adult and mother, she was looking for work to do something with her time and became a bartender before being asked to take on her current role.
"I resisted the job at first, because I was pretty relaxed as a bartender; but I really love it and the hospitality industry," she said before telling us about her favorite foods at the restaurant. "I'm a pasta person and I introduced a pasta dish to the menu that the locals love. Our spinach and artichoke dip is also one of my favorites."
When I asked if there is anything they sell in containers or that people love to take home, she said the locals absolutely devour  "Jess's buffalo chili" (from Chef Jessica Butcher). That's when I fell in love a little, because she offered us a "little bit to taste" of both the spinach and artichoke dip and the chili. "A little to taste" turned out to be a full serving to taste at the table and huge southern-hospitality-sized helpings packaged in a big aluminum pan of ice to take home with us. (Can we adopt her, Prestonsburg?)
Moore was fun to chat with as she told us more about the park.
"We have an elk night coming up," she surprised us by saying. I had to make sure I heard correctly. I did. "We are the only park in the state that offers elk tours. I could tell you right where to go right now and guarantee you would see some elk."
Evidently, there is a very high elk population in Prestonsburg, and people come from all over the world to see or hunt them — even from as far as Australia. Elk night kicks off the elk viewing season and will be September 8. (*See details below) We got caught up in the conversation and forgot to ask where to see the elk, but we did set out for some nature time.  
We drove up the road a few minutes to the short .75 mile Sassafrass trail to hike around a peninsula that had some pretty steep inclines. We felt it was a pretty good workout for such a short trail and found ourselves a bit drenched afterwards from the heat and ready for a swim in what I can only describe as the perfect swimming hole.
Arrowhead point provides a lovely lookout spot for photos, but it's also a quiet and secluded spot to take a dip. Access down a sloping dirt trail leads to a tiny peninsula where you can spread a blanket under an arch of tree branches for some relaxation in the sun or walk right into the alcove of water for wading, swimming or floating in the lake. If you're up for some deeper waters, you can keep wading out or jump in the deep waters on the other side of the peninsula.
We weren't alone in our water revels. Boats went by occasionally, some towing squealing youngin's on tubes, and a few people floated on rafts around us. It was still pretty secluded, though. We were there with maybe six other people (who were very friendly, pointing out their favorite spots to us), and the numbers quickly dwindled to two other people. As if to be a perfect ending to our summer playtime, a small swarm of big Swallowtail butterflies circled around me as I exited the waters to dry off.
If you want to enjoy the views and food but aren't up for much self exertion, you can always drive by and look at all the boats in the marina or take in a show at the Jenny Wiley Theater, which is currently offering a production of "Hairspray." We drove past the marina but skipped the theater and hit the road, enjoying the lovely skies instead on our three hour trip home. I love our fine city and am always happy to return, but I'm pretty sure the views in Eastern Kentucky stole my heart a little.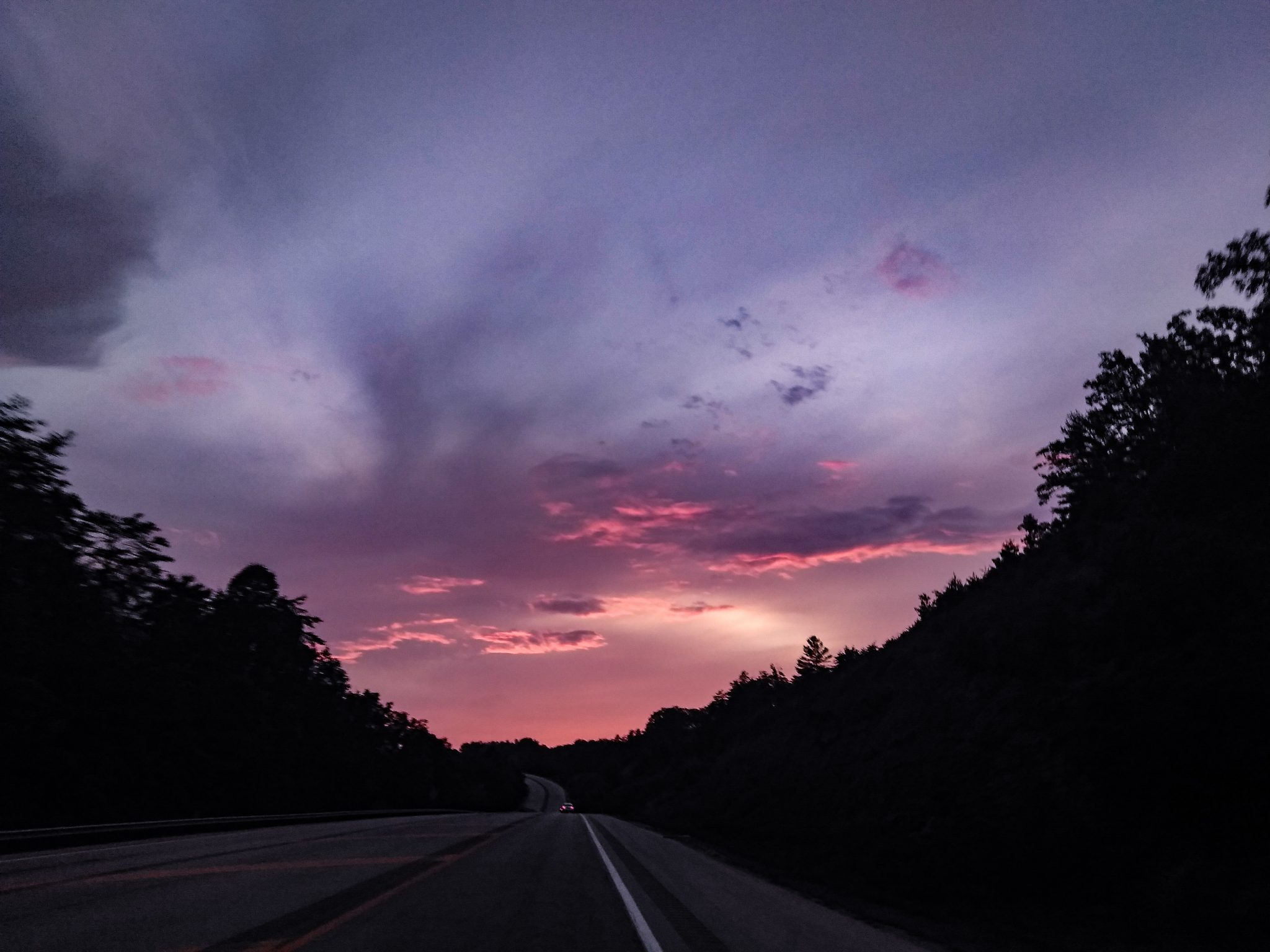 *Elk Night Buffet Menu (from noon to 9 p.m. on September 8) Elk Roast-Carved on the line, hunter's chili, elk meat loaf, elk stew fried chicken, and catfish with hushpuppies; lyonnaise potatoes, shoe peg corn, green beans, cream of potato soup; assorted appalachian desserts; cornbread and yeast rolls. Adults: $18.95 per person, children  (6-12-years-old): $8.95 Children 5 and under are free. Prices do not include tax, gratuity or a beverage.
The elk tour is $30 per person and starts at 5:30 a.m. If you want to stay overnight, there is a lodge room special for $64.95 on Friday and Saturday night. There is also an Eastern Kentucky Elk, Hunting and Outdoor Expo going on in the on site convention center from 9 a.m. to 6 p.m.