Everyday Kitchen, which was featured in the Fall 2021 (Vol. 71) edition of Food & Dining Magazine, offers "modern farm-to-table comfort food and warm Kentucky hospitality for the modern food lover from Chef Mike Wajda (formerly of Proof on Main)."
According to a news release, this year Everyday Kitchen is partnering with Groce Family Farm to offer Thanksgiving-At-Home holiday meal kits.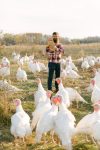 These complete farm-to-table holiday meals feature your choice of broad-breasted Heritage Turkey or Mangalitsa hog roasted beast (the Kobe beef of pork), plus all the traditional fixings and a few surprises from Chef Mike Wajda.  The meal is conveniently ready to heat and serve so you can forego cooking pre-Thanksgiving or on Black Friday for an easy, relaxing, and delicious holiday week.  Well-priced sommelier-curated wine and spirits pairings are also available.
Here's the breakdown:
Kits are $42 per person
Order by calling Everyday Kitchen at 502-805-7435 or going online
Pick-up times are Tuesday, November 23, and Wednesday November 24, from 3:00 p.m. to 8:00 p.m.
Confirm your preferred pick-up time when you place your order
The full menu includes:
Groce Family Farm Broad Breasted Turkey or Mangalisata Hog Roasted Beast
Sides: Roasted brussels sprouts, butter whipped potato, port wine cranberry, Grainwright winter wheat sourdough stuffing, and brown butter parker house rolls
Dessert: 9 spice coconut bread pudding
There is a sommelier-curated wine pairing option:
2 bottle package (one white and one red) $35
4 bottle packages (two reds and two whites) $70
5 bottle package (two white, two red, one sparkling) $85
And, an additional by-the-bottle bourbon purchase option:
Old Forester $20
Elijah Craig small batch $30
Angel's Envy (Lodgic logo) $50
Henry McKenna 10-year single barrel $40
Lodgic Everyday Community, Everyday Kitchen and Clever Moose Café are located in the Gateway to Nulu Building (552 East Market). Dinner hours are 5:00 p.m. – 9:30 p.m., Tuesday through Saturday, and "100% of proceeds from all Lodgic Everyday Community operations and its brands are reinvested in good works to support the aspirations of children, families, independent workers, small businesses, and communities both locally and on a national level."