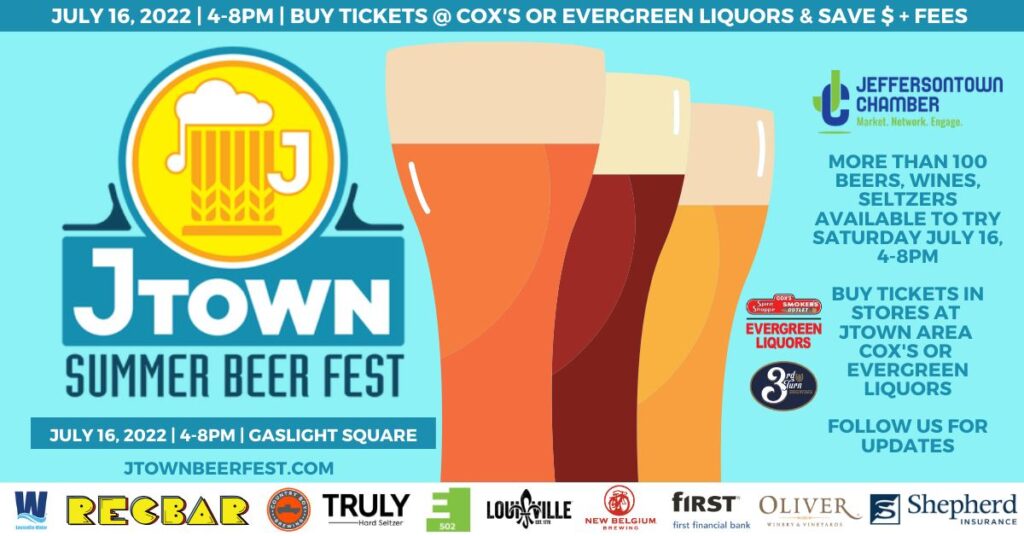 The 7th Annual Jeffersontown Summer Craft Beer Fest returns on Saturday, July 16, 4:00 p.m. to 8:00 p.m., at the Gaslight Pavilion and 3rd Turn Brewing (10434 Watterson Trail, Jeffersontown, Kentucky).
Ticket information:
$45 person in advance; purchase online or at selected Cox's Smokers Outlets and Spirit Shoppes, Evergreen Liquors locations, and The Chamber, Jeffersontown
$160 for a 4-pack of tickets (online special only; also available are $10 designated driver tickets)
$50 per person at the gate, day of show, but only if the event isn't sold out
An information release provides these "hoppy highlights":
3rdTurn Brewery will headline the Kentucky Corner, hosted by Cox's & Evergreen Liquors, featuring a dozen or more Kentucky breweries.
The event will feature 85+ craft beers from national favorites like New Belgium Brewing as well as Kentucky breweries like Country Boy Brewing (Lexington, KY) and local Louisville standbys like Atrium Brewing Company, plus many more.
The Truly "Beyond Beer" Bar will exclusively feature a wide variety of hard seltzers and hard teas.
Cox's Cigar Lounge is situated next to the pavilion and the First Financial Shade Lounge under Jeffersontown's City Hall.
TWO Stages feature live music from local artists.
Recbar will be onsite with some classic arcade and pinball games.
Oliver Winery will have new ciders featured as well as their summertime favorites, lemon and blueberry Moscato.
Food trucks and snack vendors like Fresh Out the Box, Six Forks Burger Company, Froggy's Popcorn and more will be featured.
Louisville Water Company will be there to keep all guests hydrated for the day too!  We would not have great local beer without Louisville's clean water.
The J-Town Summer Craft Beer Fest is produced by HB Productions LLC (the Tailspin Ale Fest people) in conjunction with the The Chamber Jeffersontown. For more information, please visit www.jtownbeerfest.com.
advertising content
advertising content