From Wikipedia, the free encyclopedia, comes this historical overview of Colonial Gardens.
"Colonial Gardens is a former entertainment complex located in the Kenwood Hill neighborhood across New Cut Road from Iroquois Park in Louisville, Kentucky. In its early existence, it was a part of Senning's Park, the site of the first zoo in Louisville."
In fact, Senning's Park was an old-school beer garden prior to Prohibition. That's what I call good karma.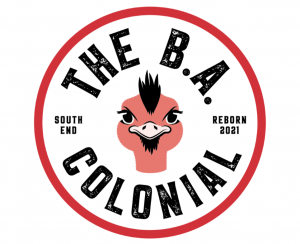 For a while we've been following the progress of renovations to the Colonial Gardens complex (818 Kenwood Drive), as one after another the resident eateries debuted: Taco Luchador, Union 15 and Biscuit Belly (Back Door BBQ is opening soon across the way).
But now The B.A. Colonial, always viewed as the lynchpin of the redevelopment project, plans to launch on April 23. Reporter Haley Cawthon offers a detailed dive into the story at Louisville Business First: "New restaurant opening soon at Colonial Gardens."
B.A. Colonial will serve a menu of American classics, such as freshly-ground burgers, salads and seafood, among other items. On the beverage side, (partner Brad) Culver said B.A. Colonial will offer a five-cocktail list, as well margaritas, rum punches, and its own version of an Old Fashioned. The restaurant plans to serve a variety of domestic beers and a couple of craft beers on draft.
Cawthon's story concludes with a familiar refrain (emphasis ours).
"We call it pandemic 2.0 — restaurants survived and in the last six weeks or so, sales kicked up. Now we can't find help," (partner Shay Tinsley) said. In the event that he can't find enough staff, Tinsley said he is considering temporarily limiting the menu or adjusting the full-service model.
B.A. Colonial's operating hours also haven't been finalized due to the staffing situation, but Tinsley is expecting to be open for dinner from 4 to 10 p.m. Tuesday through Thursday, and for both lunch and dinner hours on Friday, Saturday and Sunday.