Over at the Courier Journal, Louisville's newspaper of record, contributor Lennie Omalza offers an excellent profile of Kern's Korner (2600 Bardstown Road): "This beloved Highlands bar, known for its burgers, is so busy, it's turning people away." If you're a subscriber, click through and read the entire piece.
If not, here's a brief preview, but keep going, because there's a plot twist pertaining to a cheeseburger.
As the restaurant industry continues to struggle and various eateries are permanently shutting their doors, it's refreshing to chat with owners of longtime businesses that have made it through what has been — fingers crossed — the worst part of COVID-19. This week, I connected with Clay Shulhafer, the owner of 43-year-old Kern's Korner in the Highlands neighborhood. Sitting across from me at a high-top table near a wall covered in horse racing photos and sports jerseys, he explained how he went from being a tennis pro to the owner and operator of a neighborhood bar and grill.
This passage caught my attention (my emphasis).
Though Kern's Korner is a bar first and foremost, Shulhafer said they're known for their chili and cheeseburgers. In fact, in 2017, "Food & Dining Magazine" recognized the establishment for having the best bar burger.
That'd be us, as in Food & Dining Magazine. Naturally I was curious about what we had written, and it was easy enough to locate the article in the archives.
Bear in mind, the following snippet was published in 2017; the price of the cheeseburger at Kern's has understandably risen, but as you can see from the current menu, the bar's kitchen is emphatically budget-friendly to this very day.
—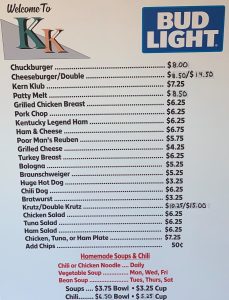 The Best Bar Burger (2017)
America has a love affair with the burger. It can be found on more restaurant menus than anything else. You can find a burger anywhere from top fine-dining spots to Chinese restaurants. There are numerous restaurants dedicated to the burger. In F&D's guide we list 24 restaurants with a form of burger in their name.
Chefs have taken the simple burger and elevated it to new heights with an array of world-class ingredients. Last year, for example, the Butchertown Grocery introduced a $50 burger with five-year-old prosciutto, shaved black truffle and foie gras.
But our goal this issue was to find the best bar burger — a simple burger around $5-$6 with a beef patty and a nice slice of cheese with simple toppings.
Our choice is the cheeseburger ($6) from Kern's Korner, 2600 Bardstown Road.
Of all the dishes we selected for this column, the burger inspired the mostly lively debate. While still researching our pick, I invited Chef Fernando Martinez of Mussels & Burger Bar to join me at Kern's Korner. He had three burgers that day. "Best burger in Louisville for the money," Martinez said. That was enough to sway the vote.
Kern's Korner has been a neighborhood bar for almost 60 years (20 of those years under the name Godfrey's). A small spot with around a dozen tables and 14 seats at the bar, Kern's has no kitchen, just a simple grill tucked in the back corner of the bar. There are no printed menus, just a board hanging on the wall with a short list of rotating soups, chili and a handful of sandwiches. But the burger is the star here.
To begin each day, a stop at Kingsley's Meats is made to pick up a 30-pound supply of 85/15 ground chuck. Some days a second run is required. "We sell between 30 and 60 burgers a day," current owner Clay Shulhafer said. "Around March Madness we can sell as many as 75 a day."
What makes Kern's burgers so special? The secret may be in the grill. Kern's has been using the same grill for 60 years. They crank the grill to high (375 degrees to 400 degrees, they're not sure since the print on the knobs have worn off years ago), where it stays all day.
They patty each burger to order. No special seasoning, not even salt and pepper. When the burger hits the grill they make a small hole in the center of the patty. "That's a trick my mother taught me," said Jeff Kern. "It makes the burger cook more evenly." The bun goes on the grill too, giving it a nice crust.
"Once the burger hits the grill, don't mess with it," Kern added. After five minutes the burger is flipped and a slice of American cheese is added. Five more minutes, and the burger is done. It's served cheese side down on a crispy bun with lettuce, tomato and onion, pickles and condiments on the side.