[adrotate group="3"]
The Celtic Pig Blends Good Food, Thrifty Designs, and Family Tradition
When Celtic Pig Executive Chef/Owner Melissa Ingram mentioned to her life and business partner Sam Bracken eight years ago that she wanted a smoker, neither of them knew that it would one day smoke meats for The Celtic Pig food truck or eventually sit behind their new brick and mortar restaurant that opened recently at 217 E. Main Street. That's what it led to, though, and this restaurant featuring smoked meats, barbecue and cuisine from Germany, Czechoslovakia, Ireland and the UK with Kentucky flair is meant to be like a visit to Grandma's right down to the mismatched China dishware.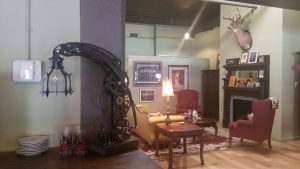 Ingram says that all of the menu recipes are from Bonnie, the grandmother who raised her. The restaurant pays tribute to Bonnie and Margaret, Bracken's grandmother. A parlor on the ground floor features photos of their grandmothers, a deer head over the fireplace and vintage furniture that rounds out what definitely looks like a room at grandma's, although the adjoining dining room is flooded with more light during the day than is custom for a house thanks to a glass wall with a view of Main Street. If you head down to the cellar where the bar is, you'll find another vintage couch and grandparent-worthy decor in a concrete setting that definitely reminded me of a basement bar my grandparents had.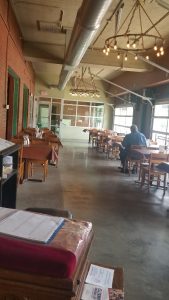 Ingram said that Bonnie involved her in everything to keep her busy and out of trouble. When Bonnie was cooking, Ingram would be right there alongside her, making a smaller version of whatever it was. That led to a lifelong love affair with food that eventually turned to an interest in smoked meats.
"I've always been interested in preserving meats and when I was younger, my grandmother and I would make sausages or smoked hams," explained Ingram, who attended California Culinary Institute but has also honed her skills in Australia, England and several U.S. states. "When living in South Carolina, I learned to smoke whole hogs. So, it went from there where I would wonder what this or that tasted like smoked. I started doing it in the oven or little home sized smokers on the back porch."
From the very beginning, the couple has smartly nickel and dimed their way to success with dedication to the "reduce, reuse, recycle" method. They couldn't afford a commercial smoker to scale her interest up, so Bracken started thinking about components he could scrounge up to build one. First, he found a 250 gallon used propane tank and next a Vermont castings wood stove for $50 to use as a firebox. Then, he found an old camper trailer out in a farmer's field that he was given permission to haul off for free.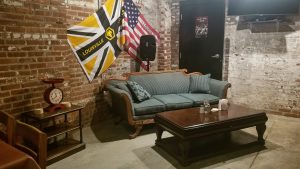 They next took all the components to a friend's machine shop one weekend and their friend helped weld it all together in exchange for a chocolate cream pie from Ingram, whose diverse background includes fine dining, catering, commercial kitchens and even wedding cakes. The smoker's very first use was to smoke some of the meats from Bracken's hunting or exotic meats like crocodile, kangaroo or python at their Memorial Day parties.
The next step in Ingram's journey was to enter barbecue competitions that required a team name, and that's where The Celtic Pig was born. They'd hand out samples and built a following that wanted to know where they could buy the food or sauces. That led to them setting up in a Big O' Tires parking lot on Sundays with a tent and some wash station tubs.
"At the height, we were selling 35 to 40 racks of ribs a day plus homemade sides and pork and brisket and wings," said Bracken. "So we decided, 'let's get a truck and we'll do it just on the weekends.'"
They kept their regular jobs – Ingram was an Executive Chef at University of Louisville and Bracken ran a landscaping company – but they were soon so busy having fun and making great money on the weekends that they made the jump to buying a food truck to serve downtown lunches or service breweries in the evenings or festivals on the weekends. After about four or five years of that throughout Ohio, Indiana, and Kentucky, they decided they were ready to look for a brick and mortar restaurant, just like Ingram had always wanted.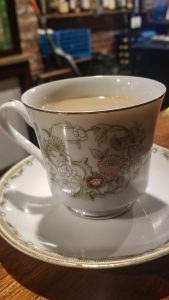 Next came more thrifty decisions and searches. The cellar bar is out of a VFW hall, as are most of the tables and chairs.They traveled auctions and other money-saving options through Kentuckiana, and fitting their theme, the vintage dishware is all mismatched just like it was at Ingram's large family gatherings growing up.
"We had such a big family, when you got everyone together it was like 50 people, so you're pulling out dishware from all over," said Ingram.
"We're pretty proud of doing it on a budget," added Bracken. "Even if we'd had $3 million, we still would have done it this way. Maybe some of the stuff would have been cooler, but we loved doing it this way. I love telling people the seats are seasoned by the butts of patriots [from the VFW Hall]."
I do have to say, it was pretty charming drinking my spiced Irish coffee from the delicate saucer and tea cup and their warm welcoming personalities did make me feel like I was sitting around with fun family members as Ingram made sure to greet or thank every patron that walked through. Their handful of craft cocktails also reflect European spirits and flavors, and they have a good selection of beers available. However, our thoughts about the dishware and spirits quickly faded once the food arrived and our brains become completely focused on flavor – and lots of it.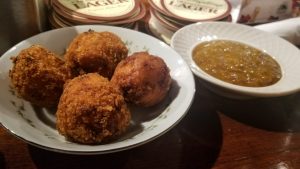 First up, the amazing kraut balls I will definitely be returning for. They have mastered this popular dish with such ooey gooey goodness hiding within a perfectly golden crisp outer shell ready to be dunked in their finger-scooping-the-last-drop-from-the-bowl amazing Stone Ground Mustard Sauce. Other appetizers include items like wings, Czech pierogies, poutine, and Scotch Eggs to name a few.
The salads are somewhat standard, but the soups on the menu offer the Scotch Cock-A-Leekie (leeks and peppered chicken stock, thickened with rice and barley) and Irish Chili (tender cuts of beef and pork sautéed in Jameson Whiskey and flavored with a spicy mole' and Guinness beer, combined with tomatoes, garlic, and onion and topped with fresh cilantro, Irish cheddar, and sour cream).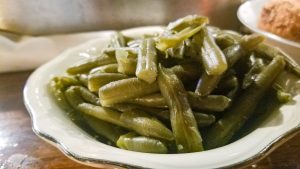 There are ten different side items but Rumble-de-Thump (creamy mashed potatoes tossed with green cabbage, spring onions and shredded carrots), Irish Coleslaw (Green cabbage mixed with a zesty honey-ginger dressing and spring onions) and German Potato Salad (slices of tender potatoes tossed in a tangy & sweet vinegar dressing with bacon and sautéed onions) stand out for matching their theme.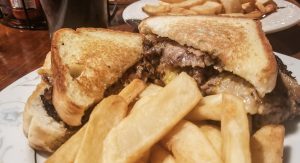 We visited for lunch and went for lighter fare than the entrees now available on their full menu like Traditional Haggis, Proper Sunday Roast (with Yorkshire pudding), Bangers and Mash, or Pan-seared Salmon, Fish and Chips, or Baby Back Ribs. We visited the sandwich menu instead and found the brisket sandwich and brisket grilled cheese to both be delightful. We followed them with peanut butter pie and a chocolate chip bread pudding – just two of the delectable desserts The Celtic Pig offers (the rest were sold out) and both evidence of just how varied Ingrams talents are.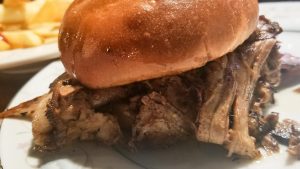 Ingram's barbecue and hot sauces really should be bottled, and she says she plans to in the future. They vary in heat from the no-heat barbecue sauces – Carolina Ginger Sauce and Momma Viv's Kentucky Red – to the heated Evil Dickens and Burning Down the Outhouse. She has yet to officially name their hottest sauce (made with habaneros, ghost peppers, jalapeños, Thai chillis and Indian Teja chilis), so they just call it Hateful.
"I like to call it Burning Regret," a server interjected.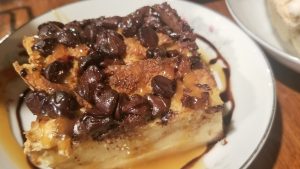 Whatever you call it, I was too scared to try it. But I do highly recommend calling The Celtic Pig the next culinary destination to check off your Louisville dining bucket list. You might even run into Ingram and Bracken, who are very involved in the day-to-day operation. Maybe you can coax them out of one of their fascinating family stories, or, if you check out their events calendar, you can figure out where to catch their food truck or plan your visit for a night when they have a special event like Celtic bands, Scotch tastings or three-course dining experience.