Today's installment of "Edibles & Potables" requires a preface. "The Ham Belt," written by longtime Food & Dining Magazine contributor Greg Gapsis, appeared in our Winter 2012 print edition. The story is dated in places, and reader discretion is advised, but it remains a valuable introduction to the genre of cured country ham.
When the COVID-19 pandemic descended in 2020, F&D's normal mode of operation was subjected to the same disruption experienced elsewhere, and as a mode of pivoting, we began looking to the past for print-only articles like this one to digitize and post online during those months when topical local restaurant news was so much harder to find. Many of these archival pieces appeared under the rubric "Afternoon Archive."
The backlog of these features and profiles was steadily reduced until only one remained: "The Ham Belt," by Greg Gapsis (2012). We've discussed a longer-term digitizing project reaching all the way back to 2003, but in the interim, here's the pork.
---
Cured country ham is practically synonymous with Kentucky, whether fried up for breakfast or as the centerpiece of a holiday meal.
And if one Kentucky chef is correct, it will be the basis for Kentucky becoming famous for a high-value, cured meat industry supplied by a bevy of small farmers across the region.
(Originally published in the Winter 2012 issue of Food & Dining)
Jay Denham knows his meats. In a culinary career that took him to Nashville and Chicago before arriving in Louisville as the executive chef at Park Place on Main and Browning's, he deftly combined high cuisine with a Southern twist, always seeking out and presenting the best.
Now, after a multi-year absence, he's back in town with a new endeavor, The Curehouse, a processor of premium cured pork from heritage breed pigs raised by small farmers throughout Appalachia and Kentucky.
Jay Denham grew up in Maysville, Ky. and knows well how the salted and air-cured country hams date back to the earliest pioneers carving out homesteads in the state.
"When winter came it was always a question if you could feed your stock. Draught animals and milk cows got fed; pigs often got harvested," Denham said. "The climate also allowed for preserving the pork using a salt and air curing process that goes back to before Roman times."
Often referred to as "the ham belt", this temperate climate zone in North America runs from Iowa and Missouri through Kentucky and Tennessee to Virginia and the Carolinas.  It permitted pork to be one of the original cash crops (along with tobacco, lumber and whiskey) to come out of the colonies and post-Revolutionary War America. The 'belt' wraps around the planet and is basis for the long tradition of similarly air-cured meats in Spain, Italy, Eastern Europe and China (religious restrictions against pork in the Middle East and vegetarianism in India account for the only broad exceptions).
When Park Place closed a few years back, Denham, who could have easily landed a chef's position anywhere in North America, packed his bags and headed to Europe to build on his Kentucky roots. First, he went to Spannocchia, a demonstration agricultural estate in the Siena hills famous for helping save the cinta senese heritage pig breed. Then he went north to Zibello on the Po River to work with the Italian meat curing master, Massimo Spigaroli.".
"A planned two-week stay led to six months," Denham said. "To learn from Massimo, who is considered the master of culatello, a special cut of pork revered as the best cured meat in the world, I worked for free in exchange for room and board.  It was cool that my room was in a castle and meals were at Massimo's three-star restaurant."
After returning stateside, Denham met Irish businessman Nick Heckett and geneticist/Ag-professor Chuck Talbott who had already started Woodlands Pork, a pig raising farm in the hills of West Virginia intent on delivering cured hams equal to the best available in the world.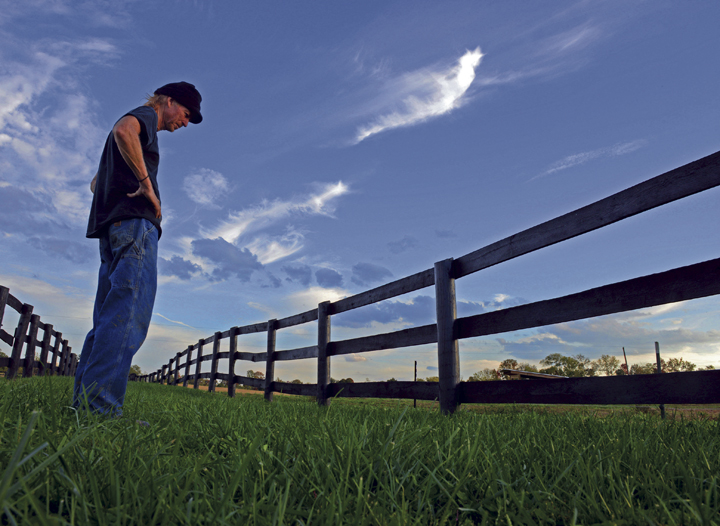 NEW OPPORTUNITIES
Woodlands Pork, which currently markets mostly to chefs and high end restaurants, is on the crest of a new wave of American enthusiasm for quality pork products.  While some producers have earned more press — like Herb Eckhouse's La Quercia in Norwalk, Iowa. pre-selling acorn-fed Berkshire pigs to chefs, and Armandino Batali's (Chef Mario's father) Salumi Artisan Cured Meats in Seattle — none likely have more research, business savvy, and chef's experience as the team behind Woodlands Pork and The Curehouse.
"Since the quality of good hams depends on the soil, the climate, the breed and its foraging habits, it made me think of the wine metaphor, that they have a 'terroir' that's equivalent to grape varietals and annual vintages," Nick Heckett said. "When you think about it, good ham exceeds all other foods in its complexity and variety.  It is on a pedestal that only wine and spirits can reach."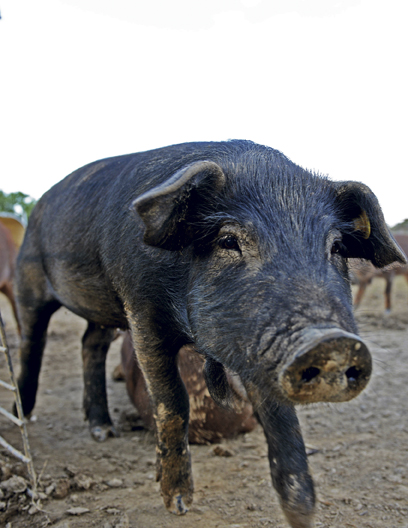 Just as Americans have gone beyond industrial homogenization with an appreciation of good wines, craft brews, farmhouse cheeses and estate-grown coffees, Heckett and Denham believe there is a public ready to experience the pleasure a quality pork product provides.
"There's a lot of fakey-fake Italian marketing going on. You know what the difference is between grits and polenta? $3.99 pound on the open market," Heckett says with a wink. "With the growing conditions here in the states we can compete with the best Europe has to offer.  But we are not going to copy them but offer a uniquely American product."
While most country hams have to be soaked to leech the salt used to cure them, Heckett, Talbott and Denham are aiming at the ready-to-eat cured meat customer, those who appreciate what a paper-thin slice of prosciutto can be when wrapped around a piece of melon or served with a biscuit or piece of bread.
"You can't eat three ounces of this at one sitting.  It's too rich," Denham said. "This so full of flavor, only a small amount is needed."
Denham demonstrated some ham-tasting techniques on a translucently-thin, ruby-red and white-haloed slice of ham while meeting at The Blue Dog Bakery and Café (owners Bobby and Kit Hancock carry Woodlands Pork and are raising their own herd of hybrid Red Wattle and Mulefoot pigs for personal consumption and sale to The Curehouse).
"You rub the fat between your fingers and see how easily it melts. You tug on it to see how marbled it is and the structure of the muscle tissue.  Its smell should be a bit funky, and it should have a rich umami flavor," Denham said. "When finished on forest mast, the nuts turn into unsaturated fats which melt at a low temperature. Over in Tuscany they refer to such acorn-finished pigs as 'walking legs of olive oil'."
In addition to The Blue Dog Cafe, Garage Bar is an excellent place to experience sublime ham with their sampler plate offering four or five Virginia, Tennessee and Kentucky products. (See other suppliers in end note).  No need to fear—trichinosis has been practically eliminated from U.S. pork and the curing process ensures full penetration of salt, which kills it and harmful bacteria, and the aging process slowly dries the meat and releases enzymes that develop intensely rich flavors, much like in aging cheeses.
READY, SET…
The Curehouse plan is to ultimately provide a market for maybe 200 farmers willing to raise pigs in non-industrial settings.
"We'll work with farmers on a case-by-case basis, coaching and developing them on best practices and protocols about organic feeds, foraging on pasture and in woodlots," Denham said. "We're developing a web-based tracking program to allow customers to go back to specific farms, whether feed was barley versus corn, and how much time was spent in pasture or foraging on mast in the woods. Our goal is 100% transparency. And this will allow one to know, depending on weather, the particular breed, and the type of feed or mast forage, how good one producer's vintage is compared to another."
"We currently bring Woodlands Pork to Kentucky for processing and aging," Denham continued. "We don't have a retail outlet yet, but you can visit our website for updates and ordering information. We hope to have the new Curehouse plant on Old Fern Valley Road finished next year, where we'll centralize operations and distribution."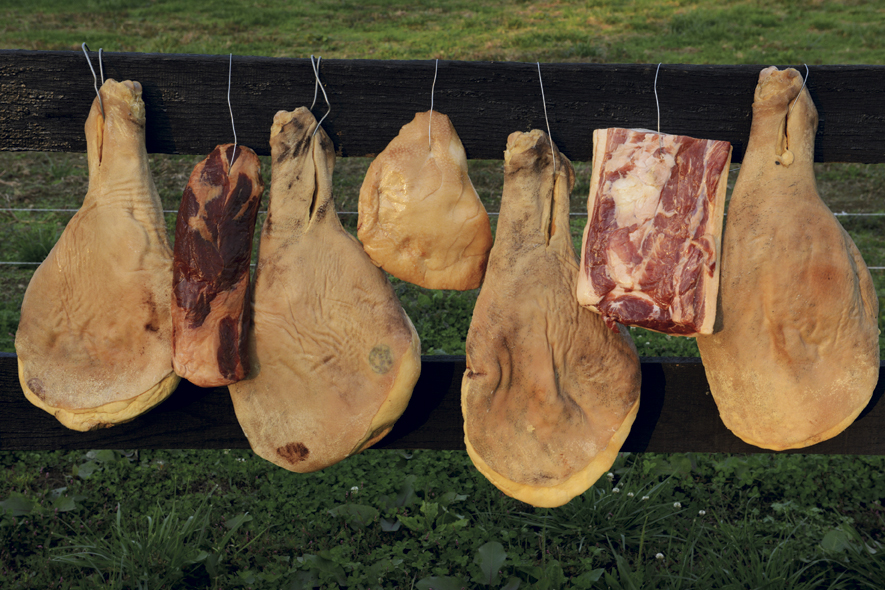 So, ham lovers unite! The future is looking bright and the renaissance is setting down roots in ol' Kentucky.
BUYERS GUIDE
Here are several other producers known for high quality, cured meats:
Benton's Smoky Mountain Country Hams
2603 Highway 411, Madisonville, TN
(423) 442-5003
Broadbent's
257 Mary Blue Road, Kuttawa, KY
(800) 841-2202
Father's Country Hams
6313 ST RT 81, Bremen, KY
(270) 525-3554
Douglas Freeman
605 New Hope Rd., Cadiz, KY
(502) 522-6145
Meacham's Country Ham
705 O'Nan Dyer Rd., Sturgis, KY
(270) 333-6924
Col. Bill Newsom's
208 East Main Street, Princeton, KY
(270) 365-2482
Scott Hams
1301 Scott Road, Greenville, KY
(800) 318-1353
Salumi Artisan Cured Meats
309 Third Ave South, Seattle, WA
(206) 621-8772
advertising content
advertising content