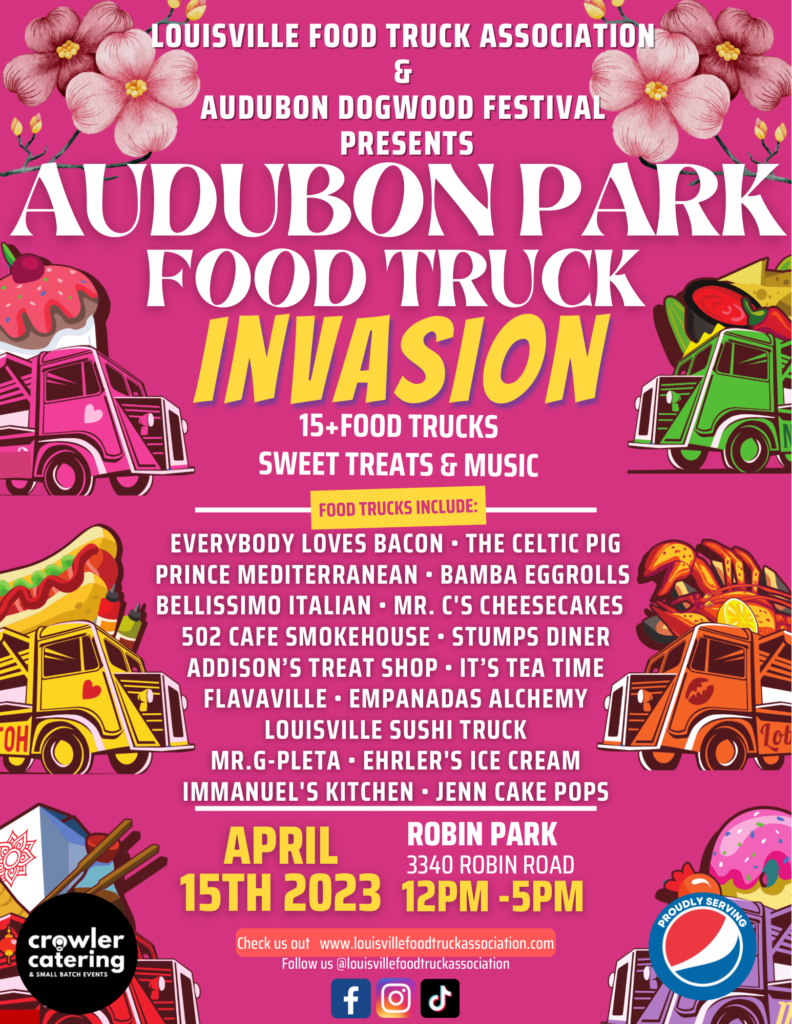 The Louisville Food Truck Association's first neighborhood "invasion"* in 2023 is coming on Saturday, April 15 in conjunction with the Audubon Park Dogwood Festival (3340 Wren Road).
Previously (last August) we surveyed similar ground.
Schnitzelburg Food Truck "Invasion" is slated for Sunday, August 21
An information release offers background on the LFTA's neighborhood strategy.
The concept: an invasion of local food trucks to take place in all different neighborhoods throughout Kentuckiana, hosting a good 'ol traditional block party.
"I'm excited about this new leadership opportunity and the opportunity to build on LFTA's strong foundation of equal opportunity and fair play for food trucks," says LFTA's president Troy King. "LFTA has made a profound impact on my businesses and I'm sure that the association can help guide new entrepreneurs and seasoned veterans alike to new levels of profitability. I'm looking forward to a continued, prosperous future for the food trucks in Louisville."
Accordingly, here are scheduled LFTA neighborhood event to come, with more to be announced:
City of Shepherdsville – Shepherdsville City Park
1100-1224 W. 1st St., Shepherdsville, Ky.
Sunday, May 21, 2023
12pm – 5pm
City of Crestwood – The Maples Park
6431 Railroad Ave., Crestwood, Ky.
Saturday, June 10, 2023, 10am – 4pm NOTE: In conjunction with
Sunday, June 11, 2023 11am – 4pm "Arts on the Green"
Clifton Neighborhood – St. Leonard Catholic Church
440 Zorn Ave., Louisville, Ky.
Sunday, July 16, 2023
12pm – 5pm
Shelby County – Shelby County Flea Market
820 Buck Creek Rd., Simpsonville, Ky.
Sunday, August 13, 2023
11am – 5pm
As an aside, Louisville Business First's Michael L. Jones has another calendar notation.
There will be a lot more food options at the Kentucky Bourbon Festival in Bardstown, Kentucky, this fall. Troy King, president of the Louisville Food Truck Association (LFTA), said his organization will be overseeing the food for this year's festival, which takes place from Sept. 15-17.
—
* As an addendum, and strictly representing the digital editor's personal opinion, the word "invasion" almost certainly does not mean what the Louisville Food Truck Association (LTFA) thinks it does.
Particularly in light of the current situation in Ukraine (and sadly, in like fashion elsewhere on the planet), "invasion" is a noun that implies aggression; in terms of etymology, it derives from the Latin word invadere: "to go, come, or get into; enter violently, penetrate into as an enemy, assail, assault, make an attack on."
Synonyms for "invasion" include raid, violation, breach, assault, incursion and onslaught. None of these terms can be taken to suggest a remotely enjoyable experience.
In a spirit of constructive rapport, the press release we received at F&D offers an ideal alternative in the juxtaposition of the first two sentences: "Food Truck Invasions Are Back/1st Neighborhood Celebration."
To me, and maybe to you (of course, you're free to disagree), "Food Truck Celebrations Are Back" better fits the obvious intent of the LFTA's founders. As the internet once said, "IMHO," so go out and support your local food trucks.