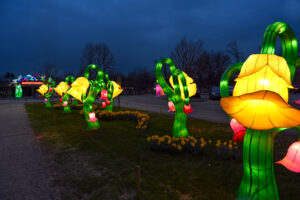 The Louisville Zoo's Wild Lights: Around the World event is running every Thursday through Sunday evening until May 21, and is open to people of all ages.
According to the Zoo, "Wild Lights is the region's largest lantern festival with hundreds of lanterns aglow with more than 50,000 LED light bulbs and features famous landmarks, flora and fauna of six continents."
For those Wild Lights visitors 21 years of age or older, two two signature cocktails are available for event tippling: Asian Pear Sangria and Chinese 5-Spice KY Mule.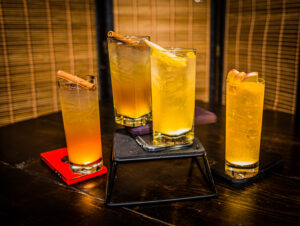 WILD LIGHTS FOOD & BEVERAGES (2023)
This year, enjoy a few Asian-themed snacks as you walk the lantern-lined paths of the Zoo. Adults 21+ can also enjoy a beer or a refreshing cocktail inspired by Asian fruits and spices. Other Zoo favorites like pretzels, popcorn, ICEE, Dole Whip, and Dippin' Dots will be also be available throughout the festival.
As for the beer, expect craft brew favorites from West Sixth and Braxton.
Appropriately, themed snack and beverage options have been given their own Wild Lights page.