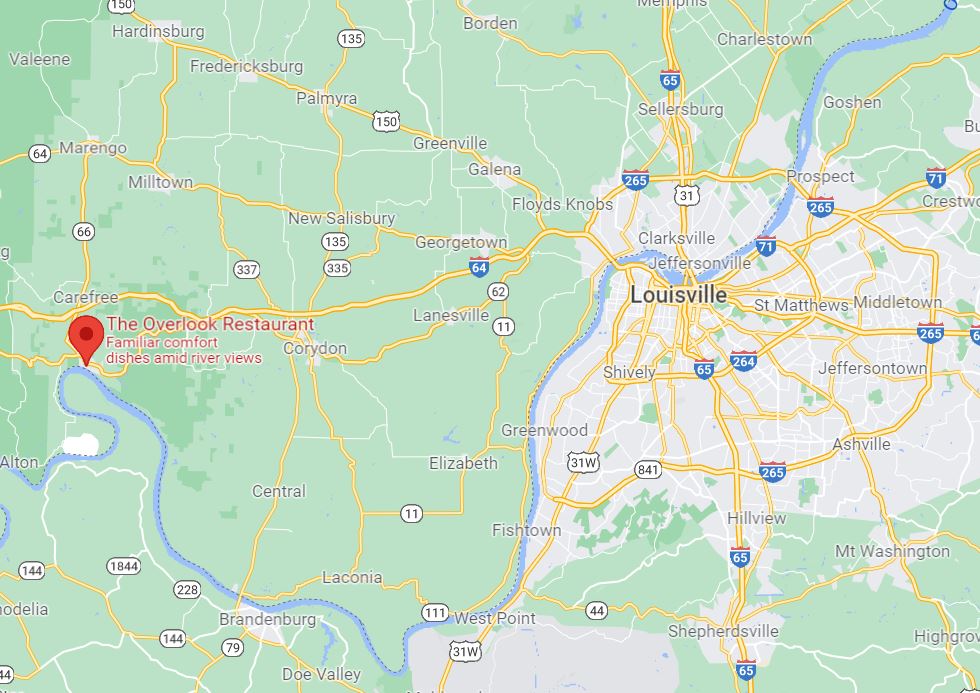 Your correspondent hasn't ever embraced motorcycling.
However, if he had a quarter for every time a friend or acquaintance recounted a motorbike outing to Indiana's Crawford County that included lunch at the The Overlook in Leavenworth, the proceeds would fund a lifetime supply of the venerable restaurant's chicken fried steak and onion rings.
I'd have to drive a car to get there and eat, but that's okay. It's a beautiful drive.
The Overlook probably falls just a bit outside the boundaries of our customary coverage area, but exceptions to the rule keep Jack (or for that matter, the digital editor) from becoming a dull boy.
Situated an hour or so west of Louisville in sparsely populated Crawford County, The Overlook's loyal local following has always been augmented by a stream of visitors from far and wide, befitting the eatery's astonishingly wide reputation as a destination dining spot.
The menu reads like a greatest hits collection of Southern- and Midwestern-influenced American country cooking, with a Reuben thrown in for good measure, and as today's cover photo attests, the scenic vista simply cannot be beaten.
​The Overlook Restaurant has been operating as an established restaurant for at least 50 years. Overlooking the Horseshoe Bend on the mighty Ohio River, The Overlook Restaurant offers one of the most amazing views in Southern Indiana of the river and surrounding area. This view alone has been a natural attraction for our established guest list that dates back to the 1970's. The unmatched view of the Ohio River from The Overlook Restaurant draws customers to our restaurant from all throughout the mid-west.
Reporting at WHAS-11, Brooke Hasch explains that Karen and Roger Haverstock, owners of The Overlook for the past 12 years, are ready to spend more quality time with their grandchildren.
They've put the restaurant up for sale but make no mistake, "We're open. We're not going to close," Karen Haverstock said.
When the time comes, she says she'll be sure to give her two cents about the employees and the food that have kept people coming back.
"I hope they don't change it," she said.
Paraphrasing the colloquialism, if it ain't broke, selling it makes sense — just don't fix it.