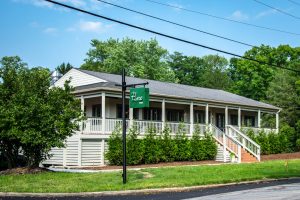 The Pine Room's four-month hiatus comes to an end today with the introduction of a curbside to-go menu, available Tuesday through Sunday from 4:00 p.m. – 7:30 p.m. by calling the restaurant at 502-528-4422.
The curbside carryout menu includes appetizers like pan-fried dumpling and nachos; dinner choices of chopped salad, soup, burger, salmon and buttermilk fried chicken; and family-style meals featuring larger portions of the fried chicken, salad, and also two interpretations of lasagna.
According to owner Augusta Holland in a news release, "The new curbside menu has comforting, familiar items that travel well. We look forward to opening our doors once again in early August."
Tuesday, August 4 is the target date for the resumption of dinner service at The Pine Room (6325 River Road), both inside and on the patio. Projected business hours are Tuesday through Saturday, 5:00 p.m. – 10:00 p.m., and Sunday from 5:00 p.m. – 9:00 p.m.
"We'd like to thank our loyal friends and patrons for their patience as we've navigated the COVID crisis," wrote Holland. "It has been heartbreaking to see the toll this has taken on the restaurant industry (and) we look forward to opening our doors once again."
The original Pine Room night club and restaurant, located in a building near Holland's current iteration, was a Harrods Creek fixture from the late 1930s through 1977, when it was destroyed by fire. Holland opened the current the eatery in 2018 and embraced the old identity.
The Pine Room is led by General Manager Steven Ton and Executive Chef Joe Flesia.