Yes, I know: EVERYONE within a hundred mile radius of Louisville is familiar with the Kentucky Oaks, but just in case outsiders are tuning in, here's a refresher.
The Kentucky Oaks race is hosted annually in Louisville, Kentucky at Churchill Downs. The race dates back to 1875 when it was founded by Meriwether Lewis Clark, Jr., who also founded the Kentucky Derby, the Clark Handicap and the Falls City Handicap. Both the Kentucky Oaks and the Kentucky Derby have been held at Churchill Downs since they were established and remain the oldest continuously run sporting events in American history. Each year, the Kentucky Oaks takes place the Friday before the Kentucky Derby.
In 2021, Derby Day is May Day (Saturday, May 1), so Oaks Day is Friday, April 30. Derby traditions were upended by COVID in 2020, and for many, 2021 symbolizes a return to more familiar times at Churchill Downs, even with the remaining safety protocols and capacity restrictions.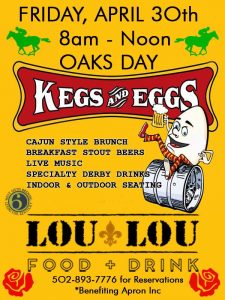 This being said, Kegs & Eggs is back on the festive docket for the morning of Oaks Day, 8:00 a.m. – 12 noon, at Lou Lou Food + Drink in St. Matthews (108 Sears Avenue).
Kegs & Eggs, which originated at the Highlands BoomBozz in 2011 or 2012, will be held under tents outside Lou Lou, with live music, food and drink (tunes, nutrition and nuance). Reservations are recommended for indoor dining; call Lou Lou at 502-893-7776.
A percentage of the proceeds will go to benefit APRON Inc.
On the libations end, Kegs & Eggs offers "Freshly Screwed Squeeze Drivers," Bloody Marys and coffee drinks, and beers from West Sixth Brewing on tap: West Sixth Pay it Forward (Elijah Craig Barrel-Aged) Coco Porter and West Sixth Cerveza, also with West Sixth IPA available in a cans.
The food menu (by Chef Cristian Garay unless noted):
Lou Lou's Famous Hot Brown
Hot Brown Pizza
Shrimp n Grits with an Over Easy Egg, Bacon and Syrup
The Trifecta – Pimento Cheese & Benedictine Tea Sandwiches AND Country Ham & Biscuits (by Chef Ellen Gill McCarty)
Cajun Eggs Benedict
WOW Western Omelet Wontons (by Michael Beckmann)
Cajun Omelet
Biscuits with Crawfish Swamp Gravy