A whole country ham is a challenge, but here are some ways to appreciate Kentucky ham's rich flavors without investing a lot of time and money. Ron Mikulak's 2016 ham exploration was published prior to the first Saturday in May, but in 2020 the Kentucky Derby won't be running until Saturday, September 5. Whether it's ham for guests or just your own family, here are a few ideas.
—
(Originally published in the Spring 2016 issue of Food & Dining)
Everyone should go to a real Derby party blow-out at least once. The kind of party where the women wear cute sundresses and big hats and the men sport bow ties; where the julep cups are sterling silver; where the buffet table has crustless Benedictine sandwiches, piles of cold asparagus and a huge country ham in a place of honor. It is a hoot to tell people you were at such a party, often less of a hoot to go to one, and definitely a pain in the butt to put on such an affair … especially when it comes to that country ham.
A lot of Kentucky producers make very good country hams. (If you want to know about the best ham makers, check out "Country Ham: A Southern Tradition of Hogs, Salt & Smoke," by F&D contributor Steve Coomes.) But preparing a ham for a party is a multi-day, multi-step task that includes scrubbing mold from the skin, soaking the ham in several changes of water to leach out the excess curing salt, and simmering it very slowly on the stove for 5 or 6 hours. You can eat the ham then, but to make it attractive for a party there are a few more steps: pulling out the aitchbone, cutting off the skin and all but a half-inch or so of fat, and patting it with brown sugar before you bake it. The last steps include boosting that now-hot, humongous ham onto the serving platter and slicing it as thinly as possible so your guests can ohh! and aah! and make their own ham biscuit sandwiches while you deservedly down a few of those juleps.
I am glad I have done all of that once or twice. I don't look forward to doing it again.
But you can enjoy the tasty delights of a Kentucky country one without going through the multi-day ritual of cooking a whole ham. Producers understand that lots of people find whole hams troublesome or intimidating, and so they sell ham in a variety of slices, pieces and hocks, excellent ways to appreciate the flavor without having to invest lots of money and time. And let's face it — if your Derby parties consist of only a half-dozen or so close friends, a whole ham will mean that either everyone goes home with a bulging Ziplock bag of ham slices, or the hosts live out the old adage that eternity is two people and a ham.
The country ham recipes here use slices and pieces to make elegant and tasty party fare. They are, of course, fine ways to use leftovers too, if you are the recipient of a pound of your neighbor's party ham, or need ways to deal with the remainders of your whole ham for something other than sandwiches.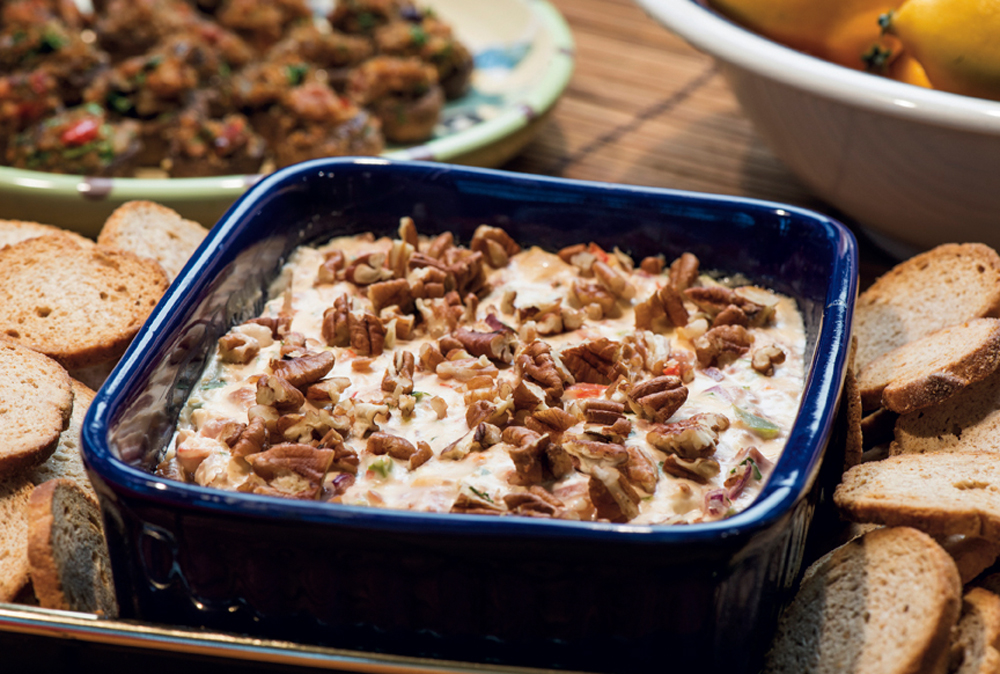 Country ham and pepper dip
(Serves 8-10)
1 8-ounce package cream cheese, room temperature
2 cups sour cream
2 tablespoons finely chopped parsley
¼ cup finely chopped red pepper
¼ cup finely chopped green pepper
¼ cup finely chopped onion
2½ ounces (about ½¬ cup) ground country ham
2 tablespoons milk
¼ cup chopped pecans
Melba rounds
Place all ingredients except pecans and Melba rounds in the top of a double boiler. Cook over boiling water just until heated. Stir the mixture to blend evenly. Transfer to an oven-safe pie or quiche dish. Top with chopped pecans. Bake in a 350-degree oven until bubbly hot, about 20 minutes. Serve hot with Melba rounds.
---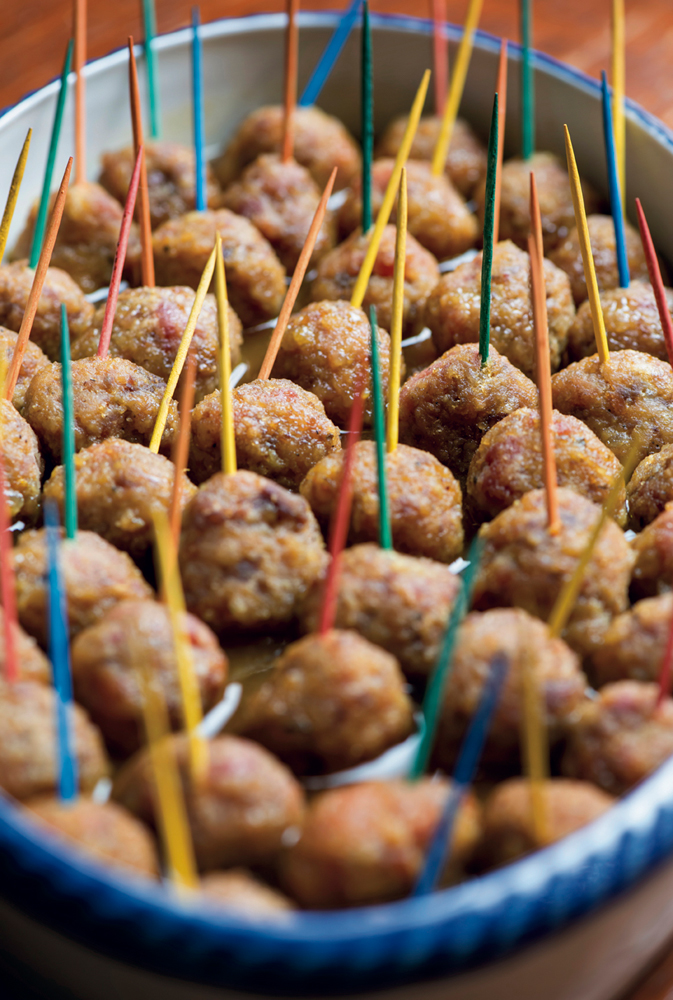 Country ham balls
(Makes 8 dozen)
2 pounds cooked country ham, ground
1 pound uncooked pork sausage
2 eggs
2 cups dry breadcrumbs
1 cup milk
Sauce:
2 cups brown sugar
1 cup water
1 cup white vinegar
1 tablespoon prepared mustard
2 tablespoons (or more) Bourbon (optional)
Combine ham, sausage and eggs. Mix well with hands. Add about 1⁄3 cup breadcrumbs and blend in. Add more breadcrumbs as needed to make a workable, non-sticky mixture. Slowly add the milk, using just enough to make the mixture moist (I needed less than a cup). Roll into small balls (may be frozen at this point). When ready to bake, place in a single layer in a baking dish.
To prepare sauce: Combine sugar, water, vinegar and mustard in a sauce-pan. Stir in Bourbon, if using. Bring to a boil. Pour sauce over uncooked ham balls. Bake at 350 degrees for 45 minutes, basting after 25 minutes.
---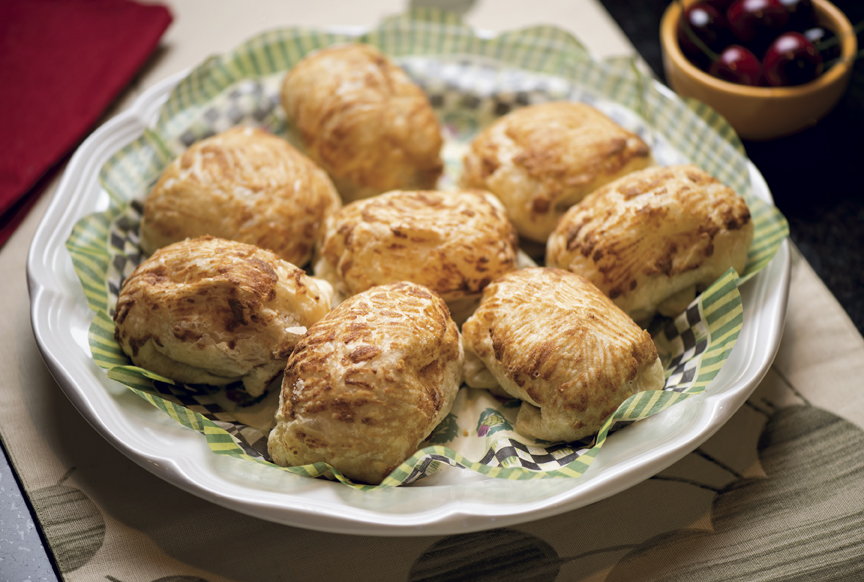 Country ham and cheese pillows
(Serves 12)
¼ cup plus 1 tablespoon butter
1 onion, peeled and finely diced
2 cups country ham, diced
2 4-ounce packages of fresh goat cheese
2 tablespoons Dijon or grainy mustard
1 1-pound package of puff pastry sheets, defrosted according to package directions
Melt 1 tablespoon butter in a large, heavy skillet until butter foams and sizzles. Add onions. Cook until just wilted and translucent. Add diced ham and sauté, stirring for about 10 minutes until the meat starts to get brown and slightly crusty. Stir in the goat cheese, which will melt slightly. When cheese is mixed together well with the ham and onions, remove from heat and set aside. Melt ¼ cup of butter in a small saucepan or in a dish in the microwave. Stir in mustard. Set aside.
Unroll the defrosted puff pastry, which is folded in thirds. Cut apart at the folds so you have three narrow sheets. Place one on a floured work surface, and cover the other two with a damp towel.
Dust sheet lightly with flour and roll out so it is about twice as wide as it was out of the wrapper. Cut the sheet in half, into two approximate squares. Put a generous spoonful of ham, onion and cheese mixture in the middle of each square. Fold opposite corners of the puff pastry square over the filling, then fold the other two opposite corners over, to encase the filling. Turn over so seam is on the bottom and place on a baking sheet. Gently plump the "pillow" with your fingers so it is an even rectangle with the seams folded beneath neatly. Repeat with the remaining sheets. You will get 12 pillows out of a package of puff pastry. (May be made up to this stage a day ahead. After constructing, place loosely in a covered storage container in the refrigerator. Bring to room temperature before baking.)
Heat oven to 350 degrees. Brush tops of pillows with melted mustard butter. Bake until pillows are puffed and nicely browned, 20 to 30 minutes.
---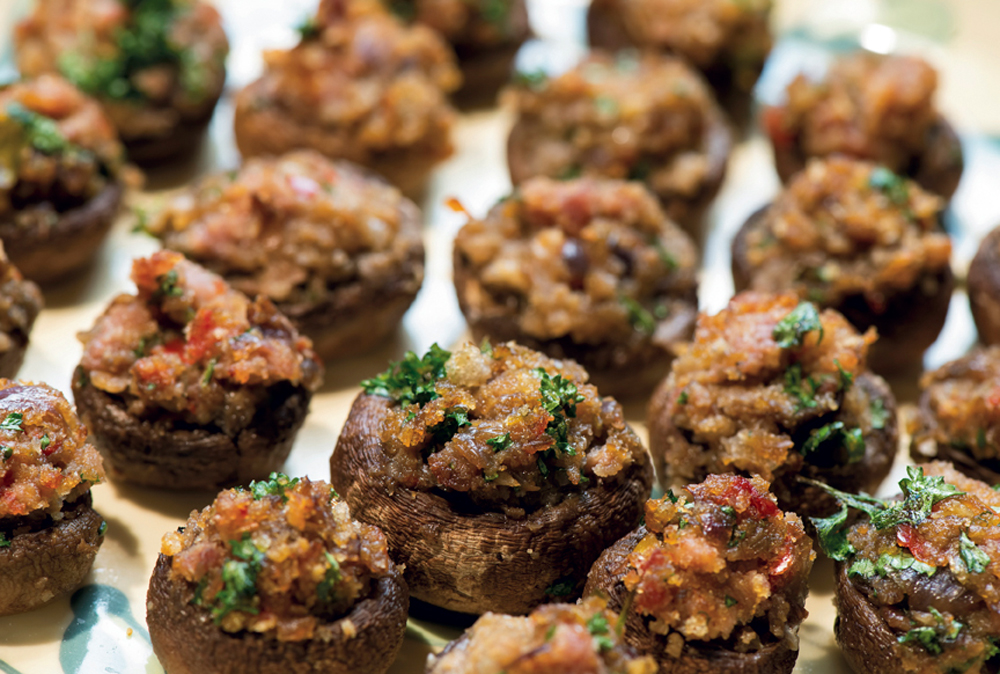 Country ham-stuffed mushrooms
This recipe is from Sarah Fritschner's book "Derby from Start to Finish" (Butler Books, 2006).
(Serves 10)
2½ pounds medium button mushrooms
½ cup olive oil, divided
1 medium onion, peeled and chopped fine
3 cloves garlic, peeled and minced
½ bunch fresh parsley, minced
1 cup unseasoned dry breadcrumbs
½ pound country ham, ground or chopped fine
1 teaspoon dried thyme
Brush the mushrooms clean and remove stems from the caps. Chop the stems fine. Heat a skillet over medium heat. Add about ¼ cup olive oil. When oil is shimmery, add the chopped mushroom stems and onion and cook, stirring, until vegetables soften. Add the garlic and minced parsley, continue to cook another minute or two. Remove from heat and stir in the breadcrumbs, ground ham and thyme.
Heat oven to 350 degrees. Stuff the mushroom caps with the ham mixture. (A melon baller works well.) Arrange stuffed caps on a baking sheet. Drizzle with remaining ¼ cup olive oil. Bake 20 minutes. F&D