We've learned that Hearth on Mellwood Eatery will open for regular hours tomorrow (Tuesday, August 27). Updates and further information can be found at Hearth on Mellwood Eatery's website and Facebook page. Following is a lightly edited repost of our preview from a few days back.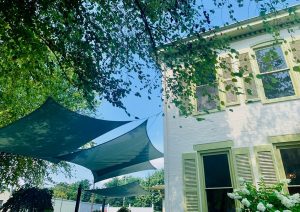 Six months ago Food & Dining Magazine offered a sneak peak of renovations underway at 1765 Mellwood, an address familar to many readers for being the home of cherished predecessors L&N Wine Bar and Bistro and Bistro 1860 Wine Bar & Spirits. More recently the Courier-Journal wrote glowingly of the refit, now home to Hearth on Mellwood Eatery.
Gone are the retro black-and-white tile floors and heavy yellow velvet drapes — instead, diners will be greeted by a rustic bar made of mixed, raw wood, along with a fresh coat of light paint and lofty new windows that brighten the space, which seats about 60.

Owner and chef Jason McCollum wants his new restaurant to feel like an airy coastal, Southern home, but with a big city dining atmosphere. The modern, new American and chef-driven menu will mirror the vibe of restaurants you might find somewhere in South Carolina, with an emphasis on light dishes of fresh, local produce and seafood.
In 2017 McCollum and his wife Aenith opened Chik'n & Mi on Brownsboro Road, less than a mile away from Hearth on Mellwood Eatery. He's bullish on Butchertown.
As for the location decision? Butchertown is the new hot spot, McCollum said. "Everybody knows that the soccer stadium is coming and the botanical garden will be just down the street," he said. "Restaurants like Butchertown Grocery have created a restaurant feel here. I say, the more the merrier."
advertising content
advertising content