Last November Uptown Cafe, a 35-year-old dining stalwart located at 1624 Bardstown Road, revealed it would be closing for good. However in mid-February there was a plot twist, with a teaser appearing at the restaurant's Facebook page.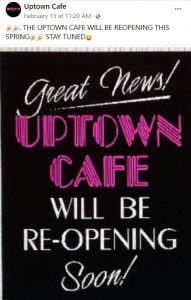 Now it has been revealed that Uptown will be resuscitated by a concerned citizen, quite literally a plumber-turned-restaurateur.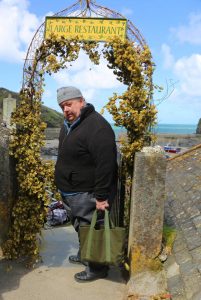 No, not Bert Large from British television's Doc Martin series, but Tom Drexler, owner of Tom Drexler Plumbing, Air & Electric, who has bought Uptown Cafe along with wife Lisa.
"The last five or 10 years especially, this is by far my wife and I's, you know, favorite restaurant," Drexler told WDRB-41. "Pretty much once a week (we'd) come in and, you know, just enjoy it."
WDRB's story is here: "Local businessman, longtime customer to revive Uptown Cafe in the Highlands."
Some key employees will be returning to the restaurant, including the kitchen staff. The Drexlers say the food won't change, but the building will be expanded. They hope to open back up in April.