On Thursday, March 5 Varanese Restaurant will honor Women's History Month by celebrating local "Women of Whiskey" with a cocktail reception, whiskey flight and four-course dinner paired with two additional cocktails.
Diners will hear the thoughts of Susan Reigler, executive bourbon steward and former president of the Bourbon Women Association. Reigler, a former restaurant critic and contributor to numerous publications, including Food & Dining Magazine, will focus on the accomplished women of Michter's, Jeptha Creed, and Woodford Reserve. Owner and executive chef John Varanese's dinner menu will highlight these featured bourbons.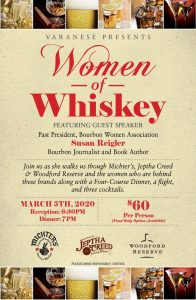 Varanese Restaurant is located at 2106 Frankfort Avenue. Space for "Women of Whiskey" is limited, and you can reserve your seats by calling (502) 899-9904; cost is $60 per person, plus tax and gratuity, and there is a food-only option for those so inclined.
advertising content
advertising content