Food delivery services are technological platforms that connect restaurants and delivery customers. Michael L. Jones looks at whether either group is receiving the benefits they deserve.
Even before the social, economic and political disruptions following the COVID-19 outbreak, the delivery business was in flux. Major increases in revenues and profits reflected consumers' rapidly growing embrace of delivery services – and the convenient app-based logistics of getting pretty much anything delivered to a home or office. Mergers and acquisitions news began to proliferate – and big businesses began to get bigger.
In terms of their business goals, those large, anonymous firms have little in common with indie restaurants that flourish by building strong relations in their community. And in the wake of the outbreak, as delivery services exploded, the fissure between local restaurants and global delivery firms widened.
Most of us intuitively think of companies like DoorDash and GrubHub as delivery services, but at root they are technology, social media, and logistics companies that have more in common with firms like Amazon, Zappos, or Facebook than with your favorite Thai restaurant. Online delivery services view themselves as marketplaces where restaurant owners, customers, and drivers can connect with one another. Of course from a consumer standpoint there are major differences between delivering a freshly prepared bowl of gumbo and a package of books, electronics, or shoes. But from a privacy standpoint one thing is the same: in a Washington Post report, a former GrubHub executive named Collin Wallace (the firm's former "head of innovation"), said the big delivery services are keeping track of what we eat.
It's not surprising that tech giants run by venture capitalists don't have a restaurateur's perspective. In fact, the agreement that DoorDash makes with its contractors emphasizes that. It states explicitly something that seems quite obvious: "Doordash is not a restaurant, food delivery service, or food preparation business." And according to Wallace, since the outbreak, the fissures between the restaurateurs and the big delivery firms have become clearer.
"COVID-19 is exposing the fact that delivery platforms are not actually in the business of delivery," Wallace wrote in a comment on a huge discussion thread at the online business newsletter Margins. "They are in the business of finance. In many ways, they are like payday lenders for restaurants and drivers. They give you the sensation of cash-flow, but at the expense of your long-term future and financial stability. Once you 'take out this loan' you will never pay it back and it will ultimately kill your business."
As reported in Wapo, Wallace argues that these firms are harvesting customer information from small businesses – then using it set up their own shadow websites (as described in part one of this series) or selling the information to other dining firms.
Still, there are delivery firms that are taking a difference course.
Several years ago, a Louisville entrepreneur named Kela Ivonye started a hyper-local delivery firm called Arrow Food Couriers, that lasted for a few years.
But these days, an emerging delivery model fuses national-scale resources with local management and focus.
Delivery.com is an example. It's a 16 year-old, New York-based delivery firm that has expanded around the country to some 1800 cities – but describes itself with the hashtag #localfirst and states that its corporate creed is, "Your Neighborhood Delivered."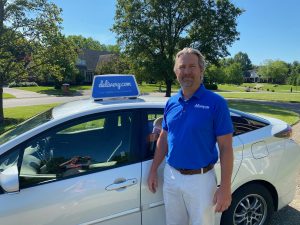 The Louisville outpost of delivery.com is headed up by Tom Wheelock (previously of TakeOut Taxi). According to Wheelock, the pandemic accelerated a cultural trend that was already in full swing. "Everyone is doing delivery now," he says. "Walmart, Whole Foods. People like the convenience of being able to get what they want without leaving the house. More people were already using online food delivery before the pandemic, but Covid-19 just pushed those on the fence to try it too. Once people start to use delivery, I think they'll keep using it. Food delivery is here to stay."
Wheelock has been in the online food delivery business since late 1990s. He managed Takeout Taxi in Louisville before purchasing the business from his bosses in Knoxville. That company then merged with Mr. Delivery – which was acquired by Delivery.com last year. Delivery.com's goal is to expand to 38 states and reach more than 1,800 U.S. cities.
But despite its scope and reach, Wheelock says the company differentiates from other delivery services by being actively community-minded, by having set fees for restaurateurs – and by being more focused on assuring a good customer experience for diners.
"What sets us apart," said Wheelock, "is local ownership and local management. We're all about helping local restaurateurs and being part of a team. Right now we have an offer that gives restaurants a chance to sign up and pay no commission for thirty days. And even though our drivers are independent contractors, all of them are uniformed. My managers have meetings with my drivers, and we train them before they go out, unlike some of the companies that just throw an app on their phone and send them out to deliver."
Most importantly, said Wheelock, "We care about food quality. This is one thing we have over the big boys. All of our restaurants have a manager's phone number they can call if they field any complaints. We obviously have a corporate end that takes care of customer service on the first step if people call in, email or text. But we also offer a personal touch to make sure everyone is happy."
Tomorrow in Part 3: An experienced delivery driver talks about what it's like to be squeezed between the behemoth delivery firms, the needs of local independent restaurants, and the expectations of customers. Also three prominent local restaurateurs discuss their experiences with delivery services, both good and bad, over the last few months.
Addendum (12 June 2020): Landing on the heels of Food & Dining Magazine's exclusive three-part series by Michael L. Jones ("We are being conned — the TRUTH about Delivery Apps") came the news that Just Eat Takeaway brushed Uber aside to buy Grubhub, which was promptly sued by Yum Brands. For further details, go here.
---
Food & Dining Magazine has partnered with Louisville Web Designer Mr and Mrs Smith to develop a free online custom ordering platform to assist restaurateurs who want to connect directly to their customers. It's an intuitive virtual menu system. Customers choose their items, add them to a cart, and check out. The free system allows restaurants to offer up to 18 menu items and connect the restaurant's own online merchant for free. See full details here.
advertising content
advertising content