Food delivery apps are becoming a permanent part of the culinary landscape. Are there ways to make them work better for local restaurants and diners? Michael L. Jones investigates.
When the COVID-19 outbreak hit in March, many of the delivery platforms made offers to restaurants that superficially seemed like a form of relief. For instance, GrubHub (which is currently targeted for a possible takeover by Uber Eats) made a highly publicized pledge to offer a hundred million dollars in relief to the nation's restaurants.
But restaurateurs around the country quickly determined that Grubhub's offer was a trap filled with small print that promised only a temporary deferral of marketing payments and no relief from Grubhub's practice of charging exorbitant fees to restaurants. And it required participants in the program to obligate themselves to long-term contracts with the delivery firm.
For Louisville restaurants, the business practices of the third-party delivery services abruptly came to light when the coronavirus outbreak hit.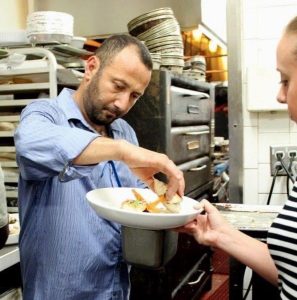 Ramsi Kamar, owner of Ramsi's Café on the World, said delivery went from 6 percent of his business pre-Covid to 55 percent in March, after the state-ordered closing of restaurants. In response, he let his front of the house staff go, but he had promised jobs to the kitchen staff no matter what, and he kept them on to service carry-out and delivery customers. But suddenly, Kamar said, the delivery services made it harder on him by unilaterally changing the way they reimbursed him for online orders.
"We work Sunday through Saturday," he said. "But I have to wait until the following Friday to get the money for my online sales." "It wasn't like that before. I'd get it at the end of the week. Now, I have to pay my employees and wait for money. I know this situation caught everyone by surprise, but I need to get that money quicker."
The platforms have two sources of income. Customers pay a delivery fee. And restaurants pay a percentage of sales as well as additional marketing fees. Even at a moment when delivery orders skyrocketed, those combined costs have added to the pressure on restaurants.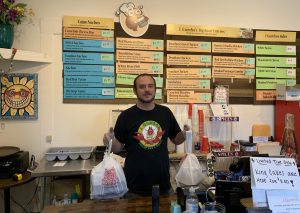 Joseph Montgomery, co-owner of J. Gumbo's franchises on Grinstead Drive and Frankfort Avenue, acknowledged that income from the delivery services has been a lifeline of the last few months. He estimates that he's made from $200 to $500 a day more in delivery sales than before the shutdown. He's also seeing some increased traffic to his own online ordering system. Those revenues enable Montgomery to cover his employee cost, but he said the marketing campaigns and fees that the platforms require gobble up his already slim profits.
"If I want to get business from DoorDash," said Montgomery, "I have to run a marketing feed. I give the customer $10 off if they spend $30. That's one. Then I have to give DoorDash 36 percent – and also give them another 10 percent for marketing. And If I decide not to run it, I won't get as many customers."
Montgomery said he is running the campaigns because he hopes that new customers will discover his restaurants and continue to frequent them after pandemic has ended. But Montgomery also has another concern about the third party delivery services. He says his restaurants often get blamed for mistakes and bad service that are actually the fault of the delivery services.
And those problems reflect the fundamental nature of the delivery workforce. Drivers are independent contractors, part of the gig economy, who receive no benefits. They are usually compensated only for the time they wait in the restaurant and their mileage. The majority of their money comes from customer tips. And that incentivizes them to make as many deliveries as they can.
Montgomery cited Postmates as an example. "They are really good about coming to get the food and delivering it," he said. But what happens is that, "drivers come here to pick up an order that is ready. Then two more orders come in at the same time and the driver will claim them because he is there. That's great, but I have a bunch of other customers ordering food two. So, that guy whose food was ready is moved to the back of the line because has to wait for the other orders to be ready. And when it's cold he blames me."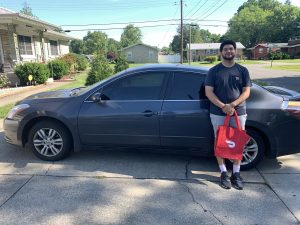 Hiran Barreiro, who was formerly a driver for Lyft, knows first-hand the pressures that drivers face. In March, when ride-hailing business plummeted in the wake of the outbreak, he started running deliveries for DoorDash. In those first months of the pandemic, he was making $100 to $150 a day. But he quit a few weeks ago when Governor Beshear started to ease restriction on restaurants because his tips fell.
Barreiro said the scenario that Montgomery described happens quite often because drivers are trying to maximize their time. He acknowledged that he, himself had claimed multiple orders at a restaurant, then had to cancel some of them because he didn't have time to make the deliveries. In those cases, the food sits until another driver claims the order.
"You just get overwhelmed sometimes," Barreiro said. "The company doesn't pay you a lot, so you want to get as many tips as possible."
Montgomery is sympathetic to the drivers, and understands that they are hustling – but he feels customers view them as restaurant employees. And that perception may have been bolstered after the shutdown orders when the platforms started running ads telling customers to help save local restaurants by ordering online.
Daniel Borsch, who operates a portfolio of restaurants (Old Louisville Tavern, Burger Boy Diner, Burger Girl Diner, Toonerville Deli , Old Louisville Pizza and Hillcrest Tavern), says that not all his restaurants use delivery services but some of them do because it is better than not being able to serve customers. From his perspective, the drivers are as much victims as the restaurant owners.
"The delivery companies do seem to take advantage of some of the employee rules. I don't know how much the drivers are making and how many hours they are working. I hope it's a fair system, but I don't know that it is," he added.
Around the country, some cities and states are now starting to rein in some of the power wielded by the third-party delivery services through regulations.
In May, the New York City Council passed two coronavirus relief measures. The legislation capped the firms' commissions and stopped the companies from charging restaurants for phone calls that don't end in a sale. San Francisco and Seattle implemented similar emergency fee caps to help their local restaurant owners. And the state of California has also made attempts to reclassify gig workers as employees.
In addition to legislative fixes, restaurateurs are exploring ways to help themselves. After Bridgette Pizzonia (whose story we discussed in part one of this series) got GrubHub to change the listing for Ciao Ristorante Ciao, she started having her dishwasher make deliveries within 10 miles of the restaurant for a $5 convenience fee. But Ciao also continues to use Postmates – the only online delivery service still willing to work with the restaurant without a contract.
Looking forward, Pizzonia says that once the state lifts its limits on restaurant capacity, she will probably stop having her employees making deliveries except to area businesses. "I need my dishwasher back in the kitchen," she said. "I'll probably keep using Postmates, but I'm not going to sign any contracts. I'm not going to boost my prices 25 to 30 percent to pay a delivery service. I know that there are some people who are doing it, but I don't believe in it."
Addendum (12 June 2020): Landing on the heels of Food & Dining Magazine's exclusive three-part series by Michael L. Jones ("We are being conned — the TRUTH about Delivery Apps") came the news that Just Eat Takeaway brushed Uber aside to buy Grubhub, which was promptly sued by Yum Brands. For further details, go here.
---
Food & Dining Magazine has partnered with Louisville Web Designer Mr and Mrs Smith to develop a free online custom ordering platform to assist restaurateurs who want to connect directly to their customers. It's an intuitive virtual menu system. Customers choose their items, add them to a cart, and check out. The free system allows restaurants to offer up to 18 menu items and connect the restaurant's own online merchant for free. See full details here.
advertising content
advertising content