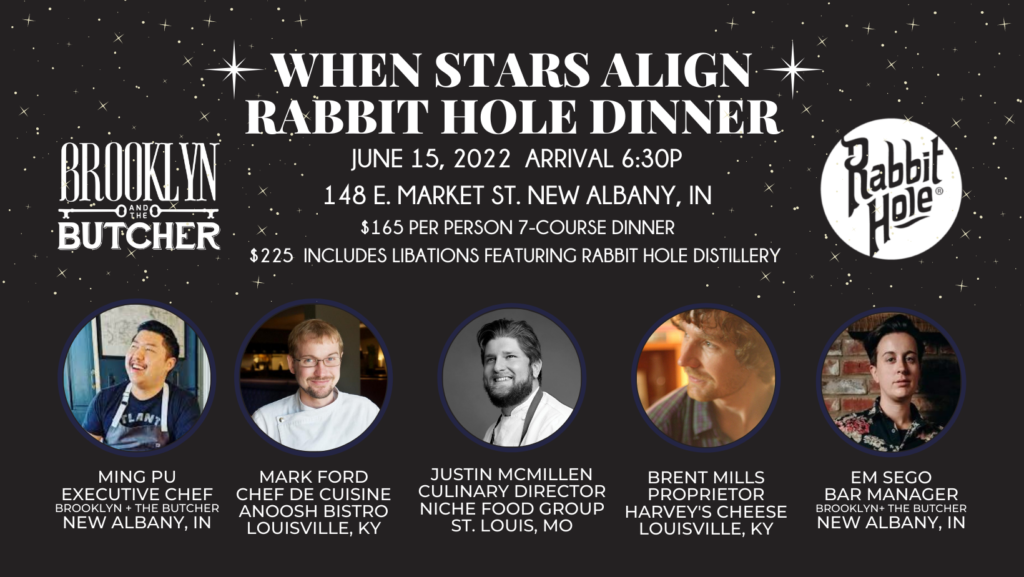 Speaking as a New Albany resident, allow me to observe that we seldom see a culinary production of this magnitude hereabouts.
However, my institutional civic memory also compels me to offer an interesting addendum to the biography of Justin McMillen (read below), because between McMillen's graduation from the Culinary Institute of America and his position at Overlook Farm came a gig as co-chef (with Cory Cuff) at The Windsor, beginning in 2008.
And where exactly was The Windsor?
At 148 E. Market Street in New Albany, in the very same spot as Brooklyn and The Butcher. The groundbreaking Bistro New Albany preceded The Windsor, and Habana Blues followed it. A complete overhaul of the entire 19th century building was completed, and Brooklyn and The Butcher emerged in 2016.
Returning to the celestial alignment at hand, Brooklyn and The Butcher's "When Stars Align Rabbit Hole Dinner" will be held on Wednesday, June 15, with welcoming cocktails at 6:30 p.m. and dinner beginning at 7:00 p.m. It's a New American seven-course dinner featuring chefs McMillen, Ming Pu, Mark Ford and Brent Mills, paired with Rabbit Hole Distillery spirits in cocktails by Emily Sego.
The dinner's cost with cocktail pairings is $225 per person, or $165 per person without cocktails. Seating will be limited. For additional menu information and reservations, call (812) 590-2646, or visit the website.
Details follow, as gleaned from an information release (and lightly edited).
THE DINNER AND COCKTAIL PAIRINGS
Canape
Canape – Pickled Oyster, Asparagus, Chervil
Alice's Adventure – Rabbit Hole Bespoke Gin, Lemongrass, Honey, Ginger, Lime, Aquafaba, Nutmeg
Salad
Salad – Morel Mushroom, Fava Bean, Frisee, Warm Bacon Vinaigrette, Cured Egg Yolk
Seafood
Fish – Seared Ahi, Fennel, Pea, Preserved Lemon, Harissa-Saffron Broth
Middle – Shrimp Ravioli, Tarragon, Charred Tomato and Chili Butter, Shrimp Furikake
Headed Down the Rabbit Hole – Rabbit Hole Cavehill, Laird's Applejack, Dry Curaçao, Vanilla Demerara, Angostura
Intermezzo
Intermezzo – Ricotta Sorbet, Passion Fruit
Pork and Beef
Pork – Triple Seared Berkwood Farms Pork Chop, Spring Onion, Pesto, Grits, Jus, Horseradish
Beef – Sakura Wagyu Tenderloin, Black Truffle plus Parmesan Potato Espuma, Smoked Shiitake and Date Jus
Rabbit Hole Sour – Rabbit Hole Dereringe, Luxardo, Maraschino, Orgeat, Yuzu Citrus, Aquafaba, Black Walnut
Dessert
Dessert – Strawberry Panna Cotta, Strawberry Consomme, Rhubarb Chutney, Sorrel
The Nightcap – Rabbit Hole Boxergrail, Cardinal Songbird, Cynar, Butterscotch
THE CHEFS
Justin McMillen
McMillen is originally from Naab, Indiana. He attended Prosser's culinary program in high school then after graduation went to Culinary Institute of America in Hyde Park, New York. Upon graduating, McMillen moved to St. Louis, Missouri and obtained a position at the Overlook Farm in nearby Clarksville, Missouri, focusing on sustainable produce and proteins. From there he moved to Sidney Street Cafe as the chef de cuisine working alongside James Beard Award winner Kevin Nashan from 2011 to 2016. McMillen then moved to Healdsburg, California to work at the brand-new restaurant Single Thread Farms opened by Chef Kyle Connaughton. He went from chef de partie to sous chef within his first couple of years. Single Thread Farms obtained 2 Michelin stars and World's Best 91st restaurant in the world within the first year, and received 3 Michelin stars and World's Best 35th restaurant in the world in the third year they were open. McMillen now has settled back in St. Louis under James Beard award winner Gerard Craft as the Niche Food Group's Culinary Director. He has staged at many notable restaurants over the years; some are Alinea, Le Bernardin and L'Effervesence (Tokyo).
Brent Mills
Mills was born and raised in Sydney, Australia but developed his culinary arts skills at Sullivan University in Louisville, and gained kitchen experience while working at restaurants such as Asiatique and Hillbilly Tea. Mills continued his culinary career in New York City at restaurateur David Chang's two Michelin-starred restaurant Momofuku Ko. Following this, Mills moved back to Australia and worked at famed Argentine restaurant Porteno. Mills returned to the United States in July 2015 to lead the kitchen at Buenos Aires Café in Austin, Texas. While in Austin, Mills also served as National Culinary Director for the fast-casual Mediterranean chain Verts, which had over 40 locations around the country at that time. Because of Australia's reasonable climate and proximity to Asia, Mills' culinary focus is often seafood centric, with Southeast Asian-influenced flavors and meats grilled over wood and charcoal. Mills and his family recently moved back to Louisville where he serves as National Research and Development Chef for Atria Senior Living. He considers Louisville his American home and is looking forward to being part of the thriving Louisville culinary scene for many years to come.
Ming Pu
A native of Taiwan, Pu credits his mother for instilling in him a true passion for cooking. At the age of 7, Pu and his family moved to Vancouver in British Columbia in Canada, where they lived for two years before making Louisville their permanent home in 1999. Prior to joining Brooklyn and The Butcher as executive chef, Pu attended culinary school at Sullivan University in 2009. During this time, he honed his skills in varying positions at restaurants in Louisville, including Volare and English Grill at The Brown Hotel. He interned at Asiatique under his mentor, chef Peng Looi, then worked up to a line cook to sous chef. Among other things, chef Looi introduced Pu to fusion cuisine, a style of cooking that he immediately related to. Pu believes chefs shouldn't be boxed into one style of cooking, a philosophy he practiced in numerous kitchens around town such as Jack Fry's and Village Anchor before becoming executive chef of The 502 Bar & Bistro in 2016. While overseeing the kitchen at The 502 Bar & Bistro, Pu was named FSR Magazine "40 Under 40: Restaurant Stars on the Rise 2018" and also received Good Food 100 Restaurants and James Beard Smart Catch Leader 2019 and 2020. Ming has also been a contestant on the Food Network Series Beat Bobby Flay. For the past 8 years, Pu was the featured chef at the annual Lunar New Year dinner for the Asia Institute-Crane House of Louisville. He has been featured as a guest chef at the acclaimed Charleston Wine & Food Festival 2018, 2019, 2020 and 2022 and Sugar Land Wine & Food Affair 2018, and Atlanta Food & Wine 2018 and serving on the  advisory council in 2019. Pu is also a James Beard Policy for Change Boot Camp Alum 19'. In addition, he cooked at the James Beard House in New York City four times, spearheading Two Young Gun dinners as the featured and coordinating chef of Louisville Young Guns; Bourbon March 2015 and Young guns of Louisville 2017, also spearheading the "Modern Kentucky" James Beard Dinner in January 2019 and featured as a guest chef on the "Heritage: Asians in the South Dinner". Pu was a featured guest chef for the James Beard Taste America Gala Louisville in October 2018 and Raising the Bar in September of 2019.
Mark Ford
A native of Dayton, Ohio, Ford began his culinary journey in kitchens at age 14. In 2004 he transplanted to Louisville to attend Sullivan University's culinary arts program. In 2008 Ford had his first experience working under Chef Anoosh Shariat at his restaurants Browning's and Park Place. He followed his time with Anoosh with stints working as sous chef for Anoosh protégé Daniel Stage, as well as positions as executive chef at the downtown restaurant St. Charles Exchange and as the executive chef at Westport Village restaurant Artesano Tapas. Touting a German-Italian heritage, Ford also picked up valuable experience with French, Spanish, Latin American and American southern cuisine while living in Louisville. Ford returned to work for Shariat at the beginning of 2018 as chef de cuisine of Shariat's namesake restaurant Anoosh Bistro.
Emily Sego
Sego is from Louisville and has been the Beverage Director at Brooklyn and The Butcher since 2019. Throughout her career she has developed a passion for her work, striving to produce an engaging experience for her guests. Sego is passionate about her creative process as well as bringing balance in taste, garnishment presentation elevation, and providing locally and globally sourced spirits and ingredients. She strives to cultivate an overall inclusive and diverse environment. Sego was Woodford Manhattan Experience Regional Finalist (2022, 2020), Plantation and Clairin at The Limbo "Top Mermaid" Cocktail Champion (2021), and Makers Mark at Monnik Cocktail Champion (2020).
advertising content
advertising content