This week The Standard Plate & Pour at 207 E. Main Street in New Albany is presenting a Thursday evening wine dinner featuring Delicato Family Wines.
On September 24, we will be hosting a wine dinner featuring Delicato Family Wines. Welcome bite and sparkling wine served at 6:15 p.m. Then enjoy a three course meal, each paired with wine, as well as dessert by Bliss Artisan Ice Cream. Food menu created and prepared by Chef David Smith. Bar will be open for additional drink purchases.
Delicato will be represented by wine ambassadors Julie Liersch and Courtney Cline; tickets are $60 and can be purchased at Toast.
Here's a menu snippet pulled from Facebook.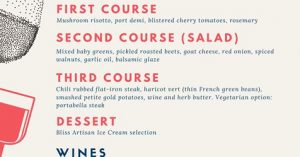 On August 5, The Standard announced an immediate transition from full-service dining to use as an event space, available for the general public to book for gatherings, parties and meetings. The wine dinner is the second "in house" special event staged by The Standard since the changeover.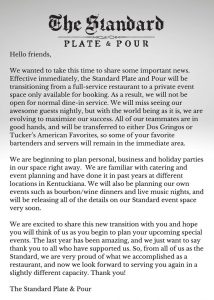 The back story from June, 2019:
The Standard Plate & Pour set to open in downtown New Albany in late June