[adrotate group="3"]
"To fully experience a family-run restaurant, look no further than Shady Lane Cafe ," wrote Lindsey McClave in the Courier-Journal two years ago. "There is a reason Shady Lane Cafe has a line of guests winding down the center of the restaurant and out the door on a daily basis. While the food is well worth many a return visit, it is the congenial presence of Susi, Bill and their family and friends that ultimately sets this cafe apart."
Last week in one social media post the Smiths celebrated 15 years in business, announced their prospective retirement from the restaurant, and firmly added that it isn't going anywhere. There are new owners, and Bill and Susi will be sticking around for a few more weeks to help with the transition.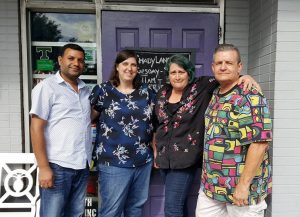 It sounds as if Shady Lane's regular customers are in for personal introductions, so plan your calendars accordingly.
Tuesday, August 20

Dearest Friends and Customers (most often, one in the same), we are celebrating 15 years of Shady Lane Cafe this week. Billy made his amazing Cream of Mushroom Soup, and his Tomato Basil, too. We will serve up many a Burger. I made a Lemon Dreamsicle Cake.

And, though we are ever so happy and proud to know that these beloved dishes, and so many more that were borne from my darling husband's creative and industrious mind, will continue on long after we're gone, it is our sad and grateful duty to announce that we will soon be retiring and passing the baton of our beloved Shady Lane to another family that is eager to continue our legacy.

So many of you know that every single day has been an honor and a joy to us. Our restaurant has always been so much more than a job. You have welcomed us into your lives. We have watched your children grow up, many of whom returned with children of their own. We have had artwork presented to us. It has been nothing short of the time of our lives. Thank you for being part of that.

But, even though we have Philip and William, and Terry and CJ, and so many other wonderful people over the years, helping us create a little bit of magic every day, we're getting older, and we know it's time.

We'll still be around for a few weeks to ensure a smooth transition to a continuing Shady Lane Cafe. And our staff will be here, too, to help us all. We love our Shady Lane family, and that includes you. Shady Lane. If you haven't been here yet, come see what all the buzz is about. We'll be waiting for you.